Therapy?
High Anxiety


By Mick Stingley, Contributor
Thursday, May 29, 2003 @ 1:11 AM


| | | |
| --- | --- | --- |
| | | (Spitfire) |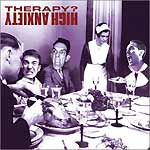 Thick riffs and punk melodies from almost-superstars, Therapy? come fast and furious in the form of their latest offering, High Anxiety. Ten years into the game haven't mellowed this fighting Irish group: "Hey Satan, You Rock," the poppy lead track, starts the punk-rocking and neck-snapping fun, which grooves along and tells St. Peter to "park my car" while storming through the gates of Heaven… Though singer Andrew J. Cairns sounds, at times, a little like Michael Graves (late of "Misfits") fronting Green Day (on the opener; and track 5, "Watch You Go"), it's a welcome rich voice that supplements the punk-n-roll vibe of the band's new CD. "Who Knows" brings the rock vibe to the punks, and, along with "Stand In Line" -- catchy little rockers like might bring some new fans to the mosh pit. "Nobody Here But Us," "Watch You Go" and "Voodoo Doll" bring the punk to the metal-heads with their old-school American hardcore sing-a-long choruses… but Therapy? doesn't stay locked in any one vibe too long to bore a listener. "Limbo" has some funky Chili-Peppers bass. "Last Blast" and "Rust" round out the disc with straight-ahead rock -- "Rust" riffs along with a nice Motorhead groove. High Anxiety is an aptly-titled album that cooks with speed and harmony: the gap between Nirvana and Motorhead can be bridged with this kind of Therapy?. Comes with an enhanced DVD video for "If It Kills Me." * * *




Please log in to view RANTS

If you don't have a username, click here to create an account!





ALICE COOPER Paranormal

HENDRIX: The Illustrated Story

L.A. GUNS The Missing Peace

ENSLAVED E

UFO, SAXON, JARED JAMES NICHOLS In Akron, OH With Photos!

ACT OF DEFIANCE Old Scars, New Wounds

JACKYL 25

REVOLUTION SAINTS Light In The Dark

TESLA, WEAPONS OF ANEW, VOICES OF EXTREME In Orlando, FL With Photos!

THE BLACK DAHLIA MURDER Nightbringers

SONS OF APOLLO Psychotic Symphony

OBITUARY, EXODUS And POWER TRIP In Ottawa, Canada

EVERY MOTHER'S NIGHTMARE Grind

FOZZY Judas

LYNCH MOB In Saint Petersburg, FL With Photos!

DIAMOND HEAD In Ottawa, Canada

VENOM, INC. Ave

NOCTURNAL RITES Phoenix

EXIT EDEN Rhapsodies In Black

MARDUK, INCANTATION In Ottawa, Canada

NIGHT RANGER In New Braunfels, TX

AVATARIUM, THE SLAYER KING In Sieburg, Germany

STEELHEART Through Worlds Of Stardust

SATYRICON Deep Calleth Upon Deep

SERIOUS BLACK Magic