BLACK CROWN INITIATE
Selves We Cannot Forgive
eOne Music




The second album from Keystone State quintet BLACK CROWN INITIATE (BCI) finds it reining in the tech-death athleticism of its debut EP Song Of The Crippled Bull and the overblown progressive ambitions of its first full-length The Wreckage Of Stars. It's a rather dramatic, even startling, turn that takes some getting used to.

Selves We Cannot Forgive is no less epic than Wreckage – indeed only one of the album's eight tracks clocks in at less than five minutes – but there is more finesse and a distinct sense of direction and purpose here. Some of that may – or may not - have to do to the addition of guitarist Wes Hauch, who served time with THE FACELESS, another band whose technical aspirations often got the better of it. Just how much involvement he had with the new BCI album is a bit of a question mark, since he was just named an official member in June, but Hauch has been touring with the band since Spring so there may have been some influence purely by osmosis.

Regardless, everyone seems to have learned from the collective mistakes of the past here, and there is a tighter, more methodical, well-thought-out feel to the material on Selves that, with time, makes for a more satisfying and enduring listening experience. Where Wreckage seemed spastic and disjointed, Selves is comparatively direct, and sometimes even droney, despite the relative length of many of the tunes.

There is a murky, often brooding, vibe here that starts with frontman James Dorton, whose imposing growl occasionally reaches frightening Darth Vader-esque depths – as on the opener "For Red Clouds" and the mammoth "Belie The Machine". Add the gut-punch crunch of Hauch and Andy Thomas' riffing and the rhythmic churn of bassist Nick Shaw and drummer Jesse Beahler and it makes for a pretty menacing package.

The album lurches to life with the aforementioned "For Red Clouds" with Beahler's frisky drumming countered by a weighty, deliberate crush of guitar and builds in intensity as things progress. It's a very slow build, however. "Sorrowpsalm" maintains the shuddering pace of "Clouds", while "Again" carries a somewhat lighter air with its shimmering riffs, soaring leads and sumptuous clean vocals from Thomas that lead things off – he provides strategic contrast and calm to Dorton's ferocity throughout - but it still doesn't offer much in the way of velocity.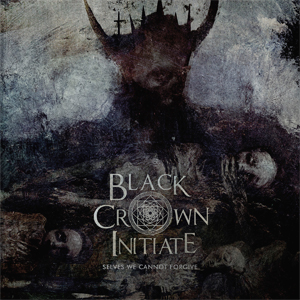 Nor does "Belie The Machine" with Beahler's busy beats and fills being again almost overwhelmed by a dense, MESHUGGAH-like guitar chug over much of its nine-minute sprawl. The title track repeats the approach of "Again" and echoes TOOL during its mellower, more Spartan moments with Thomas' vocals taking the fore.
"Transmit To Disconnect" finally signals a shift in momentum as Beahler's rivet-gun pace is matched by livelier riffing and more vehement vocals and phrasing by Dorton – though there is a dramatic pause midway through. "Matriarch" harks back to Wreckage with its elasticity, as its full-on tech-death tumult gives way to a jazzy respite before concluding in a fury. But just when it seems like Selves might be heading for a momentous crescendo, BCI downshifts again and closes the album out with the relatively serene "Vicious Lives", which offers another nod to TOOL with its sparse, trippy atmospherics and Thomas' somber, almost delicate vocal lines.
For the first few listens, I kept waiting for the album to really take off – especially given the freneticism of its predecessors – and was left a bit wanting when it did not. But Selves grew on me with each spin. While it can seem lethargic at times, the album's controlled dynamics and the band's sense of restraint give the songs more depth and impact.
The sheer heaviness is palpable here, which was not always the case before, and helps accentuate the grim mood that pervades, especially since the songs hold together instead of flitting off on proggy tangents. Selves We Cannot Forgive demands a little patience, which I know can be difficult in these attention deficit-worthy times. But as chef/geek Alton Brown is fond of saying, "your patience will be rewarded."
3.5 Out Of 5.0
Pre-order your copy of Selves We Cannot Forgive in the KNAC.COM More Store right HERE.