RAGE
The Devil Strikes Again
Metalville Records




I understand that for you millennial's it's hard to imagine that at one point and time, we old geezers didn't have computers, cell phones, or any of that shite. You talked on a phone with a cord on it or you wrote letters. Consequently people on one side of the world didn't always know what folks on the other side of the world were doing. That's the big reason that you had several bands with the same name. Hell, there were 3 bands called WARRIOR from the UK alone!!

I bring all this up as a public service before I dive into the latest aural assault from Germany's RAGE. RAGE was formed from the ashes of AVENGER (no, not the NWOBHM version) who formed in 1983. They released the killer album Prayers Of Steel and the über rare Depraved To Black EP (which I'm sad to say is NOT in my collection) both in 1985 before calling it a day. 3 of the 4 members of AVENGER became RAGE (again, not to be confused with the NWOBHM band. NOW you see what I was talking about??). The album was Reign Of Fear, released in May of 1986, and it's a classic of Teutonic Speed Metal!! And 22 albums later, RAGE has come full-circle with their latest opus The Devil Strikes Again.

If you read my DIAMOND HEAD review then you'll remember me speaking of any band that has put out music spanning several decades usually has 1 captain steering the boat. The captain on this boat is Peter 'Peavy' Wagner, frontman and bassist. RAGE has always been Metal, but Peavy has taken the band and its many members sailing thru progressive, speed and even orchestral genres (which became LINGUA MORTIS ORCHESTRA, much like SAVATAGE became TRANS-SIBERIAN ORCHESTRA), which is why I said The Devil Strikes Again brings RAGE back full-circle musically to revisit their more potent past shall we say.

The title track starts things off with a deep guttural 'Rage!' from Peavy before the band kicks into high gear with Speed Und Power!!! One thing that RAGE has always had is melody, even playing speedy, and this track is a prime example. The chorus has a great hook before the band slows things down for some tasty soloing by new Venezuelan axe-slinger Marcos Rodriguez. A strong opener indeed.

"My Way" is a mid-tempo basher with Peavy singing "it's my way or the highway' and the captain is always right! A great sing-a-long chorus which will go down a storm live methinks! "Back On Track" gets back to the speed with some fine skin beating from newbie German-Greek drummer Vassilios 'Lucky' Maniatopoulos. An acoustic-type break in the middle is a nice touch to keep you listeners on your toes.

"The Final Curtain" warns of our (impending it seems) doom as a mid-tempo riffer showing that Peavy is a rather overlooked vocalist, as he has a very melodic voice. Not in a Dickinson/Halford way but considering he's playing bass while he's singing, he holds melody very well. "War" starts in with that classic Metal gallop before pulling the reins back a tad with some 80's guitar licks and plenty of tempo changes. But make no mistake, as the melodic chorus and the seriousness of Peavy's lyrics does nothing to weaken the track whatsoever.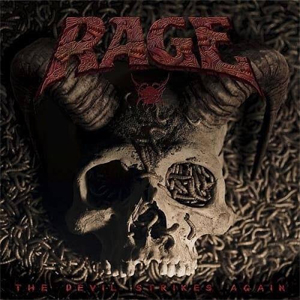 "Ocean Full Of Tears" is classic 90's era RAGE with the trademark chords and chorus. And that's a good thing. "Deaf, Dumb And Blind" alternates between mid and thrash tempo and has Marcos riffing his arse off. Another crowd pleaser live I'll bet.
"Spirits Of The Night" starts like a hand clapping 80's special but luckily kicks it up a notch to great effect. And of course the strong melody and even backing vocals add flavor. A headbanging midsection takes the song thru several tempo changes without sounding forced. Excellent! "Times Of Darkness" fades in with an ominous riff and lyrics to match. The sound is outstanding thanks to the mix and mastering of death metal maestro and jack of all trades Mr. Dan Swanö, whilst Peavy produced and co-production was handled by Marcos. A doom inspired riff mid song shows that RAGE can play any genre, at any speed, and doesn't sound stale or odd. Feedback and guitar dive bombs fade the track out. Last but certainly not least comes "The Dark Side Of The Sun", which as it turns out is also the longest track as well at almost 6 minutes. The riff that starts this monster sounds like prime-time SLAYER, and RAGE doesn't disappoint as they kick in full force!! Of course the soaring chorus and melody won't have you thinking SLAYER but the track itself is easily the heaviest on this album IMHO, and my personal fave. Bang Thy Head!!!
So there you have it. RAGE has put together another solid, timeless album with their signature sound of melody, speed, huge choruses and precision playing. It's very rare indeed to have a band that can put together all these components and still be relevant after all that time. Hail Peavy. Hail RAGE!
4.7 Out Of 5.0 Skulls
Grab your copy of The Devil Strikes Again in the KNAC.COM More Store right HERE.