Stephen Pearcy Live in Thunder Bay


By Tokemaster General, Contributor
Friday, June 6, 2003 @ 9:41 AM


| | | |
| --- | --- | --- |
| | | Stephen Pearcy Live in Thunder |
REVIEW BY: Flamingyouth21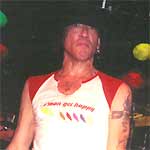 Once arriving to the concert to watch the opening band, I was excited to see that the show was packed! Once the opening band was over, I made my way to the front of the stage. The band opened with "Talking To Me" off Stephen's Social Intercourse CD. The band sounded very good and the crowd was very energetic and into the show! Close to a sell out show was good to see for a Thursday night! Halfway through the show, a drunk guy splashed beer on Stephen and Stephen kicked the bottle out of his hand. The show continued on after this incident. The set list and energy was awesome -- what could have been added to the show? I love the song "Nobody Rides For Free!" Also a major fan of the Arcade tunes, anything from the 2 Arcade discs would have been great. The cover of Judas Priest's "Another Thing Comin'" was a treat!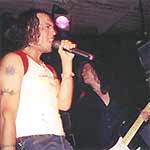 Set list: Ya Talkin' To Me
Round and Round
You're In Love
Freak
Lack Of Communication
Another Thing Comin'
Morning After
Back For More
I'm Insane
Slip of the Lip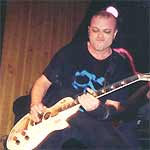 Body Talk
Lovin' You is a Dirty Job
Lay It Down

The band doesn't like doing encores, so "Round & Round" was played as the final song. After the show Stephen was super cool and hung out with the fans for quite some time. The band spent over an hour hanging out and chatting with the fans at the show before their limos arrived. All in all great concert, good to see a real rock show for sure! Go to www.topfuelrecords.com to check out the latest on Stephen and to download a clip of 'Round And Round 2003' -- Stephen definitely still has the voice! (Photos Courtesy of Flamingyouth21)
---

Send your live reviews to submissions@knac.com




Please log in to view RANTS

If you don't have a username, click here to create an account!






SONIC TEMPLE Photo Gallery (138)

SONIC TEMPLE Photo Gallery (137)

SONIC TEMPLE Photo Gallery (136)

SONIC TEMPLE Photo Gallery (135)

SONIC TEMPLE Photo Gallery (134)

SONIC TEMPLE Photo Gallery (133)

SONIC TEMPLE Photo Gallery (132)

SONIC TEMPLE Photo Gallery (131)

SONIC TEMPLE Photo Gallery (130)

SONIC TEMPLE Photo Gallery (129)

SONIC TEMPLE Photo Gallery (128)

SONIC TEMPLE Photo Gallery (127)

SONIC TEMPLE Photo Gallery (126)

SONIC TEMPLE Photo Gallery (125)

JUDAS PRIEST, URIAH HEEP In Portland Gallery (20)

JUDAS PRIEST, URIAH HEEP In Portland Gallery (19)

JUDAS PRIEST, URIAH HEEP In Portland Gallery (18)

JUDAS PRIEST, URIAH HEEP In Portland Gallery (17)

JUDAS PRIEST, URIAH HEEP In Portland Gallery (16)

JUDAS PRIEST, URIAH HEEP In Portland Gallery (15)

JUDAS PRIEST, URIAH HEEP In Portland Gallery (14)

JUDAS PRIEST, URIAH HEEP In Portland Gallery (13)

JUDAS PRIEST, URIAH HEEP In Portland Gallery (12)

JUDAS PRIEST, URIAH HEEP In Portland Gallery (11)

JUDAS PRIEST, URIAH HEEP In Portland Gallery (10)

JUDAS PRIEST, URIAH HEEP In Portland Gallery (9)

JUDAS PRIEST, URIAH HEEP In Portland Gallery (8)

JUDAS PRIEST, URIAH HEEP In Portland Gallery (7)

JUDAS PRIEST, URIAH HEEP In Portland Gallery (6)

JUDAS PRIEST, URIAH HEEP In Portland Gallery (5)

JUDAS PRIEST, URIAH HEEP In Portland Gallery (4)

JUDAS PRIEST, URIAH HEEP In Portland Gallery (3)

JUDAS PRIEST, URIAH HEEP In Portland Gallery (2)

JUDAS PRIEST, URIAH HEEP In Portland Gallery (1)

SONIC TEMPLE Photo Gallery (124)

SONIC TEMPLE Photo Gallery (123)

SONIC TEMPLE Photo Gallery (122)

SONIC TEMPLE Photo Gallery (121)

SONIC TEMPLE Photo Gallery (120)

SONIC TEMPLE Photo Gallery (119)

SONIC TEMPLE Photo Gallery (118)

SONIC TEMPLE Photo Gallery (117)

SONIC TEMPLE Photo Gallery (116)

SONIC TEMPLE Photo Gallery (115)

SONIC TEMPLE Photo Gallery (114)

SONIC TEMPLE Photo Gallery (113)

SONIC TEMPLE Photo Gallery (112)

SONIC TEMPLE Photo Gallery (111)

SONIC TEMPLE Photo Gallery (110)

SONIC TEMPLE Photo Gallery (109)

SONIC TEMPLE Photo Gallery (108)

SONIC TEMPLE Photo Gallery (107)

SONIC TEMPLE Photo Gallery (106)

SONIC TEMPLE Photo Gallery (105)

SONIC TEMPLE Photo Gallery (104)

SONIC TEMPLE Photo Gallery (103)

SONIC TEMPLE Photo Gallery (102)

SONIC TEMPLE Photo Gallery (101)

SONIC TEMPLE Photo Gallery (100)

SONIC TEMPLE Photo Gallery (99)

SONIC TEMPLE Photo Gallery (98)

SONIC TEMPLE Photo Gallery (97)

SONIC TEMPLE Photo Gallery (96)

SONIC TEMPLE Photo Gallery (95)

SONIC TEMPLE Photo Gallery (94)

SONIC TEMPLE Photo Gallery (93)

SONIC TEMPLE Photo Gallery (92)

SONIC TEMPLE Photo Gallery (91)

SONIC TEMPLE Photo Gallery (90)

SONIC TEMPLE Photo Gallery (89)

SONIC TEMPLE Photo Gallery (88)

SONIC TEMPLE Photo Gallery (87)

SONIC TEMPLE Photo Gallery (86)

SONIC TEMPLE Photo Gallery (85)

SONIC TEMPLE Photo Gallery (84)

SONIC TEMPLE Photo Gallery (83)

SONIC TEMPLE Photo Gallery (82)

SONIC TEMPLE Photo Gallery (81)

SONIC TEMPLE Photo Gallery (80)

SONIC TEMPLE Photo Gallery (79)

SONIC TEMPLE Photo Gallery (78)

SONIC TEMPLE Photo Gallery (77)

SONIC TEMPLE Photo Gallery (76)

SONIC TEMPLE Photo Gallery (75)

SONIC TEMPLE Photo Gallery (74)

SONIC TEMPLE Photo Gallery (73)

SONIC TEMPLE Photo Gallery (72)

SONIC TEMPLE Photo Gallery (71)

SONIC TEMPLE Photo Gallery (70)

SONIC TEMPLE Photo Gallery (69)

SONIC TEMPLE Photo Gallery (68)

SONIC TEMPLE Photo Gallery (67)

SONIC TEMPLE Photo Gallery (66)

SONIC TEMPLE Photo Gallery (65)

SONIC TEMPLE Photo Gallery (64)

SONIC TEMPLE Photo Gallery (63)

SONIC TEMPLE Photo Gallery (62)

SONIC TEMPLE Photo Gallery (61)

SONIC TEMPLE Photo Gallery (60)

SONIC TEMPLE Photo Gallery (59)

SONIC TEMPLE Photo Gallery (58)

SONIC TEMPLE Photo Gallery (57)

SONIC TEMPLE Photo Gallery (56)

SONIC TEMPLE Photo Gallery (55)

SONIC TEMPLE Photo Gallery (54)

SONIC TEMPLE Photo Gallery (53)

SONIC TEMPLE Photo Gallery (52)

SONIC TEMPLE Photo Gallery (51)

SONIC TEMPLE Photo Gallery (50)

SONIC TEMPLE Photo Gallery (49)

SONIC TEMPLE Photo Gallery (48)

SONIC TEMPLE Photo Gallery (47)

SONIC TEMPLE Photo Gallery (46)

SONIC TEMPLE Photo Gallery (45)

SONIC TEMPLE Photo Gallery (44)

SONIC TEMPLE Photo Gallery (43)

SONIC TEMPLE Photo Gallery (42)

SONIC TEMPLE Photo Gallery (41)

SONIC TEMPLE Photo Gallery (40)

SONIC TEMPLE Photo Gallery (39)

SONIC TEMPLE Photo Gallery (38)

SONIC TEMPLE Photo Gallery (37)

SONIC TEMPLE Photo Gallery (36)

SONIC TEMPLE Photo Gallery (35)

SONIC TEMPLE Photo Gallery (34)

SONIC TEMPLE Photo Gallery (33)

SONIC TEMPLE Photo Gallery (32)

SONIC TEMPLE Photo Gallery (31)

SONIC TEMPLE Photo Gallery (30)

SONIC TEMPLE Photo Gallery (29)

SONIC TEMPLE Photo Gallery (28)

SONIC TEMPLE Photo Gallery (27)

SONIC TEMPLE Photo Gallery (26)

SONIC TEMPLE Photo Gallery (25)

SONIC TEMPLE Photo Gallery (24)

SONIC TEMPLE Photo Gallery (23)

SONIC TEMPLE Photo Gallery (22)

SONIC TEMPLE Photo Gallery (21)

SONIC TEMPLE Photo Gallery (20)

SONIC TEMPLE Photo Gallery (19)

SONIC TEMPLE Photo Gallery (18)

SONIC TEMPLE Photo Gallery (17)

SONIC TEMPLE Photo Gallery (16)

SONIC TEMPLE Photo Gallery (15)

SONIC TEMPLE Photo Gallery (14)

SONIC TEMPLE Photo Gallery (13)

SONIC TEMPLE Photo Gallery (12)

SONIC TEMPLE Photo Gallery (11)

SONIC TEMPLE Photo Gallery (10)

SONIC TEMPLE Photo Gallery (9)

SONIC TEMPLE Photo Gallery (8)

SONIC TEMPLE Photo Gallery (7)

SONIC TEMPLE Photo Gallery (6)

SONIC TEMPLE Photo Gallery (5)

SONIC TEMPLE Photo Gallery (4)

SONIC TEMPLE Photo Gallery (3)

SONIC TEMPLE Photo Gallery (2)

SONIC TEMPLE Photo Gallery (1)

STEVEN ADLER In Houston Photo Gallery (15)

STEVEN ADLER In Houston Photo Gallery (14)

STEVEN ADLER In Houston Photo Gallery (13)

STEVEN ADLER In Houston Photo Gallery (12)

STEVEN ADLER In Houston Photo Gallery (11)

STEVEN ADLER In Houston Photo Gallery (10)

STEVEN ADLER In Houston Photo Gallery (9)

STEVEN ADLER In Houston Photo Gallery (8)

STEVEN ADLER In Houston Photo Gallery (7)

STEVEN ADLER In Houston Photo Gallery (6)

STEVEN ADLER In Houston Photo Gallery (5)

STEVEN ADLER In Houston Photo Gallery (4)

STEVEN ADLER In Houston Photo Gallery (3)

STEVEN ADLER In Houston Photo Gallery (2)

STEVEN ADLER In Houston Photo Gallery (1)

SLAUGHTER, LYNCH MOB In Houston Photo Gallery (20)

SLAUGHTER, LYNCH MOB In Houston Photo Gallery (19)

SLAUGHTER, LYNCH MOB In Houston Photo Gallery (18)

SLAUGHTER, LYNCH MOB In Houston Photo Gallery (17)

SLAUGHTER, LYNCH MOB In Houston Photo Gallery (16)

SLAUGHTER, LYNCH MOB In Houston Photo Gallery (15)

SLAUGHTER, LYNCH MOB In Houston Photo Gallery (14)

SLAUGHTER, LYNCH MOB In Houston Photo Gallery (13)

SLAUGHTER, LYNCH MOB In Houston Photo Gallery (12)

SLAUGHTER, LYNCH MOB In Houston Photo Gallery (11)

SLAUGHTER, LYNCH MOB In Houston Photo Gallery (10)

SLAUGHTER, LYNCH MOB In Houston Photo Gallery (9)

SLAUGHTER, LYNCH MOB In Houston Photo Gallery (8)

SLAUGHTER, LYNCH MOB In Houston Photo Gallery (7)

SLAUGHTER, LYNCH MOB In Houston Photo Gallery (6)

SLAUGHTER, LYNCH MOB In Houston Photo Gallery (5)

SLAUGHTER, LYNCH MOB In Houston Photo Gallery (4)

SLAUGHTER, LYNCH MOB In Houston Photo Gallery (3)

SLAUGHTER, LYNCH MOB In Houston Photo Gallery (2)

SLAUGHTER, LYNCH MOB In Houston Photo Gallery (1)