PSYCHO LAS VEGAS Announces Black Light Lounge Featured Artists Arik Roper, Dirty Donny Gillies, Skinner, And David D'Andrea


By Larry Petro, News Monkey
Tuesday, August 2, 2016 @ 12:23 AM


| | | |
| --- | --- | --- |
| | | Festival To Invade Hard Rock Hotel & Casino Las Vegas Later This Month |
In less than one month, PSYCHO LAS VEGAS will descend upon the Hard Rock Hotel & Casino in Las Vegas, Nevada for four days of riffs, doom, and psychedelia! The property-wide, epic three-stage festival -- two main stages indoors, as well as a nighttime pool stage -- will commence with a pre-party on August 25th and run through August 28th, 2016 playing host to nearly one-hundred acts from around the globe including ALICE COOPER, BLUE OYSTER CULT, CONVERGE, DOWN, DRIVE LIKE JEHU, HIGH ON FIRE, SLEEP, PENTAGRAM, YOB, exclusive 2016 US performances from both ELECTRIC WIZARD and CANDLEMASS, and many more.

Among the many features of PSYCHO LAS VEGAS beyond great music is the Black Light Lounge which will highlight PSYCHO LAS VEGAS' artists in residence, Arik Roper, Dirty Donny Gillies, Skinner, as well as main festival artist David D'Andrea. Attendees will be able to purchase new, limited edition works from all of them and get them autographed.

Infamous stoner rock artist Arik Roper (SLEEP, THE BLACK CROWES, HIGH ON FIRE, BUZZOV*EN) will be on site in the Lounge to shake hands and sign his newest masterpiece. Of his involvement, this underground icon stated, "Since my early childhood times of flipping through posters in a black light soaked backroom of a mall store head shop, the ultraviolet end of the visual spectrum has entranced my imagination. This trick of light alters consciousness and transports the mind into a dreamscape of waking psychedelia. So simple but so effective. I couldn't be more electrified to be part of this showcase along with my fellow visual warriors and a selection of stellar bands that will perform the same the feat upon our ears!"

Fans will also be able to meet the infamous ambassador of the alternative art movement, Skinner (MASTODON, KVELERTAK, SKELETONWITCH). Influenced by '80s pop culture, human struggle, myths, violence, Dungeons & Dragons, and heavy metal, Skinner's mind is one of psycho social mayhem fueled by calculated chaos. Pick up some limited artwork to get signed and shake the hand of a master.

Lauded as one of the most influential artists to invade the punk, metal, and rock undergrounds, Dirty Donny Gillies has been spreading his art across all mediums for decades ranging from skate decks, pinball machines, hot rods, vans, and album covers. His list of clients include Snap-on Tools, Vans, Fender guitars, Dunlop guitar picks, Way Huge guitar pedals, Powell Peralta, NHS, Creature Skateboards, Kid Robot, and Stern Pinball among others. Donny is currently working on his second art book to be published this Fall. Secure your PSYCHO passes to meet this outsider icon under his US masterpieces and get your posters autographed.

Illustrator and graphic designer David D'Andrea (SLEEP, OM, ANGEL WITCH, SHRINEBUILDER, WINO, ROADBURN etc.), notorious for his deep, detailed creations, stands among the most distinctive artists surrounding heavy music today and the creator of the Psycho Las Vegas poster. "My love for eternal symbols comes out in much of my work," relayed D'Andrea of his style in an interview with The Obelisk. "The death's head as a memento mori, birds as transcendence of the spirit, the cross as earth-bound man, etc. All these symbols have been done over and over through time... I love the tradition and universality of symbols."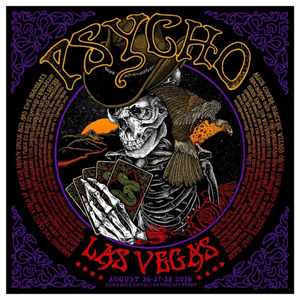 In addition to the interactive backlight chamber, PSYCHO LAS VEGAS includes a Boogie Van Blackjack Tournament, film screenings, DJ sets hosted by Scott Ian (ANTHRAX), Sean "Pellet" Pelletier (LAST DAYS HERE), J. Bennet (IDES OF GEMINI), Evan Hagen (Psych LV/CA Curator), Scott Carlson (Rise Above Records), and Bob Lugowe (Relapse Records), as well as the Psycho Pool Party kick off at the Paradise Pool Stage which begins at 9:00pm under the stars on August 25th and features MUDHONEY, FATSO JETSON, MOTHERSHIP, and more as well as an indoor pre party on the Vinyl stage featuring BLACK MOUNTAIN, WHITE HILLS, and ACID WITCH.
Various pass options for PSYCHO LAS VEGAS are obtainable via Event Brite at THIS LOCATION.
Convenient lodging is still available at Hard Rock Hotel & Casino Las Vegas located on 4455 Paradise Road, Las Vegas. Use the code. Book today at B>THIS LOCATION.
PSYCHO LAS VEGAS 2016 - Full Lineup (in alphabetical order):
A Place To Bury Strangers
A Storm Of Light
Acid King
Alice Cooper
ASG
Ashbury
Baroness
Beelzefuzz
Behold The Monolith
Belzebong
Black Heart Procession
Blood Of The Sun
Blue Öyster Cult
Bongripper
Boris
Budos Band
Candlemass
Cave Of Swimmers
Chrch
Colour Haze
Converge
Crazy Bull
Crypt Sermon
Danava
Dead Meadow
Death
Death Alley
Demon Lung
Dirty Streets
Disenchanter
Down
Drive Like Jehu
Elder
Electric Wizard
Evan Hagan
Family
Fireball Ministry
Flavor Crystals
Fu Manchu
Goya
Gozu
Great Electric Quest
Has A Shadow
High On Fire
Highlands
Holy Grove
Hornss
Ides Of Gemini
Invdrs
Jucifer
Lecherous Gaze
Lo-Pan
Lumerians
Lycus
Mantar
Mars Red Sky
Midnight
Mondo Drag
Oresund Space Collective
Pentagram
Brian Posehn
Satan's Satyrs
Saviours
Shroud Eater
Sleep
Spelljammer
Spencer Moody Solo (Murder City Devils)
Subrosa
Tales Of Murder And Dust
The Company Corvette
The Cosmic Dead
The Crazy World Of Arthur Brown
The Rare Breed
The Shrine
Tombstones
Tribulation
Truth And Janey
Uncle Acid & The Deadbeats
Valkyrie
Washerwoman
Witch Mountain
Wovenhand
Yob
Zombi
Psycho Pool Party: Paradise Pool Stage (August 25th, 2016):
Electric Citizen
Fatso Jetson
Golden Void
Greenbeard
Mac Sabbath
Mothership
Mudhoney
Psycho Pre Party: Vinyl stage (August 25th, 2016):
Acid Witch
Black Mountain
White Hills




Please log in to view RANTS

If you don't have a username, click here to create an account!