Chicago-based rockers EMPERORS AND ELEPHANTS has lost one of their own as guitarist Jeff Windisch suffered a fatal heart attack after his band opened up for LYNCH MOB Saturday night in Savage, Minnesota. Windisch was in the crowd watching LYNCH MOB's performance when the heart attack occurred, which also happened to be his birthday. An eyewitness to the events gave the following account:

"I was there last night and it was a terrible scene.

Went to the Twins game that evening so I arrived at the bar LYNCH MOB was playing at just as E&E was finishing up their last song. The singer mentioned that it was the guitarist's birthday.

I was close to the stage when LYNCH MOB began. After about 7 songs I wandered toward the back of the room. All of the sudden there was a slight commotion from stage left (Sean McNabb's side) and I saw this very big dude lying face down on the floor not moving. At first I think people thought he passed out drunk, but people could not get a response from him. The police arrived about 10 minutes later, all the while LYNCH MOB is still playing.

They finally tell the band to stop, the house lights go up, and 300 people are watching this guy get CPR. There was no real move to clear the room until after he'd been wheeled out. It did not look promising as they were working on him. His band mates were standing there just devastated.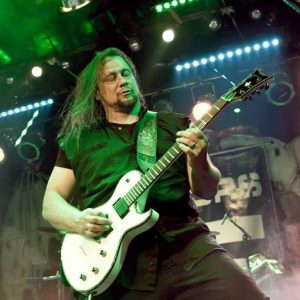 After they got him out one of the staff got on stage and said the band did not feel it was appropriate to go back on, so the night was over."
LYNCH MOB bassist Sean McNabb posted the following message on behalf of the band on his Facebook page:
"On behalf of LYNCH MOB – George, Oni Logan Jimmy D'Anda & myself our prayers go out to Jeff Windisch's family, friends & band EMPERORS AND ELEPHANTS. Jeff died of cardiac arrest last night during our set. They opened the show for us and kicked ass. As soon as we were alerted to the situation we stopped playing, as the crowd and band stood in disbelief as they tried to save him. We felt it was best to stop the show at that point. Please keep his family in your prayers.
sincerely,
The Band"
Though no 'official' statement has yet been issued, the band did post the following status:
"There will be many posts in the coming days but as of now we are physically and mentally destroyed. We lost our Jeffy last night after sharing the stage with him! and as the tears fall on the screen as I type this I ask you give us and Jeffs beautiful family the time and space needed right now.
We love you and miss you so much Jeffy Rest in peace and remember to stay on target – your FAMILY"
KNAC.COM sends its condolences to EMPERORS AND ELEPHANTS and Jeff Windisch's famile and friends.