More details have been announced for the first-ever Houston Open Air, to be held Saturday, September 24 and Sunday, September 25, 2016 at NRG Park in Houston. Texas's biggest rock experience will feature performances from over 35 bands, including AVENGED SEVENFOLD, ALICE IN CHAINS, DEFTONES, CHEVELLE, SLAYER and many more.

One lucky unsigned band will have the chance to perform at Houston Open Air through the ReverbNation online battle of the bands. For details, go HERE.

In addition to three stages of top rock bands, Bud Light joins Houston Open Air as the official beer of the festival. Houston Open Air features the celebrated Jack Daniel's Old No. 7 Whiskey Row, and a Texas-sized Gourmet Man Food experience, which will highlight Houston's emergence as a great American food city, and include the Tacolandia Mexican food village with some of Houston's top Tex-Mex spots.

Weekend, single-day and VIP tickets for Houston Open Air are on sale now at www.HoustonOpenAir.com.

Here's a preliminary list of Houston Open Air onsite experiences, including Gourmet Man Food and craft beer, as well as nonprofit organizations with a presence at the festival: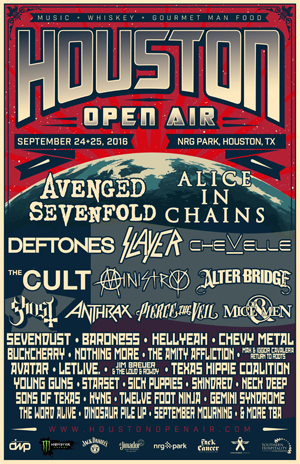 Gourmet Man Food: Gourmet Man Food ("GMF") has been part of American culture since pioneers started experimenting with their cowboy menus to "kick things up a notch." Since then, it's become a phenomenon of artistically created, statement-making food, served in large portions with a powerful presentation. It is a unique twist to foods you know mixed with flavors you don't expect. Gourmet Man Food is not small portions on sparse plates, it's not pretentious, not for the faint of heart, not for a day you are counting calories, and, it's not just for men.
Houston Open Air will feature food from several Houston favorites, with additional vendors from around the country. Along with its general admission and VIP Gourmet Man Food selections, Houston Open Air will also feature a local Tex-Mex showcase at Tacolandia presented by the Houston Press and Tabasco. Visit THIS LOCATION.
for the list of food vendors and menu items.
Bud Light: America, they say we're a nation divided. They say we disagree on everything, but they're wrong. We agree on a lot: liberty, justice, ROCK MUSIC, and beer. Nothing brings America together like Bud Light and nothing brings rock fans together like Houston Open Air. That's why we've formed the Bud Light Party – a party for everyone. We are the fake political party America needs right now and we're stopping by Houston Open Air to supply ice cold beer all weekend long. Because no matter where we stand on the issues, we all sit on the bar stools with our hands raised in the air listening to our favorite rock bands. America has seen the light, and there's a Bud in front of it.
Facebook: facebook.com/budlight
Instagram: @budlight
#budlightparty
Jack Daniel's Old No. 7 Whiskey Row: Jack Daniel's Old No. 7 Whiskey Row will feature the following brands: Jack Daniel's Old No. 7, Jack Daniel's Single Barrel, Tennessee Fire, Tennessee Honey, Woodford Reserve, and Old Forester. The Jack Daniel's Experience "Taste of Tennessee" invites visitors to come out and tour the nation's oldest registered distillery from outside the Jack Daniel's Hollow. Visitors get to see (and smell) whiskey dripping slowly through charcoal and the new oak barrels used in maturing Tennessee's finest whiskey. The Jack Daniel's Experience is open to all fans, 21 years old and up, for tours free of charge. Stop by the Jack Daniel's Experience for interactive engagements throughout the weekend.
Facebook: facebook.com/jackdaniels
Instagram: @jackdaniels_us
#jackdaniels #BornToMakeWhiskey
Monster Energy Experience/Sampling: Monster Energy will be keeping all fans fueled up and ready to rock by offering free sampling on their Monster Energy viewing deck. Enjoy Monster Energy drinks from one of the best seats in the house. Make sure to check back throughout the festival for a schedule of Monster Energy's interactive artist experiences.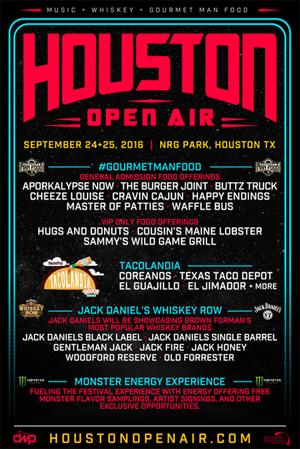 Facebook: facebook.com/monsterenergy
#monsterenergy #monstermusic
Dyin 2 Live/F*ck Cancer: The F C Cancer Foundation's mission is to fight cancer by raising awareness and to educate about early cancer detection, ultimately putting an end to late stage cancer diagnosis. The Dyin 2 Live wish granting program looks to enrich the lives of those fighting cancer by offering them an experience that will bring joy, hope, inspiration, and courage into their lives. In doing this, the program hopes it can help give the cancer fighter a chance to forget, even if it's only for a day, what they are battling. The hope is that it can be used as a source of inspiration to those needing a brighter day in their darkest hour.
www.FxckCancer.org
www.makingdreamshappen.org
www.Dyin2Live.org
Facebook: facebook.com/Dyin2LiveDREAMS or facebook.com/FxckCancerUSA
Instagram: @FxckCancer and @Dyin2LiveDreams
ReverbNation Contest: Houston Open Air and the curation team at ReverbNation will work closely together to select one ReverbNation Artist to perform at this year's festival. The chosen artist will perform at Texas' biggest rock experience alongside AVENGED SEVENFOLD, ALICE IN CHAINS, SLAYER, DEFTONES, and more. Head HERE for contest rules and more details.
Hotel discounts for Houston Open Air are available through Curadora HERE. For full details about all tickets, hotel and VIP packages, visit www.HoustonOpenAir.com.
Sharethebus: Sharethebus is the fun and easy way to get to Houston Open Air. Shuttles and buses from Pearland, Sugarland, and the University of Texas starting at $10.00 for a round trip pass. Purchase your bus passes HERE.
Sharethebus was founded by two individuals from Montreal named Wolf and Kyle. They were fed up with how hard it is to rent a charter bus, and wanted a better way to travel together. In 2014 they started Sharethebus and quickly realized that what they're offering is something that a lot of people want. Today, Sharethebus is a growing team of travel experts, developers, and rock stars who are building the best way for you and all your friends to go where you want, when you want, all while having a blast.
As previously announced, a portion of the proceeds from all Houston Open Air tickets sold will benefit the Greater Houston Storm Relief Fund. The Greater Houston Storm Relief Fund was established by Houston Mayor Sylvester Turner to accept flood relief donations that will stay in the Houston community and aid the victims of the recent storms. To donate or learn more, visit www.houstonrecovers.org.