The mighty TRUCKFIGHTERS are going to release their new album V worldwide through Fuzzorama in cooperation with Century Media Records on September 30th, 2016. As of now you can pre-order the album at CMDistro and Fuzzorama!

You can also pre-order the digital album and get the song "Calm Before The Storm" as an Instant Grat Track. Pre-order your copy now at iTunes or AmazonMP3.

For a preview of V check out the video for the new song "Calm Before The Storm", on KNAC.COM right HERE.

V is available as a Ltd. Gatefold LP+CD including a poster and as a Ltd. CD+DVD Digipak including two instrumental bonus tracks. The DVD contains about half an hour of Ozo and Dango talking about the bands history around the old music videos which are also on the DVD as well as some live videos. V is also available as a Jewelcase CD version.

The Ltd. LP+CD is available in the following vinyl colors:
Black vinyl (limited to 1600 copies)
Red vinyl (limited to 200 copies - exclusively available at the Fuzzorama Store)
Golden vinyl (limited to 600 copies - only available at the Fuzzorama Store & at live shows this fall)
White vinyl (limited to 100 copies - available at CM Distro EU & CM EU Mailorder)
Yellow vinyl (limited to 200 copies - exclusively available at Finest Vinyl)
Lilac vinyl (limited to 300 copies - available at CM Distro US & CM US Mailorder)
Shortly after the album release, the TRUCKFIGHTERS will hit the road again to play an extensive European tour. Support bands for most of the main land dates will be WE HUNT BUFFALO and WITCHRIDER, for the UK dates it will be DEVILLE and DOT LEGACY. You can find the tour dates further below.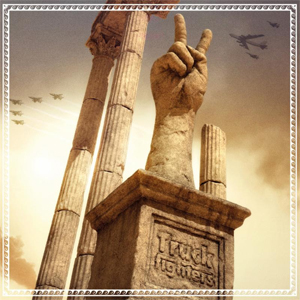 For this tour, TRUCKFIGHTERS will give away some free tickets:
"As a special treat for our upcoming European tour we have signed 30 special 'golden tickets' and given them to the warehouse guys at CM Distro Europe. The tickets will randomly be sent together with the limited edition versions pre-ordered in Europe. If you get one of these it means we will put you on the guest list for a show of your choice (on the V tour Oct/Nov), say hello, and maybe share some backstage hospitality should you be thirsty."
TRUCKFIGHTERS live
10.20.2016 - Berlin (Germany) - SO36
10.21.2016 - Chemnitz (Germany) - AJZ
10.22.2016 - Vienna (Austria) - Fuzzfest
10.23.2016 - Munich (Germany) - Backstage Halle
10.25.2016 - Milan (Italy) - Lo-Fi
10.27.2016 - Bologna (Italy) - Freakout
10.28.2016 - Puget (France) - Le Rats
10.29.2016 - Bron (France) - Le Jack Jack
11.02.2016 - Bilbao (Spain) - Stage Live
11.03.2016 - Barcelona (Spain) - Razz 3
11.04.2016 - Madrid (Spain) - Chango
11.05.2016 - Lisbon (Portugal) - Stairway Club
11.06.2016 - Porto (Portugal) - Cave 45
11.09.2016 - Amsterdam (The Netherlands) - Melkweg Oude Zaal
11.10.2016 - Groningen (The Netherlands) - Vera
11.11.2016 - Tilburg (The Netherlands) - O13
11.12.2016 - Hengelo (The Netherlands) - Metropool
11.25.2016 - Cologne (Germany) - Underground
12.04.2016 - Birmingham (UK) - Rainbow
12.05.2016 - Glasgow (UK) - King Tuts
12.06.2016 - Nottingham (UK) - Rescue Rooms
12.07.2016 - Bristol (UK) - Thekla
12.08.2016 - Manchester (UK) - Ruby Lounge
12.09.2016 - London (UK) - Islington Academy
12.10.2016 - Brighton (UK) - Green Door Store
12.27.2016 - Hamburg (Germany) - Sankt Hell Festival