SEASONS AFTER Stream New Single "Fighter


By Larry Petro, News Monkey
Thursday, September 15, 2016 @ 2:23 PM


| | | |
| --- | --- | --- |
| | | Upcoming Record Manifesto Out November 11th |
Hard Rock band SEASONS AFTER are streaming their single titled "Fighter" that releases on September 16, 2016. "Fighter" is off of the band's new record Manifesto, due out on November 11, 2016, and you can check it out below.

To say that the new SEASONS AFTER record Manifesto is an evolution would be an understatement. The album set to release on November 11, 2016 is a brash declaration of the policies, goals, and opinions of a band that has weathered the storm and come back with a vengeance. Building on past radio success with three Top 40 singles and over 3.5 million YouTube views, the band has grown, matured, endured, and developed a chip on their shoulder that results in a blistering array of songs that will satiate the tastes of both rock and metal music fans alike.

Guitarist Jimmy Beattie states, ""Fighter" is a song for warriors! It's about having the strength to quiet all those little voices inside our heads that tell us we can't accomplish, achieve, or get through whatever the battle may be......This song defiantly screams I CAN!

The album was written with nothing but the truth in mind. It's about the unspoken realities that a lot of us live with, and some of the hard truths we all face at one time or another. The idea is to let listeners know that they are not alone, and that someone understands. We can find each other in the dark."

The record truly is a roller-coaster ride that will draw the listener in with every dynamic change. SEASONS AFTER uses massive choruses and hooks mixed with heart-wrenching melodies and shrieking, chugging, glass shattering brutality to convey the true spirit and personality of the band.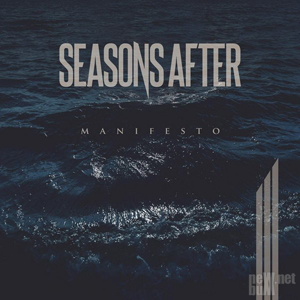 Front-man Tony Housh adds, "Manifesto is the culmination of everything we have learned both as a signed and independent band, and as individuals over the years. The album is not only a reflection of our personal and musical journeys, but it is also an expression of the frustrations and challenges created along the way. We're excited to unleash this newest chapter. We all stepped into this commitment together years ago, and this truly has become our Manifesto".
Listeners can expect to experience a variety of emotions ranging from rage to bliss and everything in between. The band has truly arrived in thunderous fashion with this record and successfully bridged the gap and improved on their already vast catalog of songs. The desperation and longing for something more truly translates on this record. Having toured coast-to-coast multiple times, the band is primed and ready to do it again to further grow their already rabid fan-base, and showcase what their hard work and dedication have brought forth in the form of their newest release, Manifesto.




Please log in to view RANTS

If you don't have a username, click here to create an account!