SLAYER, ANTHRAX, DEATH ANGEL In Cleveland, OH With Photos!


By Geoff Ketler, Cleveland Contributor
Saturday, September 17, 2016 @ 2:43 PM


| | | |
| --- | --- | --- |
| | | Opening Night Of Must-See Thrash Tour Of The Year |
All Photos By Geoff Ketler/Aces High Photography
It had been months since the must-see thrash tour of the year was announced. Finally, the wait was over. Three bands at the top of their game, all supporting brand new albums, paid a visit to Cleveland, OH as the City of Champions played host to the tour's opening night.
If there is any band that has really put together a stellar thrash catalogue in recent years, it has to be DEATH ANGEL. Ever since returning to the scene with 2004's The Art Of Dying from the group's long hiatus in the 1990's and early 2000's, they seem to drop a brutal thrash record every few years like clockwork. 2016's The Evil Divide is just the continuation of what is turning out to be stellar careers for the Bay-area band. As the crowd trickled into Jacob's Pavilion in the "Flats" on Cleveland's west side, DEATH ANGEL greeted them with "The Ultra-Violence".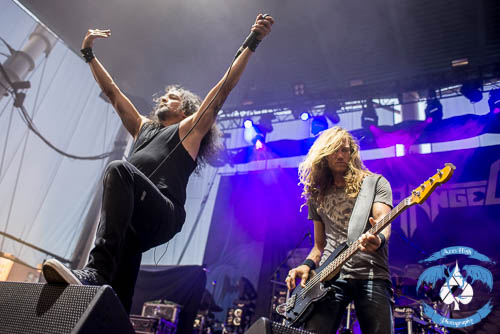 Vocalist Mark Osegueda surveyed the crowd before doing one of his signature jump kicks. Guitarist Rob Cavestany posted up stage-right, shredding into the sunset. The short set barely included any new material – kind of a disappointment, but it was highlighted by "Thrown To The Wolves" and before the band ended, they managed to stir up the GA-only pit.
SETLIST
"The Ultra-Violence"
"Evil Priest"
"Claws In So Deep"
"Thrown To The Wolves"
"The Dream Calls For Blood"
"The Moth"
In contrast, East Coast thrashers ANTHRAX seem to drop an album once every decade. Okay, I exaggerated a little bit, but they do take their time to get new material out there. Touring to support their latest release, For All Kings, ANTHRAX took the stage just after sundown. Photos were at a premium as the stage filled with fog and the dreaded over-saturated red and green stage lighting. The end result was almost like staring at silhouettes on stage. Joey Belladonna's vocals sounded excellent and former SHADOWS FALL guitarist Jonathan Donais gelled really well with the rest of the band.

Unlike DEATH ANGEL, ANTHRAX centered their set around the new material almost exclusively. Set staples like "Got The Time", "Caught In A Mosh" and the anthem "Indians" were still all in there, peppered around the For All Kings songs. I definitely enjoyed "Fight 'Em 'Til You Can't" off of 2011's Worship Music - such a good song off of a great album.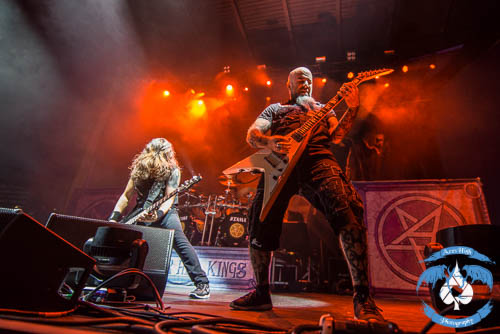 SETLIST
"You Gotta Believe"
"Monster At The End"
"Caught In A Mosh"
"Got The Time"
"Fight 'Em 'Til You Can't"
"Evil Twin"
"Antisocial"
"Breathing Lightning"
"Indians"
A large white curtain draped across the stage - blocking the view of the audience. The pit was packed by now and a cool breeze blew off of the adjacent Cuyahoga River. Through a gap I could see drummer Paul Bostaph be led to the drum riser. After a brief intro, the curtain dropped as Kerry King and Co. tore into "Repentless". I could feel the raucous crowd making gains on security as they came tumbling over the barricade. Insanely outnumbered, security raced to catch the crowd surfers.

The rather stripped-down stage production consisted of an extensive lighting rig atop the backline and a large backdrop depicting the Repentless cover art. No pyro. No flash pods. This was a little dissappointing, but nonetheless, SLAYER brought their A-game. Although the days of spinning his hair are gone, Tom Araya stood center stage, screaming lyrics with minimal effort. Gary Holt of EXODUS, who has permanently taken over for the late Jeff Hanneman, was extremely animated. The last time I saw SLAYER was on the World Painted Blood Tour with Dave Lombardo on drums. Ironically Paul Bostaph was with TESTAMENT which opened for that tour package that was rounded out by MEGADETH. I have always liked Dave's playing, but the well-documented fallout from the band over money issues has paved the way for Paul to rejoin the group.

What an excellent night for metal. Be sure to check out the remaining dates on this tour as this excellent thrash package plows its way across the States this fall.

SETLIST
"Repentless"
"The Antichrist"
"Disciple"
"Postmortem"
"Hate Worldwide"
"War Ensemble"
"When The Stillness Comes"
"You Against You"
"Mandatory Suicide"
"Fight Till Death"
"Dead Skin Mask"
"Seasons In The Abyss"
"Hell Awaits"
"Pride In Prejudice"
Encore:
"South Of Heaven"
"Raining Blood"
"Black Magic"
"Angel Of Death"
Check out some more photos from the show!
All Photos By Geoff Ketler/Aces High Photography




Please log in to view RANTS

If you don't have a username, click here to create an account!






WARRIOR SOUL Rock 'N Roll Disease

WHITESNAKE Flesh & Blood

CHEAP TRICK In Houston Photo Gallery

MICHAEL SCHENKER FEST In Worcester, MA

SLAYER, LAMB OF GOD, AMON AMARTH & CANNIBAL CORPSE In Columbia, MD

SUNN0))) Life Metal

Head Bangin' Radio Book

VENOM INC. In Ottawa, Canada

VIXEN In New Bedford, MA

ARCH/MATHEOS Winter Ethereal

A NEW REVENGE Enemies & Lovers

RINGWORM "Death Becomes My Voice"

AMON AMARTH Berserker

SOTO Origami

OVERKILL, DEATH ANGEL, MOTHERSHIP In Cleveland, OH With Photos!

POSSESSED Revelations Of Oblivion

STEEL PROPHET The God Machine

THE DAMNED THINGS High Crimes

CRADLE OF FILTH In Dallas, TX

ANTHEM Nucleus

DIAMOND HEAD The Coffin Train

MIKE TRAMP Stray From The Flock

HALESTORM In Salt Lake City, UT With Photos!

ALLEGAEON Apoptosis

FALLUJAH Undying Light

JOHN 5, JARED JAMES NICHOLS In Anaheim, CA With Photos!

L.A. GUNS In New Bedford, MA

...AND JUSTICE FOR ART – Stories About Heavy Metal Album Covers – Volume 2

THE END MACHINE In Los Angeles Photo Gallery

TRUTH CORRODED Bloodlands