Legendary Canadian thrashers ANNIHILATOR have announced some ultra-special fan opportunities for their upcoming European tour run:

"Check this out! Travel on the tour bus with ANNIHILATOR. European Tour + Meet & Greet and a guitar/ticket package:

Package 1: Hang With ANNIHILATOR
Get an autographed ANNIHILATOR set list, take photos with the band, shake hands, talk to us and get your stuff signed!! We'll also throw in a sticker VIP pass! Limited to 10 people per show.

Package 2: Guitar package
Be our guest at a show on the tour and get a Jeff Waters personally-signed ANNIHILATION II guitar. You will also get a tour t-shirt, one ticket and VIP pass to the show. Hang out with us at sound check, too, if you can get there in the daytime. Only 5 of these available for the tour so get it fast!

Package 3: Come on the road with us!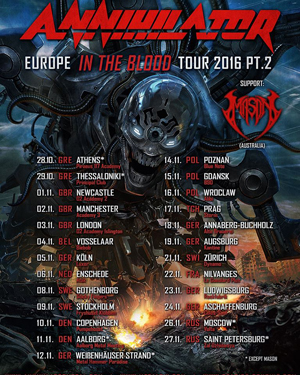 You pick 2 shows (in a row) of your choice (see below date restrictions) and come on the road with us. The life we lead on the road with ANNIHILATOR isn't always gonna be pretty but it is OUR experience and a blast! You'll have your own bunk on the bus, get a tour shirt, hang out with us, night and day, food will be provided, you'll be our AAA/VIP guest! Only 10 people will get this once-in-a-lifetime chance!
* To purchase a package (PayPal only) and for specific details and questions concerning items, meeting points, rules, payment, etc., please email jeffwaters013@gmail.com with "Meet and Greet" in the subject line. Please be aware that some shows will not have any "Meet and Greet" packages available due to tour schedules or logistics.
** Packages will only be possible from November 1 (Newcastle, UK) to November 24 (Aschaffenburg). ANNIHILATOR will not be using a tour bus for our Greek and Russian tour dates and there will be no time for meet and greets at these shows (train and plane schedules make these impossible).
*** For the "Come on the road with us" package, you have to get yourself to the pre-agreed pickup spot on 1st showday and you will travel with us and see the next show! After the 2nd show, you arrange to get yourself home!"
For more details, check out ANNIHILATOR on Facebook right HERE.