VANILLA FUDGE At The Ottawa CityFest In Ottawa, Canada


By Andrew Depedro, Ottawa Corespondent
Monday, October 3, 2016 @ 3:37 PM


| | | |
| --- | --- | --- |
| | | O-Town Gets Appice Of The Action As Legendary Rockers Bring Some Good Good Livin' And Rockin' |
It's not always that Ottawa's parting homage to the summer solstice in the form of CityFest includes bands with a penchant for playing with the volume turned up. Its initial origins as Festival Of The Folks back in the mid-70's mostly catered to local folk/acoustic acts (I'm pretty sure that local cult favorites FIVE MAN ELECTRICAL BAND a.k.a. Those Guys With That Hit Song "Signs" Who Aren't TESLA have headlined this festival back in the day) before it was reborn as FolkFest some 35 years later, attracting more bigger names such as Van Morrison, Emmylou Harris, Steve Earle, Wilco, UB40 and Buffy Sainte-Marie among others. Even newer acts such as the SHEEPDOGS and LORDE have headlined the festival during its rebranding period for mainstream acceptance. The 2016 lineup didn't look that much different other than having the DROPKICK MURPHYS as one of the co-headliners but I was babysitting that night.

Don't worry; the review gets better from here.

On Sunday, after a night dreaming of ways of plotting how to make several cured ham recipes out of Peppa Pig and her immediate family, I finally got my just desserts (yes, pun intended) upon having checked out the CityFolk schedule. Amongst the hordes of mostly Identikit blues pub bands and hipster indie drivel stood out the legendary lineup of vocalist/guitarist Vincent Martell, keyboardist Mark Stein, drummer extraordinaire Carmine Appice and current new bassist Pete Bremy - better known as 3/4's of the original lineup of veteran blues rockers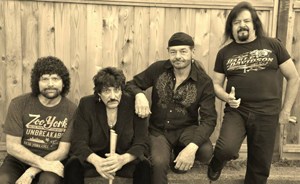 VANILLA FUDGE playing a late afternoon set at the City Stage. Being the oldest band on the entire festival with a history of close to 50 years off and on, the legendary Brooklyn-based band put on an hour-long set comprised of lengthy yet super-charged renditions of several 60's classics as well as originals. From the manic keyboard sounds of "Break On Through (To The Other Side)" (and while Vincent ain't no Mr. Mojo Risin' he can pull off a better-sounding Jim Morrison than most of his younger contemporaries), the gospel soul harmonics of "People Get Ready" and "Let's Pray For Peace" all the way to the sonic blast of the psychedelic blues number "Shotgun", VANILLA FUDGE brought the groove and the swagger to CityFest. And the crowd loved it, even to the point where they were almost drowning out the band once the quiet Hammond organ intro to their cover of the SUPREME' 1963 hit "You Keep Me Hangin' On" began. They were probably still in levitation mode following Carmine Appice's furious drum solo, as he is one of the few drummers who can seem to make a drum solo seem entertaining anymore.
Their set may have been mercilessly short and while they should've claimed the closing headlining slot that day, VANILLA FUDGE satisfied the pallets of many concertgoers young and old. For a band cited as a prime influence on other classic rock veterans such as YES, STYX and DEEP PURPLE to name a few, that alone is the cherry on the sundae for VANILLA FUDGE.
Setlist: Setlist:
"I'm A Believer" (MONKEES cover)
"Break On Through (To The Other Side)" (DOORS cover)
"People Get Ready" (CURTIS MAYFIELD cover)
"Take Me For A Little While"
"Gimme Some Lovin'" (SPENCER DAVID GROUP cover)
"Let's Pray For Peace"
"Shotgun"
Carmine Appice drum solo
"You Keep Me Hangin' On" (SUPREMES cover)




Please log in to view RANTS

If you don't have a username, click here to create an account!





STEEL PANTHER In Portland, OR With Photos!

AMARANTHE Helix

SOILWORK Verkligheten

THE THREE TREMORS The Three Tremors

IRON MAIDEN Album By Album Book

ALTITUDES & ATTITUDE Get It Out

FLOTSAM AND JETSAM The End Of Chaos

WARRIOR SOUL In Ottawa, Canada

BILLYBIO, THY WILL BE DONE In Ottawa, Canada

ALCATRAZZ Parole Denied: Tokyo 2017

VOIVOD The Wake

HALESTORM, IN THIS MOMENT, NEW YEARS DAY In Orlando, FL With Photos!

ACCEPT Symphonic Terror - Live At Wacken 2017

GENERATION AXE Tour In Clearwater, FL With Photos!

JOE SATRIANI In Sydney, Australia

Modern Art Featuring Ted Poley

HEAVEN'S TRAIL Lethal Mind

METAL CHURCH Damned If You Do

TED NUGENT The Music Made Me Do It

FIVE FINGER DEATH PUNCH In Portland Photo Gallery

GHOST In Inglewood, CA With Photos!

ASHES OF ARES Well Of Souls

STRIKER, SKULL FIST, NO RESPITE In Essen, Germany With Photos!

UNEARTH Extinction(s)

WITHERFALL A Prelude To Sorrow

ARCHITECTS Holy Hell

RED DRAGON CARTEL Patina

ARTILLERY The Face of Fear

REVOCATION The Outer Ones