From Machine Head to Burn to Perfect Strangers and beyond, DEEP PURPLE are considered to be among the pioneers of heavy metal and modern hard rock , with founding member Ian Paice along with guitarist extraordinaire Steve Morse and the "voice of rock" Glenn Hughes amongst the true legends in rock and roll history.

Spend 4 days immersed in the music that made DEEP PURPLE a true rock and roll icon and influence over the last 40+ years…you will jam the songs from the albums that have made up the soundtrack of your life…including a live performance at the legendary WHISKY A GO GO where you will perform with Glenn Hughes!

"Always my pleasure to return to RRFC.
An honor to give back what has freely been given to me, & to help capture the Spirit of Rock Music with the Campers.
Music is The healer , and is the greatest natural high.
Share the love with gratitude.
We suit up, show up and ROCK.

See you all in LA - Glenn Hughes

As the headliners at Rock And Roll Fantasy Camp, attendees will jam with all of these incredible musicians at the Rock And Roll Fantasy Camp facility in Los Angeles, CA. From beginners to the novice, there is a band for you at this once in a lifetime Rock And Roll Fantasy Camp. There will be master classes on all instruments, themed jam rooms and the final night's performance will be at the legendary Whisky A Go Go on the Sunset Strip.

"I'm excited that I've been asked back for a visit at Rock And Roll Fantasy Camp, this time in Los Angeles. Can't wait to get back to Camp again and jam with some of these great players!" Steve Morse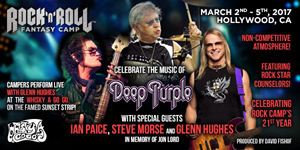 We also have a new focus on our master classes with our amazing counselors such as Vinny Appice (BLACK SABBATH), Tony Franklin (THE FIRM), Gary Hoey and many more, where you can present your original songs at our counselor roundtable or learn the secrets of working successfully in a band. There are classes on all instruments, practice techniques, showmanship and so much more! DEEP PURPLE, together with LED ZEPPELIN and BLACK SABBATH, have been referred to as the "unholy trinity of British hard rock and heavy metal". They were listed in the 1975 Guinness Book of World Records as "the globe's loudest band" for a 1972 concert at London's Rainbow Theatre and have sold over 100 million albums worldwide.
DEEP PURPLE were ranked number 22 on VH1's Greatest Artists of Hard Rock program and a poll on British radio station Planet Rock ranked them 5th among the "most influential bands ever". The band received the Legend Award at the 2008 World Music Awards and were officially inducted into the Rock and Roll Hall of Fame in April 2016.
Rock And Roll Fantasy Camp is a non-competitive atmosphere designed for all levels of musicians and music enthusiasts. We have packages for all level of musicians, including beginners, as well as the ULTIMATE FAN VIP package for the non-musician. Each package is personalized for your specific experience. Don't get left out of this once in a lifetime experience! This four-day camp and our February camp featuring JERRY CANTRELL and MIKE INEZ of ALICE IN CHAINS and DEAN and ROBERT DeLEO of STONE TEMPLE PILOTS are on sale now at www.rockcamp.com