THE DIVES In New York City


By Rebecca Blaze, NYC Contributor
Monday, October 10, 2016 @ 3:44 PM


| | | |
| --- | --- | --- |
| | | At Rockwood Music Hall II, October 1, 2016 |
Photo By Jeremy Lebled
Young, bright-eyed musicians, THE DIVES, took to the stage at Rockwood Music Hall II on October 1, 2016. It was a small, intimate venue, with plush red velvet adorning seats and walls. It almost looks like it was a speakeasy during the prohibition era. It was dark, yet full of life.
Their set was supposed to start at 12am, but the band playing before them decided to do an unplanned encore, which seemed to cause the boys to have to cut out a song to meet their allotted time limit, but they all took it in stride. Two minutes to 12:30am, they took the stage, ready to hit everyone with their phenomenal original tracks, as well as a couple of cover songs to fill out the set. Decked out mostly in black, leather jackets, and boots, they definitely had the look— even when the bassist's butt crack made an appearance every time he bent over to screw around with his set up.
THE DIVES are made up of a bunch of extremely talented—and easy on the eyes—20 and 30-some year olds. Evan Stanley, who recently graduated from New York University with honors, leads them. The talent in this boy is damn near unbelievable, yet, believable all the same, as he's played with multiple world renowned artists, such as Pat Travers, Tommy Thayer, Buddy Guy, and Eric Anderson. Mike Lefton, who kills it on the guitar, has his own EP, titled What Are We Waiting For, and also performs, writes, and records with various other artists when he's not with THE DIVES. As another damn good musician, he's played with artists such as Simon Kirke and Carmine Appice. Berklee College graduate, Sergio Ortega, bass, has a track record of performing AND recording in North America, Europe, and Asia with artists such as Ramin Karimloo and THE PRETTY RECKLESS. Stateside, he teaches both private and group music lessons, and provides his talent to both Broadway and Off-Broadway productions. Drummer extraordinare, Jimmy Meier, studied songwriting and producing in college, helps artists record, mix, and produce their music, and he even mixed THE DIVES latest single, "Anticipation".
Starting with "What Makes You Want To Wait", right off the bat I noticed that Evan has a penchant for hitting notes that you would not expect to come out of a male's throat, and it was fantastic. As it was only the first song, the audience was not yet entirely warmed up, but buzzed around with excitement, regardless. "Take It All" came next, with Evan taking fantastic command of the stage, small as it may have been. He wholly and completely owned it, and you could tell that all the boys were enjoying themselves. It was a little hard to hear Mike's guitar during this song, but that can be chalked up to the fact that the venue did not lend itself to great sound—small stage in a small room with glass windows doesn't make for an entirely immersive feeling. It was entirely okay though, as he made up for it during a cover of THE BEATLES "Don't Let Me Down", where he got the ability to showcase his amazing vocal talent, also hitting ridiculously high notes, and participating in fantastic harmonies. "Everybody's Talkin'" was just a little mumbly on Evan's part, however, once again, I'm going to attribute that to the venue's poor sound as, while watching him during this song, I could see him clearly saying every word. My favorite line was "Everybody's talkin' but I don't know why", as it applies to my life, more than I care to admit. The audience was turned up to eleven, if you will, warmed up and rocking out, clearly enjoying the musical orgasm that is THE DIVES.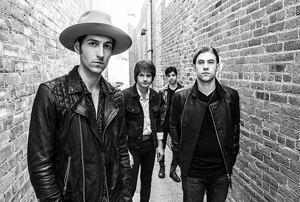 It was at this point in the show that the boys went around and introduced themselves and went through the classic banter that all bands do while on stage. While I already knew their names and their stories, it was good for anyone standing in the crowd who didn't. I've always loved when bands do this, as it makes them appear more human and relatable.
When they started playing again, Mike took over the vocals for "Rip It Up" and it was amazing. He's got a fantastic voice for the song, and it worked quite well. I was extremely pleased to see that throughout the entire show they went back and forth sharing the vocal work. When Evan took over again during "Anticipation", you could see that they were all having a shit load of fun doing what they love, and it absolutely was visible from the crowd, which makes it a better and more exciting experience for all involved. "Don't Take It Easy" came and went with ease, and then the cover of DAVID BOWIE's "Heroes" was to die for. Once again, Mike took over the lead vocals, and the reverberation used on his voice was heavenly. Whether intended to be a tribute to the man or not, it was a good one, and one I hope to see again in future performances. The entire crowd was still completely amped up, and there was a great sense of electricity flowing in the room throughout the whole song.
Coming off the DAVID BOWIE high, "What Would You Do To Me" was another killer song, and Evan was back at it again with the ridiculously powerful vocals. While it was a repetitive song, it was still very good, and very catchy. "Man, Oh Mandy" kept the crowd enchanted and enthralled, and the ending certainly seemed to catch everyone's attention. By the time "She's A Woman" came on, the club had damn near entirely cleared out, which was extremely infuriating as this show was so exciting, catchy, and fun. Provided, it was near the end of the set, but there are few things more irritating to me at a show than turning around and seeing that there is hardly anyone still left behind me. I suppose maybe the boys had too indie a feel for some people, but even so, they should've stayed through to the end. I can only imagine how it feels to be an up and coming artist trying to get your music out to people and gain a fan base and see those same audience members walking out the door. The guys finished strong with a cover of "Steppin' Out" that was amazing, it is just a huge shame that people had left at this point to continue on with their nights.
When all is said and done, go check THE DIVES out and give them a chance. They're a badass band with kickass vocals and instrument work, who deserve your undivided attention. They are also some of the sweetest and kindest guys I've had the pleasure of speaking and hanging out with. Keep them on your radar, and if you are in the Tri State area, be sure to check out their Facebook page for their upcoming tour dates. If not, and you happen to be on The KISS Kruise November 4-9, you will be able to catch them playing there three times. These boys deserve all the love in the world, and you should give it to them.
Facebook: www.facebook.com/thedivesmusic
Instagram: thedivesmusic




Please log in to view RANTS

If you don't have a username, click here to create an account!