AMARANTHE Maximalism


By Rebecca Blaze, NYC Contributor
Wednesday, October 19, 2016 @ 1:33 PM


| | | |
| --- | --- | --- |
| | | |
AMARANTHE
Maximalism
Spinefarm Records




From the band that brought you the albums Amaranthe, The Nexus and Massive Addictive comes a new album, entitled Maximalism. AMARANTHE, formed by Joacim Lundberg and Olof Mörck in 2008, and currently comprised of Elize Ryd, Henrik Englund Wilhemsson, Johan Andreassen, Morten Løwe Sørensen, Lundberg, and Mörck, was originally called AVALANCHE until legal issues forced the band to change their name in 2009. AMARANTHE is, in essence, a subgenre of metal that seems to fuse different styles of metal with pop music.

The new album Maximalism starts with "Maximize" which is quite fitting, all things considered. I loved the synth opening and it had a great chorus in addition to a nice mix of the harsh and clean vocals, which is an AMARANTHE staple. There's not too much of either, which makes it play out quite nicely. "Boomerang" comes next, which features an extremely catchy beginning, which happens to also be the chorus, but there isn't much else to it, otherwise.

"That Song" follows, which happens to be my favorite. The drums on the chorus are pretty fantastic, and they've, once again, got a great mix of Ryd and Lundberg's vocals, which make it come together in an amazing way. Lundberg hits great notes, not necessarily expected of a male, but they come out of his mouth in such a way that makes you want more. My favorite line in the song is "Woahh, everybody come along, we're together for one night, and together we belong…" It very much hits close to home, and made me love the song even more. "21" and "On The Rocks" were both memorable, between the verses and guitar work, however, they were nothing compared to "That Song".

"Limitless" was exceedingly awe inspiring and uplifting. I do love the back and forth between Lundberg and Ryd, even still… it just never gets old! The guitar in the bridge feels amazing in my soul, and even though the song seems to have an abrupt ending, it doesn't. Overall I think it is a good halfway point for the album. That being said, "Fury" was a great way to start the second half. It had a very hard and heavy beginning, and the drums throughout are extremely intense. I hate to be the person to draw this conclusion, but this song almost reminds me of something you'd hear from DRAGONFORCE. As much as unclean vocals tend to be unintelligible for me, Ryd's voice over them in the chorus makes it all worth it. If any song on this album was apt to be named "Fury", this would be it. "Faster" has that amazing intro, once again, and then switches back into the unclean vocals, which make me care for it slightly less, but it is still a fantastic song. There is a lyric somewhere in there about saving the humankind, which, if you've been following anything happening throughout the world in the past few years, especially in 2016, is more than needed to be heard. And of course, any song with a great guitar solo is worth giving a listen.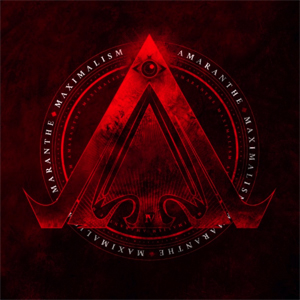 "Break Down & Cry" has great instrumentals, but the song as a whole does not do much for me. "Supersonic" was the exact opposite, so far as that I love the vocals throughout, as Ryd has a phenomenal vocal range, but the instrumentals don't do much for me. "Fireball" was much of the same, where only part of the song was good, all things considered. There was the great synthesizer that "Break Down & Cry" has, and good lyrics and vocals like "Supersonic" but overall wasn't very memorable. Everything from the instrumentals to the vocals to the lyrics needs to be good in a song for it to be an overall great song, and I just feel like the second half of the album was hit or miss, as most of the songs between track 6 and track 12 only had one of these components. However, the final track on the album, "Endlessly" was all around incredible, in my humble opinion. It's my second favorite song on the album, second only to "That Song". It is a ballad, almost comes off like a lullaby, but makes me think of something that would be played at a wedding, in all honesty. Absolutely love the guitar solo and fantastic vocal range.
Overall, with all things considered, the entire album is worth buying. It's a damn good one, and deserves to be listened to front to back. These guys have been around about eight years, so they must be doing something right. Definitely go pick it up.
Social Media:
Website: www.amaranthe.se
Facebook: www.facebook.com/amarantheband
Twitter: @Amaranthemetal
4.0 Out Of 5.0
Grab your copy of Maximalism in the KNAC.COM More Store right HERE.




Please log in to view RANTS

If you don't have a username, click here to create an account!