KILLER BEE Eye In The Sky


By Alex Yarborough, Orlando Contributor
Friday, October 21, 2016 @ 2:11 PM


| | | |
| --- | --- | --- |
| | | |
KILLER BEE
Eye In The Sky
2016 Frontiers Music




KILLER BEE is a Swedish-Canadian quintet that has been around since the early 1990s. On October 14th they released Eye In The Sky, their sixth album since 2011, and their ninth studio album overall. The band consists of Brian "Bee" Frank – vocals, Anders "LA" Rönnblom – bass, Morgan Evans – drums, André Hägglund – guitar, and Denny DeMarchi – guitar/keyboards.

KILLER BEE are a melodic hard rock band with '70s influences. When listening to them, '80s acts such as EUROPE also come to mind (who in recent years have embraced a sort of retro sound themselves). KILLER BEE has a connection with them, in fact – former EUROPE guitarist Kee Marcello was once a member of KILLER BEE.

Hot on the heels of their recent release Killing You Softly comes Eye In The Sky. Title track "Eye In The Sky" starts the album out with grooving power chords and Hammond organ that reminds me a little of DEEP PURPLE's "Burn". The song has a warning message similar to JUDAS PRIEST's "Electric Eye". "Shout It Out" picks up the pace and barrels down the tracks like a runaway locomotive. Fantastic lead and backing vocals as well as dual guitar/keyboard solos define the track; this one ended up being the most played song for me. "One Step Closer" is a mid-tempo track. The sing-along chorus and backing vocals give the song a passionate edge. "Higher And Higher" has a RAINBOW Straight Between The Eyes sort of vibe to it. Like several songs on the album, Evans plays double bass drums on this track.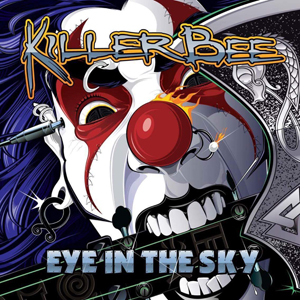 "Face The Night" is another impassioned mid-tempo rocker with some adept guitar and keyboard interplay. Emotionally charged power anthem "The Fight" is the centerpiece of Eye In The Sky, and the song creates an aura unlike anything else on the album, with lyrics that examine life "through the looking glass". "Get On Board" is another one of the enjoyable, catchy tracks on the album, and you can view the video for the song on KNAC.COM right HERE. "Joystick Warrior" is an upbeat track (that reminds me a little of ALICE COOPER in style) but with a fairly serious topic. The song is about a gamer who uses his video game skills to pilot a drone. "Right Between The Eyes" is another solid track, with Frank sounding a lot like Vince Neil (MÖTLEY CRÜE) at times. Final track "By My Side" is a properly done ballad. There are a total of 10 songs, clocking in at approximately 43 minutes.
KILLER BEE will remind you of bands like RAINBOW, DEEP PURPLE, WHITESNAKE and even modern revivalists like ASTRAL DOORS at times, but they are much more than a mere retro act. They have a unique way of delivering the goods that melts your face with blues-flavored hard rock guitar and soaring vocals, mixed with Hammond organ. This catchy album really grew on me the more I listened to it. Fans of melodic AOR hard rock should check this album out. Those who didn't get to see KILLER BEE in North America for their lengthy tour last year may get the chance again soon!
4.0 Out Of 5.0
Grab a copy of Eye In The Sky in the KNAC.COM More Store right HERE.




Please log in to view RANTS

If you don't have a username, click here to create an account!