Tesla Exclusive: Replugged And Ready To Rock


By Krishta Abruzzini, Pacific Northwest Writer
Friday, November 30, 2001 @ 2:30 PM


| | | |
| --- | --- | --- |
| | | Tesla's Tommy Skeoch Chats Abo |
Let me just say that nostalgia is way underrated. Don't get me wrong, I'd rather suck on Lemmy's mole than to be forced to relive another KISS "reunion" concert. But once in a while, there re-emerges a band from my past that just kicks my ass (again).

Tesla came into my town a while back. And after a summer filled with covering the new melted rock and rap groups, it was very cool to go back to my era of rock.

Out in support of their eighth album, a live record Replugged, it was nice to see all the original members looking and sounding just as they did nearly twenty years ago. The songs were tight and Jeff Keith's voice was unfaltering and strong. The band truly seemed to be enjoying their time back in the spotlight.

Even though Tesla -- Keith, guitarists Frank Hannon and Tommy Skeoch, bassist Brian Wheat, and drummer Troy Luccketta -- came from the genre of the big haired, tight pant, boot wearin,' groupie lovin' boys from the '80s, their style and popularity never really fit within that mold. While their peers were playing the bubble-gum on the bottom of your shoe style of rock, Tesla always seemed lyrically and musically to produce more intelligent tunes.

Tommy Skeoch recently spent some time chatting with me. It is my guess that Tommy is probably the biggest "rocker" out of the group and being so I asked him if he would be willing to participate in an interview in which I ask some pretty off beat (and many times lame) questions. He agreed (sucker) and was a damn good sport at playing along.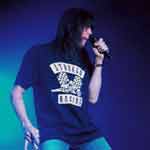 KNAC.COM: Hey Tommy. I'm going to give you the choice. Either we can do the good old fashioned cliché interview or we can a little fun and attempt to be funny, with some serious questions thrown in (of course) so as not to be totally brainless.

TOMMY: Well, I've got a pretty fucked-up sense of humor, so let's go for it!

KNAC.COM: Good answer, because I'm totally not prepped to do the traditional thing. Promise not to hang-up on me?

TOMMY: Well, I just hung-up on the last journalist because he drove me fuckin' nuts. I mean he started off with some great questions and then all of a sudden he started talking about Rob Halford. What the fuck Tesla has to do with Rob Halford, I haven't a clue. Anyway, he gave me a terrible headache. I could use a little humor about now.

KNAC.COM: Good, so tell me, do you know what year it is?

TOMMY: What year it is? Sure. It's 2001.

KNAC.COM: Hey, perhaps you'll want to pop a couple Tylenol? If Rob Halford is going to piss you off, I can't imagine what my questions are going to do!

TOMMY: (laughing) Naw, I'll be fine. Bring it on.

KNAC.COM: I'll go easy on you to start. I saw your show the other night and man you guys were tight.

TOMMY: The shows have been very cool. The fans have been treating us like we're some kind of Gods or something.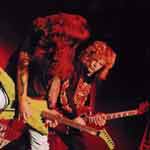 KNAC.COM: You guys have an amazing fan base.

TOMMY: It's unreal. We leave for five years and they're still waiting for us.

KNAC.COM: So tell me, what do you think about the fact that about 90% of your male fans have mullets and the females are still sporting feathered bleached hair and stuffing themselves into spandex?

TOMMY: (Laughing) That's funny. And you're right, they do.

KNAC.COM: I noticed that you guys are totally serious on stage. Not in a bad way, but in a kind of Scorpions-serious way. Do you ever just cut it up and improvise?

TOMMY: You really think we're serious? We smile a lot when we're up there, don't we? I don't know, maybe you just caught us on a serious night. I remember that show and I was very focused. I came off the stage that night feeling really good. I mean, the fans are fuckin' killer.

KNAC.COM: So is it true that you can buy an all access laminate on your web site?

TOMMY: (sigh) Yeah.

KNAC.COM: Isn't that kind of a bad sign? I mean you guys used to sell-out arenas where only family, record label and radio DJ geeks got the laminates.

TOMMY: Well, most of the shows we did in arenas were opening up for a lot of major bands. We did a couple of headlining tours. And they're good and they're big money and you've got hits playing on the radio. Put it this way, after Tesla broke-up, me and Jeff got together and formed the band Bar7. We toured the nation in a RV, playing tiny clubs. We had a fuckin' blast. And so now we're kind of in the middle of all of that. We're not doing arenas and we're not doing little clubs. I love it personally. I love it when the crowd can get a lot closer to you. They can get right up there and actually touch you.

"After Tesla broke-up, me and Jeff got together and formed the band Bar7. We toured the nation in a RV, playing tiny clubs. We had a fuckin' blast. And so now we're kind of in the middle of all of that. We're not doing arenas and we're not doing little clubs. I love it personally. I love it when the crowd can get a lot closer to you."



KNAC.COM: Especially with an All Access laminate pass!

TOMMY: Yeah. I kind of dig it though. Last night the place we were in people were like grabbing my leg and shit.

KNAC.COM: So you feel like a true Rock God?

TOMMY: Yeah, I mean I'm just joking and it's fucked-up but you're up there and there's these chicks that are just freaking out and I'm thinking, "I'm not Paul McCartney up here!" It's a big ego trip I guess, but it feels good. And I think the fans dig it too that they can kind of be a part of it somehow.

KNAC.COM: So what do you think of guys that play in bands and are still nailing groupies in the bathrooms of sleazy venues?

TOMMY: I mean, we're all people. We're animals. Let's all fuck in the bathroom. Why not?

KNAC.COM: AIDS?

TOMMY: Have you ever been in a backstage bathroom?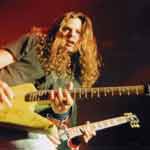 KNAC.COM: I have, and I rather prefer the laundry room.

TOMMY: I think the venues set that shit-up. There was one venue that had couches in the bathroom. Why would you have a couch in the bathroom? Sleazy venues are sex palaces.

KNAC.COM: Yeah but who's the king? Okay, changing the pace a bit. I know for myself, it's very cool seeing some of my favorite bands coming back. But it is so disappointing to me, I guess, to see most of them not taken as seriously as they deserve, and probably more disappointing that they will probably never be mainstream again. I know music has and continues to evolve, but…

TOMMY: Where music is going right now, I don't know if I'm totally digging what I'm hearing. I'd rather hear some more musicality type stuff. I just hear a lot of noise right now. Don't get me wrong, I dig a lot of new bands, but I'd like to see a little more rock in the mix.

KNAC.COM: Do you ever get pissed off with the whole '80s nostalgia crap? I mean, do you ever feel pigeon holed into that whole genre of "hair" bands?

TOMMY: Everyone's got their opinion. I really don't care anymore what people think. I'm just like doing my thing and rockin' out. People put labels on all kinds of shit. And I do it too. To me, it's all rock n' roll. When grunge came in, to me that was rock, but someone had to slap a label on it. I think we're just a good rock band and our emphasis is on great songs.

KNAC.COM: Right, but I'm sure you're trying to be taken seriously. Are you worried that if you are categorized like "just another '80s band" you'll never be able to get into the mainstream?

TOMMY: We're really trying to write great songs. If we can do that, then we're happy. And hopefully people will pick-up on that. I mean I'm totally influenced by bands from my past and hopefully today's kids will be too. I mean I'm totally influenced by bands like AC/DC, Rush, UFO, Judas Priest…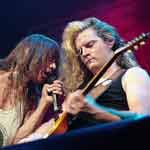 KNAC.COM: Judas Priest? So do you want to talk about Rob Halford?

TOMMY: No Rob Halford!

KNAC.COM: Well you guys have written a few new songs—would you say they're more modern to fit into the mold of today?

TOMMY: We try not to think about being anything else. People always ask us if we're going to change and it's like 'Fuck no.' We just jam and what feels good to us is what makes our fans feel good too. If we're digging on it, the vibe is coming off good. It's going to be us.

KNAC.COM: Speaking of songs, how does it feel to be able to say that one of Tesla's tunes, 'Love Song' is probably 24.5% "The Song" of All-American couples?

TOMMY: It's cool. To set the record straight though, I just played on that song. I didn't have anything to do with writing it. I always write the songs that are all fucking noisy and shit. But it is cool. I mean we have people coming out to the show introducing us to their daughter "Tesla." It's just a little slice of history I guess.

KNAC.COM: Speaking of that, will love find a way Tommy? And tell me, do you see the signs?

TOMMY: It's all about the love, and the signs are everywhere. So what do you look like?

KNAC.COM: I'm the girl with the long blond-feathered hair, wearing the spandex leotard. I drove up in the brown trans-am with the T-top. Remember me?

TOMMY: (Laughing) Sounds familiar.




KNAC.COM: Hey you guys have fun out there.

TOMMY: Thanks.

A big Thank you to Tommy for playing along with my reindeer game. For more information on Tesla or to purchase an All Access Tesla pass, you can visit www.teslatheband.com.




Photos by Gino Carlini (except last two by Long Paul)






Please log in to view RANTS

If you don't have a username, click here to create an account!