Get in the Halloween spirit with your very own MEGADETH limited edition Vic mask, which is now back by popular demand. Order today and get 2-day shipping!

This is a one size fits most full-sized mask, and it is not suitable for kids. Order yours today HERE.

In addition, MEGADETH leader Dave Mustaine and Music Drives Us Present "Thrashing Through The Snow", an exclusive acoustic performance of holiday songs and MEGADETH hits.

Music Drives Us has announced that heavy metal legend Dave Mustaine of MEGADETH will be performing on Friday, December 16th at the Hard Rock Cafe in Boston, MA. This is a once-in-a-lifetime acoustic show where Dave will not only be performing the band's hits, but also holiday classics.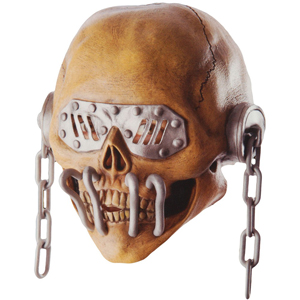 A limited number of tickets are available. Music Drives Us is also offering exclusive VIP tickets that include an eat & greet with Dave prior to the show. All of the proceeds from this special event will support Music Drives Us and their mission of keeping music in New England schools.
More details and tickets can be found HERE.
And as if that isn't enough, À Tout Le Monde, a new beer from Unibroue born of the friendship between its Brewmaster Jerry Vietz and Dave Mustaine was officially launched last week in the US and Quebec. Named À Tout Le Monde as a nod to one of the band's songs and one of their biggest hits in Quebec, this beer recalls the consonance of Unibroue's flagship beer, La Fin du Monde.
Dave Mustaine became friends with Jerry Vietz during MEGADETH tours in Quebec. During their time together, Dave and Jerry created À Tout Le Monde as a symbol of their friendship.
"At Unibroue, we appreciate flavour – and we know MEGADETH is anything but boring," explains Jerry Vietz, Brewmaster at Unibroue. "To MEGADETH's delight and that of their fans and connoisseurs, we're offering an uncompromising beer with rich hoppy aromas, created according to Dave's personal tastes."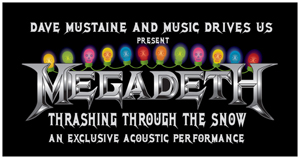 "Our shared passion for excellence produced a one-of-a-kind saison beer," added Dave Mustaine, MEGADETH's lead vocalist and founder. "I'm thrilled to present this new beer to my fans, and everyone who loves good beers with character."
À Tout Le Monde ale is a flavorful Belgian style dry hopped golden saison with hoppy and spicy notes. Topped by an unctuous head, this beer will give fans a clean, fresh taste and a crisp dry finish inviting to take another sip. À Tout Le Monde is now available in 12 oz. bottles (4 pack) at all Unibroue retailers in the United States, as well as on tap in several bars and restaurants.