DROWNING POOL Announces "Not-So-Silent Night" U.S. Headline Tour


By Larry Petro, News Monkey
Wednesday, November 2, 2016 @ 1:01 PM


| | | |
| --- | --- | --- |
| | | Featuring Special Guests GEMINI SYNDROME, 9ELECTRIC And RED TIDE RISING |
Multi-platinum hard rock band DROWNING POOL are pleased to announce their upcoming U.S. headline tour - dubbed the "Not-So-Silent Night" tour - which will visit several eastern and central U.S. cities during the 2016 holiday season. DROWNING POOL will be joined by special guests GEMINI SYNDROME, 9ELECTRIC and RED TIDE RISING. The tour kicks off on November 29 in Colorado Springs, CO and will come to a close just before Christmas with a Toys For Tots homecoming show at Trees in Dallas, TX.

In celebration of the tour launch, check out the brand new, massive 360 lyric video for the track "Hell To Pay" below.

DROWNING POOL "Not-So-Silent Night" Tour Dates:
11.29 - Colorado Springs, CO - The Black Sheep
11.30 - Denver, CO - The Roxy
12.01 - Wichita, KS - The Cotillion
12.02 - Springfield, MO - The Regency
12.03 - Waterloo, IA - Spicoli's Rockade
12.04 - Lisle, IL - BaseCamp
12.06 - Flint, MI - The Machine Shop
12.07 - Fort Wayne, IN - The Rusty Spur
12.08 - Mansfield, OH - Whiskey Warehouse
12.09 - Stafford Springs, CT - The Palace Theater
12.10 - Lawrence, MA - The Claddagh Pub
12.11 - Poughkeepsie, NY - The Chance Theater
12.12 - Stanhope, NJ - The Stanhope House (no GEMINI SYNDROME)
12.14 - Clarence, NY - Nashvilles II
12.15 - Amityville, NY - Revolution Bar & Music Hall
12.16 - Jacksonville, NC - Hooligans
12.17 - Raleigh, NC - The Maywood
12.18 - Leesburg, VA - Tally Ho Theatre
12.20 - Dayton, OH - Oddbody's (no GEMINI SYNDROME)
12.21 - Evansville, IN - KC's Time Out (no GEMINI SYNDROME)
12.22 - TBA
12.23 - Dallas, TX - Trees (Toys for Tots show, no GEMINI SYNDROME)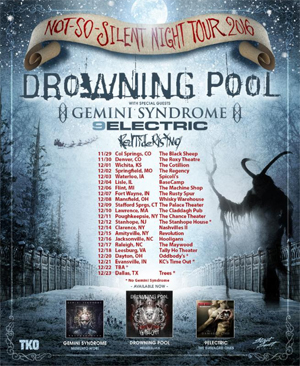 Vocalist Jasen Moreno of DROWNING POOL states, "Jasen here, and I'm so stoked to announce our winter tour on home soil. Just returned from our first time in India where the crowds are insane - we had such a great time, now we just want to keep the party going! We really can't think of a better way to end our year than kicking some ass with our favorite peeps here at home - get ready, 'cause we're headed y'all's way with our friends in GEMINI SYNDROME, 9ELECTRIC and RED TIDE RISING, and there will even be some select appearances by everyone's favorite 80-plus rocker, John Hetlinger. See you soon, America!"

During their recent and first trip to India, DROWNING POOL headlined Rendezvous, the annual arts and culture festival hosted by the Indian Institute of Technology, and the second biggest arts festival in India. As anyone with access to the internet is most likely aware, the band is coming off of an eventful summer! DROWNING POOL resurged to viral status after aforementioned 82-year-old Navy veteran and aerospace manager John Hetlinger performed his favorite karaoke track, "Bodies", on the popular NBC competition show America's Got Talent, surprising and charming viewers everywhere. Video of the performance instantly went viral, garnering over 7 million views in the first two weeks... and counting. The band went on to perform live with Hetlinger during their set at this summer's Chicago Open Air. The band is touring in support of their latest full-length album, Hellelujah, out now.

Special guests GEMINI SYNDROME released their sophomore offering, Memento Mori, this past summer. A headline tour with support from STITCHED UP HEART and fellow "Not-So-Silent Night" special guests 9ELECTRIC followed. GEMINI SYNDROME just wrapped a tour in support of SEVENDUST, with RED SUN RISING also in support. Their current single "Remember We Die" currently sits in the Top 30 at Active Rock radio.

GEMINI SYNDROME states, "We are excited to end this year with our brothers in DROWNING POOL. The last time we hit the road with them was awesome and we are really glad to do it again. New tour. New record. End of the year. We hope to see you all out there to wrap up 2016."

Special guests 9ELECTRIC also released their debut album, The Damaged Ones, this past summer. The band completed two national tours to support - once in support of LACUNA COIL (also with BUTCHER BABIES), the other in support of the GEMINI SYNDROME tour mentioned above. The band is touring in support of their current single at radio, "The Damaged Ones". Don't miss them this coming Thursday night at Slidebar in Fullerton, CA with SKOLD (formerly of MARILYN MANSON).

9ELECTRIC vocalist Thunderwood adds, "Man, 9E is so stoked to hit the holiday road with DROWNING POOL! Me and CaseyDC actually first met when our former bands toured with this amazing group. They tore the house down every night and I know we're gonna have an insane time with 'em again. What a cool tour to unleash some new 9E material on, too... see you soon!"

RED TIDE RISING recently completed a run of the upper midwest and Canada in support of SEVENDUST and CROBOT, and are touring in support of their EP Vices, which was released in May. Their current single is a cover of the TEARS FOR FEARS song "Mad World".




Please log in to view RANTS

If you don't have a username, click here to create an account!