Danny Worsnop, the newly-returned frontman for UK metalcore pioneers ASKING ALEXANDRIA, has released the first single and video from his upcoming debut solo album, The Long Road Home.

The official video for "Mexico" was filmed with director Blake Judd and sees the singer escaping from the toils of life with the help of sunshine, sexy cars, ice cold beer and some scantily-clad companions.

Watch the "Mexico" video premiere now on KNAC.COM right HERE.

Danny Worsnop comments: "The new single, "Mexico", came out of nowhere for me. I was on tour with my rock act WE ARE HARLOT, in a bar in Columbus, Ohio and that first verse just jumped right out of my eighteenth glass of Jameson and right into my mind. Knowing my brain, I immediately excused myself and waited for the lightning to strike. I then proceeded to pace outside the bar singing into my phone until the song was done, which was probably about 20 minutes later.

"I had the video in my head from that exact moment and was very excited to realize it. I had already written the treatment when I was introduced to Blake Judd, with whom I worked at getting what was in my mind onto film. He was very open to letting me take the reins which was very important to me, and we are already discussing what we're doing together next.

"The song was so much fun to write, record, and film, which is appropriate as however much it is in ways about being exhausted and done with one's reality, it is at its core a fun, upbeat song about letting loose. Something we all need to do every once in a while."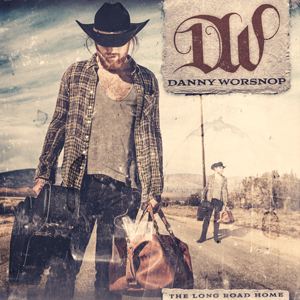 The Lond Road Home is due to be released worldwide on February 17th and is available to pre-order now on limited edition signed CD and coloured vinyl, along with a range of merch bundles. Reserve your copy now at HERE.
The album is also available to pre-order now on iTunes, including an instant download of "Mexico" HERE.
The Long Road Home sees a slight musical departure from Danny's previous work with ASKING ALEXANDRIA, now forging a deeper and often darker path through the British-born, Nashville-based musician's mind and displaying a truly stunning singing voice only hinted at in his previous work.
Long-time fans will see a much more personal and reflective side of Danny's, with brutally honest lyrical themes ranging from loss and heartache to Danny's past (and often public) struggles with drugs and alcohol. Backed by authentic, blues-soaked outlaw country, the album is also interspersed with a few more upbeat tracks, showing that Danny's ability to craft catchy melodies which will have listeners singing along in no time is still very much alive and well.