OPERATION: MINDCRIME Resurrection


By Andrew Depedro, Ottawa Corespondent
Tuesday, November 8, 2016 @ 1:59 PM


| | | |
| --- | --- | --- |
| | | |
OPERATION: MINDCRIME
Resurrection
Frontiers Records




Ever since I'd caught my first (and regrettably only) QUEENSRYCHE concert some 25 years ago during the Building Empires tour, I'd been under the impression that the band's iconic frontman Geoff Tate would be almost incompatible as the lead singer in any other band. His command of the stage, his soaring vocals and his lyrical contribution to many of the band's best-known songs that were steeped heavily in social commentary and dark introspective realism certainly made QUEENSRYCHE stand out from many of their other contemporaries by the end of the 80's and much of the 90's. Indeed, even when many of those same contemporaries saw a complete reversal of fortunes during the early 90's when their normally intact lineups suddenly imploded, QUEENSRYCHE continued unabated, releasing a further nine studio albums up until their own lineup came apart in 2012, the result of a highly-publicized backstage fight before a show in Sao Paulo, Brazil which later saw Tate being relieved of his long-standing role as the band's frontman.

Yet, for many diehard QUEENSRYCHE fans, the split itself was probably less of a surprise than how the scenario leading up to the split had culminated. When did the songwriters and musicians behind some of the most influential progressive metal albums of all time suddenly decided to handle band issues like the Gallagher brothers? And was this animosity between the two parties always present? It often depended on who you asked, but for Geoff Tate, his own side of the story remained untold as he faced allegations of bullying and intimidation by the other members following a heated discussion over the firing of his family from the band's management which led to the abrupt split. With his former bandmates continuing with the QUEENSRYCHE name and new vocalist Todd LaTorre (formerly of CRIMSON GLORY) following a lengthy court battle, Tate was expected by many to simply retreat into anonymity; instead, he amassed a new lineup for his own new band (including Brian Tichy, John Moyer and Simon Wright) which people had assumed to be a solo career before the project was renamed OPERATION: MINDCRIME. Their debut album The Key came out last year as the first album in a trilogy series and tackled issues such as Internet banking and virtual currencies. At first, the topics weren't exactly the most riveting of subjects to write about for an ambitious trilogy concept album when compared to the actual Operation: Mindcrime album itself, which was inspired by Quebec separatism of all things, but the concept still worked and got the band's name out there at least.

If anything, its follow-up album Resurrection would be the album for OPERATION: MINDCRIME to base their official blueprint upon. Yet while it continues its theme from the debut album, it also further covered themes of betrayal and redemption, almost serving as a metaphor for Geoff Tate's own battle to reclaim his name and identity.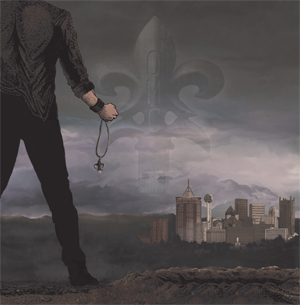 The album kicks off with four short tracks - the title track, "When All Falls Apart", "A Moment In Time" and "Through The Noize" - all lasting between 30 seconds and two minutes, mostly being small instrumentals. Pleasant and all, but it's the actual songs that you'll want to hear instead. The opener "Left For Dead" is straight-up modern-sounding 'RYCHE at its most earnest, its chorus of "I've been left for dead somewhere in America" setting a precursor to the narrative at hand. The DEFTONES-sounding "Miles Away" provides the perfect follow-up with its haunting guitar effects and Simon Wright's crashing drums on the intro backing Tate's pained yet humbled vocals as he tries to come to terms with his current surroundings; on "The Fight", rather than rebel against those who have wronged him, Tate looks inward to himself to find the inner strength to push forward. But it's the triple vocal attack of "Taking On The World" that ultimately proves to be the album's zenith, thanks in part to the vocal contributions of Blaze Bayley and Tim 'Ripper' Owens on the song's chorus as it literally brings back the majestic harmonics which personified the early QUEENSRYCHE catalogue.
Other top tracks closing out the album which also hearken back to the early QUEENSRYCHE blueprint include two 7-minute-long tracks: "Invincible" with its catchy rhythm guitar phrasing riff courtesy of Scott Moughton, and the bluesy-sounding "Into The Hands Of The World" which culminates into a spiraling chorus before it abruptly stops. Even the rhythmic "A Smear Campaign" with its neat horn section (and, yes, Geoff Tate's saxophone solo) recalls the galloping dual guitar harmonies of DeGarmo and Wilton from the early years. And as the album closes with "Live From My Machine", Tate makes clear of his refusal to be brought down or changed entirely of the experiences he's endured since the fractious upheaval of QUEENSRYCHE's partnership.
If anything, the experiences he's shared on Resurrection mostly serve as a template on personal re-invention. Sometimes we have to die to be born again as demonstrated by OPERATION: MINDCRIME's second lease on life.
4.0 Out Of 5.0
Pick up a copy of Resurrection in the KNAC.COM More Store right HERE.




Please log in to view RANTS

If you don't have a username, click here to create an account!






BRITISH LION, CONEY HATCH In Ottawa, Canada

SUNFLOWER DEAD C O M A

SURF CITY BLITZ In California Photo Gallery

TRIVIUM, AVATAR, LIGHT THE TORCH In Portland, OR Photo Gallery

DEVILDRIVER, JINJER In Cleveland, OH With Photos!

CORROSION OF CONFORMITY In Dublin, Ireland

CAULDRON New Gods

STEVE GRIMMETT'S GRIM REAPER In Ottawa, Canada

JUDAS PRIEST, KREATOR In Quito, Ecuador

CAL JAM '18 Photo Gallery

BLOODBATH The Arrow of Satan Is Drawn

STRIKER Play To Win

NIGHT RANGER "Dawn Of Madness" Show In Waukegan, IL

BUTCHER BABIES, KOBRA AND THE LOTUS, SKARLETT RIOT, IGNEA, MAERTYRIUM, In Siegburg, Germany

HOUSE OF LORDS In New Bedford, MA

GRETA VAN FLEET Anthem Of The Peaceful Army

IMPELLITTERI The Nature Of The Beast

ALICE COOPER In Houston Photo Gallery

ICARUS WITCH Goodbye Cruel World

TARJA, STRATOVARIUS, SERPENTYNE In Cologne, Germany

CLUTCH, SEVENDUST, TYLER BRYANT & THE SHAKEDOWN In Portland, OR With Photos!

ACCEPT In Houston, TX With Photos!

U.D.O. Steelfactory

SKULL FIST Way Of The Road

SOULFLY Ritual

ANTHRAX State of Euphoria 30th Anniversary Deluxe Edition

FIFTH ANGEL The Third Secret

STEVE GRIMMETT'S GRIM REAPER In New Bedford, MA

ANAAL NATHRAKH A New Kind of Horror

PRIMAL FEAR Apocalypse

BEHEMOTH I Loved You At Your Darkest

DORO Forever Warriors, Forever United

SLASH FEATURING MYLES KENNEDY AND THE CONSPIRATORS In Houston, TX Photo Gallery

BILLY MORRIS AND THE SUNSET STRIP Holdin' All The Aces

VINCE NEIL In Houston, TX Photo Gallery

DEE SNIDER For The Love Of Metal

UNLEASH THE ARCHERS, STRIKER, HELION PRIME In Houston, TX W/Photos!

DREAM CHILD Until Death Do We Meet Again

SCORPIONS, QUEENSRYCHE In Tampa, FL With Photos!

HUMBLE PIE Live At The Ottawa CityFolk Festival

BEHEMOTH Album Listening Party In Los Angeles For I Loved You At Your Darkest

THE DEAD DAISIES, HOOKERS 'N BLOW In Ottawa, Canada With Photos!

DRAGONLORD Dominion

STONE BROKEN Ain't Always Easy

BRANT BJORK Mankind Woman

KORPIKLAANI Kulkija

BRAINSTORM Midnight Ghost

SLEAZY WAY OUT, INSUFFICIENT FUNDS In Ottawa, Canada

DEEP PURPLE, JUDAS PRIEST In Jacksonville, FL W/Photos!

HELLOWEEN In Worcester, MA With Photos!