All Photos By Peter Atkinson
On the last night of their U.S. tour, Swedish behemoths MESHUGGAH and Oakland-based low-lifes HIGH ON FIRE teamed up just a few miles from the White House on the Sunday before the election to provide a welcome respite from the excruciating and interminable campaign.
And though the tinnitus and post-concussive wobbliness that resulted from the battering they doled out wore off before the gobsmacking amazement/disbelief of the ultimate outcome of the vote two days hence, for a little while anyway - thanks to their sheer heaviness, ear-bleed volume and epileptic lighting - all was right with the world, even if it meant missing The Walking Dead.
HIGH ON FIRE got things off to a rousing start with an hour-long set that delivered the raw intensity of MOTORHEAD, the doomy heft of BLACK SABBATH and the unapologetic trailer trash sensibilities of NASHVILLE PUSSY in equal measures. Indeed, when the trio was done someone near me cracked, "I didn't know Duck Dynasty had a band."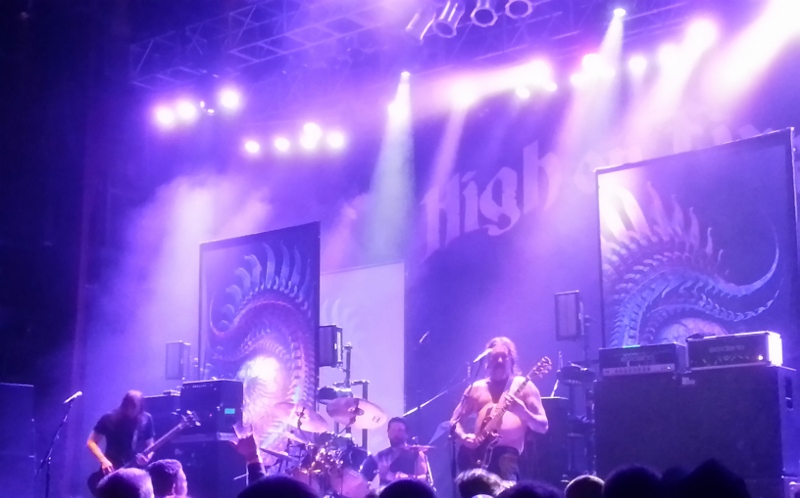 The comparison was certainly apt. Led by perennially shirtless guitarist/vocalist Matt Pike, also of stoner legends SLEEP - who packs the swagger of Lemmy into the body of Ron Jeremy, though his girth is covered in tattoos instead of Hedgehoggy fur – and amply bearded bassist Jeff Matz, the band sure looked the redneck part. But far from the bayou buffoonery of the Robertson clan, HIGH ON FIRE's relentless drone and thrum was all business.
Powered by Pike's quivering, sludgey riffs that came in wave after wave and Des Kensel's turbulent drumming on "Rumors Of War", "Slave The Hive" and "Snakes For The Divine", the band was thunderous and often quite mesmerizing. And it made for the perfect lead in as a contrast to MESHUGGAH's mechanical might.
MESHUGGAH's 90-minute performance offered few, if any, surprises – indeed the stage set looked pretty much the same as last time I saw the band two years ago, with the backdrops and screens just updated to reflect the artwork of the new Violent Sleep Of Reason album. But with its mathematic precision, unwavering drive and utter immensity, that hardly mattered.
The band stalked onstage with "Clockworks" from the new album, its skittish rhythm and swooping riffs bobbing and weaving in sync with the frenetic light show that dazzled throughout. Three other songs from Violent Sleep were aired, with the title track's shuddering, dive-bomb guitars again providing the perfect soundtrack for the flickers and flashes of the lively strobes and floor spots.
As always, MESHUGGAH was lockstep tight and seemingly flawless. Fredrik Thordendal and Mårten Hagström threw their haymaker seven- and eight-string riffs over Tomas Haake's shapeshifting blend of poly-rhythms and regimented backbeats on "Perpetual Black Second", "Stengah" and "Bleed" with effortless, even methodical authority while bassist Dick Lövgren anchored everything with a heaving bottom end.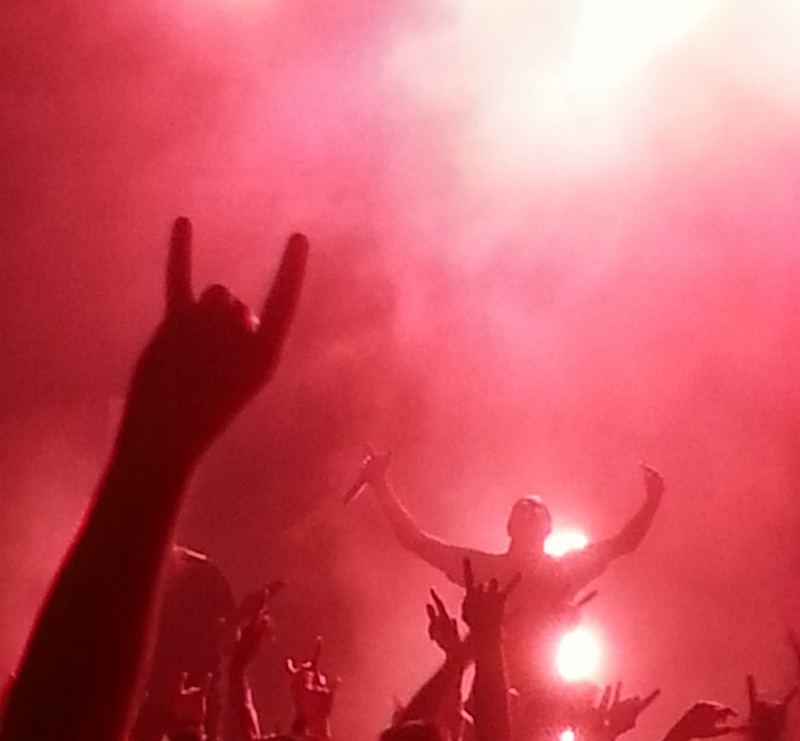 Frontman Jens Kidman, his looming presence all contortions, lurches and spastic gestures when he wasn't singing and coiled serpent when he was, was in command from the get-go. Even after 20-some shows, his martial cadence of shouts, screams and bellows was delivered with a vehemence that helped propel his bandmates and get a good portion of the crowd up front whipped into a frenzy.
MESHUGGAH saved the best for last, closing the show with the careening "Future Breed Machine" from 1995's Destroy, Erase, Improve, which helped set the benchmark for djent/math-metal. The cascade of screechy, twitching guitars and the fusillade of Haake's battery all but blew the roof off The Fillmore and made sure everyone staggered out happy – not that that was ever an issue.
"Breed Machine" and "Sane", from 1998's Chaosphere, showed just how far ahead of its time MESHUGGAH was when it essentially invented its own genre of metal 20-some years ago. And with newer tunes like "Do Not Look Down" or "Demiurge" not only holding their own with the vintage classics, but resonating with the same power and weight, MESHUGGAH's steamrolling performance moved from strength to strength and flat-out crushed. Glad I was there to be flattened.