THE ANSWER Solas


By Andrew Depedro, Ottawa Corespondent
Tuesday, November 15, 2016 @ 2:11 PM


| | | |
| --- | --- | --- |
| | | |
THE ANSWER
Solas
Napalm Records




Depending on who you ask, the term "solas" has a variety of meaning. In Spanish it means "alone", in traditional Irish it means "light" and for Dragon Age gamers, he's a character known for his vast knowledge of the Fade and is a potential romance option for female elven Inquisitors. And while it's a likelihood that during the course of their 16-year recording and touring career there's been a few late-night gaming sessions on board the tour bus or in the studio, I'm going to guess that the sixth full-length album by Northern Ireland blues-rockers THE ANSWER mostly focuses on solitude and luminescence. And even if I'm far off that assumption, the band can take comfort in the fact that they've created an album that's taken a radical departure from their previous output of brash unapologetic hard rock.

That's not to say that Solas itself is lacking any of the hard rock spirit that's personified THE ANSWER's first five albums; on the contrary, frontman Cormac Neeson's vocals still sound just as driven by the spirit of Phil Lynott himself on earnest tracks such as "Battle Cry" (with its soaring choir-like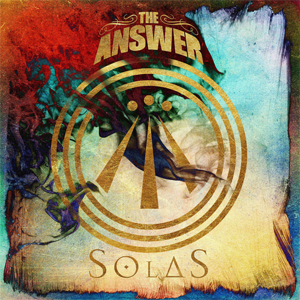 Celtic chants) and "Untrue Colour". But given their relative ease of crafting a decent hard rock song, Solas is the sound of the band branching out of their comfort zone and delving deep into rustic bluesy folk such as "In This Land", "Being Begotten" and "Thief Of Time", the mandolin/guitar and bass work respectively of Paul Mahon and Michael Waters forming the foundation of each song's identity in parts through their driving riffs and timed rhythm. "Beautiful World" may be a far cry from THE ANSWER's often happy-go-lucky attitude at first listen but its melancholic intro pushes forth through the despair it has laid out for itself. Even the title track is haunting and soaring at the same time as Cormac's vocals are almost pushed to their limit as he belts out the chorus to the end of the song.
As an added bonus, Solas also features an acoustic version of "In This Land" and a fine version of PINK FLOYD's "Money" in which Cormac's soulful vocals bring a unique twist to the classic number.
In responding to their critics who've accused them of snorting the proverbial whiskey in the jar and not inhaling on their last couple of discs, THE ANSWER have brought themselves back into the game with Solas. Don't count on these guys fading to black anytime soon.
4.0 Out Of 5.0
Grab a copy of Sloas in the KNAC.COM More Store HERE.




Please log in to view RANTS

If you don't have a username, click here to create an account!