German thrash titans KREATOR have released the music video for the title track of their upcoming album, Gods Of Violence. Watch the video on KNAC.COM right HERE.

The video for "Gods Of Violence" was shot with renowned video production company Grupa13 (AMON AMARTH, BEHEMOTH, ELUVEITIE).

KREATOR mastermind Mille Petrozza comments, ""Gods Of Violence"KREATOR is known for and it will blow your minds. Promise!"

Gods Of Violence will be released on January 27 via Nuclear Blast Records and will be available in the following formats:
CD Jewelcase
CD/DVD Digipak
T-shirt Bundle (Includes CD/DVD Digipak and Poster)
Red Cassette
Sherbert LP
Pre-order your copy of Gods Of Violence HERE.

KREATOR singer/guitarist and main songwriter Mille Petrozza comments: "We have prepared an amazing video trilogy with Grupa13 for our new album. We believe that they are among the most creative artists when it comes to surreal video art. The story line is linked to our album concept and the first clip visualizes the birth of the KREATOR demon."

The exclusive North American cover was created by renowned artist Marcelo Vasco (SLAYER, MACHINE HEAD, SOULFLY, HATEBREED).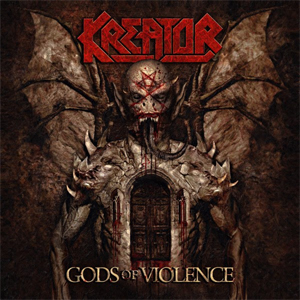 Gods Of Violence will contain 11 tracks with a total running time of approx. 52 minutes.
Below is the track listing:
"Apocalypticon"
"World War Now"
"Satan Is Real"
"Totalitarian Terror"
"Gods Of Violence"
"Army Of Storms"
"Hail To The Hordes"
"Lion With Eagle Wings"
"Fallen Brother"
"Side By Side"
"Death Becomes My Light"
Gods Of Violence was recorded under the watchful eyes of producer Jens Bogren (OPETH, AMON AMARTH, KATATONIA) who also mixed the record at renowned Fascination Street Studios. Mastering was also completed at Fascination Street Studios by Tony Lindgren.