SIXX:A.M. Prayers For The Blessed


By Rebecca Blaze, NYC Contributor
Friday, December 2, 2016 @ 10:56 AM


| | | |
| --- | --- | --- |
| | | |
SIXX:A.M.
Prayers For The Blessed
Eleven Seven Music




SIXX:A.M.'s Prayers For The Blessed was released on November 18, 2016. In 2015, Nikki Sixx made an announcement that they would be releasing two albums in 2016, the first of which was entitled Prayers For The Damned. With Nikki Sixx, James Michael, and DJ Ashba writing all the songs on the album, both albums were sure to be hits right out the gate.

Leading off Prayers For The Blessed is "Barbarians (Prayers For The Blessed)". I love the "We will not be damned" intro to it, as it connects both albums together, and works very well. "Barbarians" is just catchy in every sense of the word—between the beat, the chorus, and Ashba's guitar solo, there doesn't appear to be much, if anything, to not love about this song. "We Will Not Go Quietly", the single released for this album, is extremely powerful, and it speaks to me not only as a critic, but as a human being who enjoys music. The way I see it, in the heated world we live in right now, this song is kind of a guiding light that makes me feel vindicated in my feelings about how society is at the moment. I adore this song, it is my favorite on the entire album, and I keep coming back to it. I think it was a phenomenal choice to use as the single to hype the rest of the album.

"Wolf At Your Door" surprised me with guitar riffs that excite, but even after multiple listens, I can't actually get into it. I tried. I tried really hard. I just can't get excited by it, even with another one of Ashba's intense guitar solos. However, that being said, "Maybe It's Time", though slow and calming, is another one that keeps me coming back. It was a nice change of pace from the first three harder and heavier songs, and the lyrics allowed me an insight into what addicts who want to change their life path might be thinking. So, strange as it sounds, I think this is a great song for your average listener, and an even better song for those who do suffer from any form of drug addiction that are considering starting the road to recovery. As an outsider looking in, I could be wrong and could be making assumptions, but to me, it could be quite beneficial to that niche of people.

Following the raw reality of "Maybe It's Time" is "The Devil's Coming". The heavy intro is a good touch, but unfortunately It didn't excite me at all. The entire time I was listening to it, I was just waiting for it to be over, and that is never something I enjoy feeling. Physically yawning during a song when you've gotten ample sleep is not a good sign. Luckily, "Catacombs" came up next, and it was yet another badass Ashba guitar solo. I got really into it, and couldn't help but picture it being background music in a video game. "That's Gonna Leave A Scar" was heavy and exciting—another song that I was instantly hooked on from the first line. Another great guitar solo, and another great beat. These guys are absolutely KILLING it.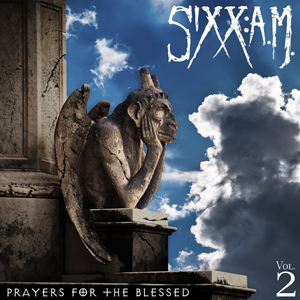 "Without You" was nice and slow, with surprising harmonies that caught me almost completely by surprise. The song was already relatively soft, but the harmonies softened it more, and it actually worked out exceedingly well, in my humble opinion. I was less impressed with "Suffocate" as it was one slower song right after another, and even though it picked up during the chorus, it still wholly underwhelmed me. "Riot In My Head" was beautifully haunting, and was a close second in favorites for me, only behind "We Will Not Go Quietly". Throughout the entire song I kept getting the chills, and that has always been a marker of a great song for me. It is slow, but since the subject matter isn't light and happy go lucky by any means, it worked out to their advantage.

Unfortunately, the final song "Helicopters" fell flat for me. It was yet another underwhelming song, and I don't think it was a good one to end the album on. I would have almost preferred that it have been left off entirely and that the CD ended with "Riot In My Head". There is just something about "Helicopters" that rubs me the wrong way. Actually, it might be everything about this song that rubs me the wrong way. When a CD that I'm listening to ends on a damn good song, I feel accomplished and ready to take on whatever my next task is. I didn't get that with finishing this album, and I find that disappointing. But, I suppose you're never going to win them all.

When all is said and done, I did really enjoy this album. Well, I enjoyed about half of it. Almost the entire second half of Prayers For The Blessed was too slow for my taste, and since most of the slower songs were one right after the other, all the momentum from the first half was lost. Luckily, the aforementioned first half was spunky enough that I'm willing to overlook the less than ideal second half.

Go out, buy this album, and buy Prayers For The Damned, too, if you haven't already. Hell, while you're at it, if you have the opportunity, make sure to catch the guys on tour, as they'll be out and about until December 10, 2016.

WEBSITE: sixxammusic.com

4.0 Out Of 5.0

Pick up your copy of Prayers For The Blessed in the KNAC.COM More Store right HERE.




Please log in to view RANTS

If you don't have a username, click here to create an account!