CHARRED WALLS OF THE DAMNED Creatures Watching Over The Dead


By Rob McNees, Vinyl Aficionado
Monday, December 12, 2016 @ 4:20 PM


| | | |
| --- | --- | --- |
| | | |
CHARRED WALLS OF THE DAMNED
Creatures Watching Over The Dead
2016 Metal Blade Records




The landscape of music has changed so much in the last decade or so that it's hard for my feeble mind to grasp. The frontman, he of the amazing pipes who would illicit the 'wow' when hitting unheard of notes, is sadly becoming a thing of the past. As the Halfords, Dickinsons, Tates etc. sing off into the sunset, where are the new Kings to take their place? Sadly, I don't see many that can fill those shoes these days. Todd LaTorre, Rob Rock, Sean Peck & Dan Cleary (of STRIKER) are the few that spring to mind. And of course, Tim 'Ripper' Owens. The cat can sing, scream, and kick your ass with Heavy Metal Power!! He's fronted some of the best: ICED EARTH, YNGWIE MALMSTEEN, DIO DISCIPLES and of course JUDAS PRIEST. But what about the rest of CHARRED WALLS OF THE DAMNED you ask? So Ripper does it all? Not hardly. On drums and writer of the majority of the music & lyrics, is Richard Christy. He's played with DEATH, CONTROL DENIED and ICED EARTH among others. His money-making career path is being a goof for Howard Stern on his show (does anyone listen to that anymore)? Bass is handled by the more than capable hands of Steve DiGiorgio, he of TESTAMENT, DEATH & SADUS fame among others. AND handling guitar for this merry band of minstrels is Jason Suecof, who is the other principle songwriter but made his name more as a producer. He's worked with DEATH ANGEL, CRYPTOPSY, TRIVIUM & DEICIDE to name but a few. So now you know the players, how does the music stand up?

I'll start off by saying this is the 3rd CWOTD album. To say they fly under the radar would be an understatement. Is it the fact that the rarely play live because everyone has other things going on? I can't say for sure, but there's not much of a buzz about a band of this pedigree. So then is it the music?? The only way to answer that question is to delve into it and see what's on offer here. Of the 9 tracks, only 1 is barely over 5 minutes. Album opener "My Eyes" is a mid-tempo grinder with a great melody line. Christy is underrated drummer to be sure, as he has some serious chops. A tasty melodic solo by Jason. A strong opener, with a hint of ICED EARTH methinks.

"The Souless" starts with a blastbeat (!) and some frantic guitar before settling into a muscular pounder with Ripper killing it with multi-layered vocals. The melody line really sticks with you on this one. The blistering Thrash midpoint takes it to another level. A fave track to be sure! "Afterlife" has a much more subdued tone with touches of acoustic guitar but also some double bass pounding to offset it with great effect.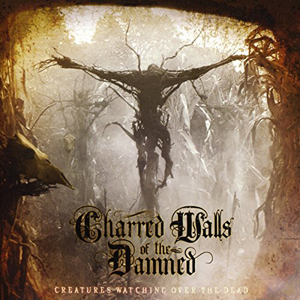 "As I Catch My Breath" follows it well with subtle shades that never overpower the track. Steve has some tasty runs as well to insure he's not forgotten. "Lies" continues to hint at the earlier heaviness without bludgeoning as the band shows it's different hues and musicality. "Reach Into The Light" gets back to the banging with Ripper hitting some glass breaking screams and the band going thru a myriad of tempo changes with ease.
"Tear Me Down" toes the line between subtle and bonecrushingly heavy with a memorable chorus. Suecof's production plays to the bands strengths, including a sweet echo effect on Ripper's voice. "Living In The Shadow Of Yesterday" again shows restraint in the song as apposed to balls-out heaviness. Not to say that's it's unheavy, but a more subtle approach ala KILLSWITCH ENGAGE. Album closer "Time Has Passed" lets Steve rip off some blistering bass reminding me of Steve Harris' legendary intro to "Wrathchild" by IRON MAIDEN with the song itself giving me a distinct NEVERMORE-esque vibe to it.
All in all a solid effort and one that grows on you the more you spin it. I think the album has some crossover appeal as I said by virtue of its musicality and melody. Maybe not in a "Black Album" METALLICA kind of way, but I do believe that if given a chance by discerning Metalheads & Rockers that it would open a few doors for these boys. But ultimately they'll need to branch out in the Live sector for the seed to be fully sown.
And for my Vinyl loving family out there, there is a limited Vinyl release for this. So do yourself a favor and search it out!
3.8 Out Of 5.0 Skulls
Pick up your copy of Creatures Watching Over The Dead in the KNAC.COM More Store right HERE.




Please log in to view RANTS

If you don't have a username, click here to create an account!