LEPROUS Live At Rockefeller Music Hall


By Peter Atkinson, Contributor
Monday, December 12, 2016 @ 4:25 PM


| | | |
| --- | --- | --- |
| | | |
LEPROUS
Live At Rockefeller Music Hall
Inside Out Music




If you are a prog metal fan who hasn't yet discovered Norway's LEPROUS, and there are plenty of you, now is the perfect time. The band has just issued the Live At Rockefeller Music Hall CD/DVD that on the CD alone – with 14 songs and more than 100 minutes of music – offers a great opportunity to catch up, at least with its last three albums.

For the unfamiliar, LEPROUS has been around for 15 years, issuing four quite captivating and challenging albums – five if you count the epic 2006 demo Aeolia – that boast ample electronic tinges and a sometimes jazz-like hue not unlike fellow Norwegian avant-gardists SHINING, only without the blaring saxophone, to contrast a metallic clangor that is topped by the hypnotic, occasionally air raid siren-like vocals of Einar Solberg. Perhaps because of the band's death metally moniker, or its unconventional stylistic approach that takes some dramatic liberties with both metal and progressive templates, LEPROUS has remained an underground phenomenon – or an "Acquired Taste", to borrow the title of a track from 2011's Bilateral that is also on the live album.

Indeed, LEPROUS might still best be known for its years of service as the live backing band for solo shows by EMPEROR frontman Ihsahn, who is Solberg's brother-in-law. Ihsahn returns the favor with a guest appearance here, providing additional guitar and his signature gravelly wail to counter Solberg's soaring cleans during the climatic, gloriously cataclysmic "Contaminate Me", just as he did on the original recording on 2013's Coal.

I can't speak to the visual aspect of the band's performance on Live At Rockefeller Music Hall, since the promo download featured the music only, but that is worth it on its own. The expansive, sometimes meandering, songs and constant ebb and flow LEPROUS concocts are so absorbing and demanding of one's attention that the usual DVD shenanigans and frenetic cinematography might only serve as a distraction anyway – though that should not dissuade anyone from checking out the DVD.

As the band was touring in support of 2015's Congregation, it commands the bulk of the set presented here, eight songs in all. Four tracks from Coal make the cut, as do two from 2011's Bilateral. The more metalized material of the debut Tall Poppy Syndrome sadly is ignored, but LEPROUS has, well, progressed beyond that in the ensuing years, so the omission makes some sense. And at nearly two hours, the set certainly is not lacking as it is.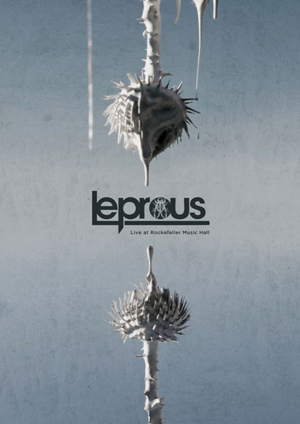 If there's one knock on LEPROUS it's that its songs can be overlong and often take a while to find their groove. Half the tracks here clock in at 7 minutes or more, with the last two - "Forced Entry" and "Contaminate Me" - topping 10 minutes, and there typically is a slow build with moody, serene melodies buoyed by Solberg's vocal gymnastics – which, for better or worse, can recall the caterwaul of Justin Hawkins from THE DARKNESS - eventually giving way to rousing metal/post-metal bursts punctuated by ringing, stutter-step riffs, free-form freakouts or percussion-driven tumult. Relatively new drummer Baard Kolstad definitely proves his worth here.
If you're looking for standard verse-chorus-verse fare, LEPROUS probably is not for you. But for adventurous sorts, your patience will more often than not be rewarded. The sprawling "Forced Entry", "Rewind", "The Valley" and "The Price", the roiling "Moon" and the pulsing, electronically charged opener "The Flood" are quite mesmerizing, while the aforementioned "Contaminate Me" finishes things off with ominous/spasmodic flair.
The middle section of the album – from "Acquired Taste" through "Slave" - may seem a bit too mellow or passive, but the front and back are top notch and will provide more than a few intriguing surprises for anyone just discovering LEPROUS - and plenty of resonant thrills for those more familiar. Either way, it's a winning proposition from a band that certainly deserves more attention that it has garnered up to now.
4.0 Out Of 5.0
Purchase your copy of Live At Rockefeller Music Hall in the KNAC.COM More Store right HERE.




Please log in to view RANTS

If you don't have a username, click here to create an account!