EX DEO's third album The Immortal Wars offers epic tales, melodic death metal riffs and orchestral anthems that will surely raise fists! Prepare ..Defend ...Destroy!

Now Italian blooded frontman Maurizio Iacono and his converted Gauls from French Canada send the first strike from The Immortal Wars! Ensure to witness "The Rise Of Hannibal"! It's the first song of EX DEO's upcoming masterpiece and it's available NOW. Listen to the exclusive worldwide audio premiere!

Stream "The Rise Of Hannibal" in its entire length below.

EX DEO spread the word of Rome and state:

"People of Rome, there is a threat looming from Carthage, a force has awaken and we most stop The Rise of Hannibal, the soundtrack to ancient Rome is here, you have waited so long... Raise your Gladius in pride!"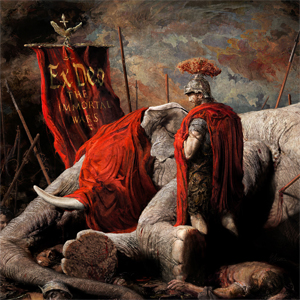 The Immortal Wars will be released on February 24th 2017 via Napalm Records.
The full track listing of The Immortal Wars reads as follows:
"The Rise Of Hannibal"
"Hispania (The Siege Of Saguntum)"
"Crossing Of The Alps"
"Suavetaurilia (Intermezzo)"
"Cato Major: Carthago Delenda Est!"
"Ad Victoriam (The Battle Of Zama)"
"The Spoils Of War"
"The Roman"
Pre-order yourself a copy of The Immortal Wars! The first single "The Rise Of Hannibal" is an instant grat track - if you pre-order the album, you'll get the single as immediate download!

Stay tuned for more news to come from your Roman Legion!