INSIDE METAL: The LA Metal Scene Explodes – Parts 1 And 2


By Charlie Steffens aka Gnarly Charlie, Writer/Photographer
Tuesday, December 27, 2016 @ 3:46 PM


| | | |
| --- | --- | --- |
| | | |
INSIDE METAL: The LA Metal Scene Explodes – Parts 1 And 2
MetalRock Films




Inside Metal: The LA Metal Scene Explodes takes the viewer on a journey from 1981 to 1986 when bands with hopes of getting a record deal busted their asses and honed their chops to get noticed as the hard rock and metal scene took over Los Angeles.

In the early to mid-80s, there came a polarization between glam metal and thrash metal, with metal eventually splintering into even more subgenres. Both parts 1 & 2 are loaded with still photographs, video footage, and in-depth interviews from notable musicians who left an imprint on the era: Stephen Pearcy (RATT), Lars Ulrich (METALLICA), Don Dokken (DOKKEN), Jack Russell (GREAT WHITE), Lizzy Borden, Carlos Cavazo (QUIET RIOT), Chris Holmes and Randy Piper (W.A.S.P.), Betsy Weiss (BITCH), Dave Ellefson (MEGADETH), Spacey T (SOUND BARRIER), Dave Meniketti (Y&T), photographer Kevin Estrada, Jaime St. James (BLACK 'N BLUE), Joe Floyd (WARRIOR), Marq Torien (BULLETBOYS), Nadir D'Priest (LONDON), Gene Hoglan (TESTAMENT, DETHKLOK) Michael Sweet (STRYPER), Ann Boleyn (HELLION), John Bush and Joey Vera (ARMORED SAINT), among others.

During the emergence of bands such as MOTLEY CRUE, GREAT WHITE, W.A.S.P., RATT, DOKKEN, and the band that put metal on the map, QUIET RIOT, the Hollywood club circuit was regarded as the holy grail. Venues like Gazzarris, The Roxy, The Troubadour, and the Whisky a Go Go, all within a half-mile radius of each other, hosted hungry up-and-comers, some of whom inked the sought-after record deal and went on to become rich and famous. As the documentary points out, the competition between the bands was fierce, yet there was a sense of camaraderie in the air. Bands would go see other bands for support, and often to try and swipe a gimmick or two.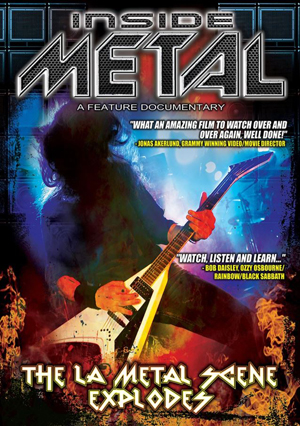 Part 2 covers mid-80s censorship (the Tipper Gore years), when records with the Parental Advisory stickers outsold non-censored albums ten to one. Shock value sold, as proven by the success of W.A.S.P. and their notable tune "Animal (Fuck Like A Beast)". For others, success was a bit slower in coming--Jack Russell recalls a time when his band GREAT WHITE made seven dollars playing the Troubadour and they were happy for it. Before the Internet, social media, YouTube, and American Idol, there was a staunch DIY ethic. After gigs, when the fliers had all been passed out, bands would race up and down the Sunset Strip, posting even more fliers for upcoming gigs on every telephone pole for miles. Not long after tape trading and fanzines were the media through which metal bands got recognized, local Los Angeles FM radio station KNAC 105.5 played an integral part in getting many of these bands heard for the first time, most notably GUNS 'N ROSES.
The 2-DVD set is an informative must-see for those who lived it and for those interested in the origins of hard rock's most influential era.
(Bob Nalbandian directed and produced the documentary.)
4.0 Out Of 5.0
Grab your copy of Inside Metal: The LA Metal Scene Explodes in the KNAC.COM More Store, Part 1 HERE and Part 2 HERE.




Please log in to view RANTS

If you don't have a username, click here to create an account!