ENUFF Z'NUFF Clowns Lounge


By Rebecca Blaze, NYC Contributor
Tuesday, December 27, 2016 @ 3:48 PM


| | | |
| --- | --- | --- |
| | | |
ENUFF Z'NUFF
Clowns Lounge
Frontiers Records




Following their 2010 release of Dissonance, ENUFF Z'NUFF has released another album, Clowns Lounge, primarily composed of unreleased—at least up until this point—songs from recording sessions from the late 80s in Wisconsin.

Clowns Lounge takes its name from a strip club the boys frequented between recording sessions of their self-titled release on ATCO Records. While most of the songs do feature bassist Chip Z'Nuff and singer Donnie Vie, as well as guitarist Derek Frigo and drummer Vikki Foxx, other songs do not. Most notably, "Dog On A Bone" has Chip on vocals with zero involvement on Vie's end, and "The Devil Of Shakespeare", originally recorded in 2004, which brings us WARRANT's Jani Lane on vocals and STYX's James Young on guitar.

Getting it out of the way before it becomes a redundant fact, damn near every song on this album has an awesome intro that wholly envelopes you in the music. They're each special to their respective songs, and don't feel overly repetitive at all. Starting with "Dog On A Bone", I was most impressed with the great use of sound effects and the guitar riffs. The song had a well-executed beat overall. "Runaway" is one of my favorite songs on this entire album. There is one lyric that specifically speaks out to me, "She talks of being happy, as a tear rolls down her face/she swears that she'll be laughing when she finds a better place." As a female, I'll be the first to say that this is an exact situation that I've been in on more than one occasion. To me, when a song is as relatable as "Runaway", it is almost a guarantee that it will be my favorite song on whichever album it happens to come from.

"Back In Time" feels decidedly late 80s early 90s, which is both ironic, yet fitting, considering the basis of the majority of the songs on the album. While the rest of the CD sounds to me like it could have been recorded at any point in time, "Back In Time" very much sounds like it came from exactly when it did. It's obviously understandable, and while I'm sure you think I'm going to say that I felt it didn't fit… au contraire. I think it fit obnoxiously well with everything else. Much like "Runaway", it is another favorite of mine, and I can't stop playing it.

"She Makes It Harder" rubs me in all the dirty and raunchy ways it could. The lyrics aren't necessarily the easiest to understand, but all is forgiven because of the thoughts that run through my head whenever I listen to it, and I won't lie, they're dirtier than a grease barrel. "Rockabye Dreamland" was the first promotional song released ahead of the album on Youtube and Spotify October 12, 2016. I fell in love with it as soon as I heard it. When the instrumentals kicked in, I was dragged into what felt like a beautiful and haunting dream. Listening to it the first few times gave me goosebumps, and typing it up now is no exception to that. After only two listens I was singing along, which, for me, is a good indicator of the song's worthiness. "The Devil Of Shakespeare" has that same haunting feeling throughout, and I enjoy the chorus, but it wasn't my favorite or even close. It is worth the listen for Jani Lane, if absolutely nothing else. "Radio" has a fun The Price Is Right-type intro, and fabulous guitar work throughout. The 'radio ad' midway through was perfectly placed, and the percussion was thoroughly enjoyable as well. The utilization of feedback ending the track is primo—of course it helps that I'm a sucker for good feedback usage. "Good Luv" brings us back to that rough, raunchy, and dirty feeling that I can't help but melt and bite my lip whenever I hear. If I had to pick between "Good Luv" and "She Makes It Harder" to listen to in the bedroom, I would pick "Good Luv" every time. Every. Last. Time.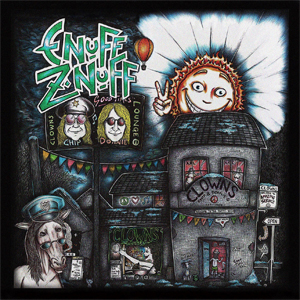 "Round And Round" is an all-around (see what I did there? See that?) fun song. It is one that I could see being played on a jukebox in the present day, at least somewhere that people have any modicum of taste. It reminds me of a carnival that I would love to hang out at—every day of the rest of my life. "Nothing" combines fantastic percussion work with long and drawn out vocals. There is absolutely nothing I don't like about this song. The drums pulled me in, the vocals held me down, the well-executed verses tied me up, and the guitar work mentally assaulted me in the best way it possibly could, and I LET IT. Hook, line, and sinker, these guys have got me. "Backstreet Kids" is the one song on this CD that can truly speak to almost everyone. One of the lyrics, "Can be hard to be a man when you got no money" can be seen as true for a large percentage of people. Even looking back to the recession in 2008, so many people lost their jobs and couldn't provide for their family or themselves. It can even speak well to those who still feel like they don't have enough money to do anything fun. The entire song makes my personal struggle seem vindicating, and I can only imagine that I am not alone in that thought. The last song, "One More Hit" was alright, but the lyrics aren't easy to understand in the slightest. I know it was all English, but it didn't necessarily come out that way. I understood maybe one in five words, which was slightly unnerving, but considering how strong the rest of the album was, I will overlook it. It's a good song to end the album on, but it is nothing overly special.
Overall, I absolutely love this album. Almost every song on Clowns Lounge is better than the one before it, and I cannot stop listening to save my life. If you haven't given ENUFF Z'NUFF a chance in awhile, or if you've never given them a chance, be sure you do. This is one band you really need on your radar. They'll be out touring in 2017, so at the very least, check out their tour dates and drop in for a show when they're in your area.
www.enuffznuff.com
4.5 Out Of 5.0
Pick up your copy of Clowns Lounge in the KNAC.COM More Store right HERE.




Please log in to view RANTS

If you don't have a username, click here to create an account!