TYGERS OF PAN TANG
Tygers Of Pan Tang
Mighty Music




When bands have been around for 20+ years, very seldom do they make that journey with the same core members. ZZ TOP is the only exception I can think of offhand, having the same 3 amigos that they originally formed with. And I have talked about this before, during my review of NWOBHM legends DIAMOND HEAD, that most of the time there is 1 captain steering the ship. And in the case of NWOBHM brethren TYGERS OF PAN TANG, that captain is guitarist Robb Weir. Robb has led this group thru more than a few incarnations, with such notable members as vocalist Jess Cox (He of Neat Records fame) and axe slinger John Sykes (THIN LIZZY, WHITESNAKE among others).

Having formed in 1978, the TYGERS' first single, "Don't Touch Me There" dropped in 1979, and except during the 90's (a dark time for classic Metal) they've been plugging away in one form or another since then. Today's TOPT lineup has Robb (of course), Craig Ellis (drums), Jacopo Meille (vocals), Gavin Grey (bass) and Micky Crystal (guitar). And their latest creation is simply titled Tygers Of Pan Tang.

"Only The Brave" comes storming out of the gates with a crisp uptempo riff reminiscent of "Bark At The Moon", and the TYGERS waste no time in going right for your throat with a solid chorus and great melody line to boot. Nice duel leads as well. "Dust" has a meaty groove that will surely have heads banging & fists pumping. "Glad Rags" sounds very 80's Sunset Strip with a little boogie and even some cowbell (!). This may have a few lasses shaking their moneymaker along with some hand-clapping and a little sing-along too and will no doubt be played live for the crowd participation bit.

"Never Give In" sounds like primetime TYGERS of old with a driving riff and aggressive chorus, definitely a fave in this Metalhead's eyes. "The Reason Why" takes things down several notches as the intro is reminiscent of "Cemetery Gates" by Texas' own PANTERA. This track is a ballad as is the aforementioned track, so you made need to keep a lighter handy for this one (shameless 80's live plug there). "Do It Again" gets things cracking again with a beefy riff and lyrics about reliving your youth. Even gives a shoutout to ZEPP if you listen closely. Great memorable chorus as well. It's another fave and great song for rolling down the highway on my Harley! "I Got The Music In Me" is a cover from THE KIKI DEE BAND from 1974 and once the chorus hits if you were around back then I'm sure you'll remember it too (Yes I was, so shush). Interestingly enough HEART also covered this track on their Magazine album from 1978.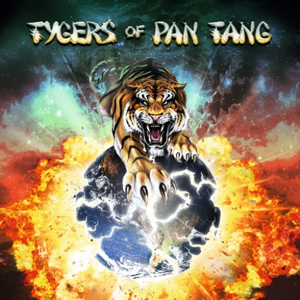 "Praying For A Miracle" is a ballad of sorts but a bit more uptempo. The tasty lead play is a nice touch. "Blood Red Sky" brings the energy back up with a punishing riff and a groove guaranteed to get you moving. A dramatic lull builds up to a crescendo reminiscent of DIAMOND HEAD's "Sucking My Love" before a blistering lead brings it all back together again. Another to add to the must-hear category. "Angel In Disguise" is a wonderful acoustic piece with just Jacopo and the guitar. It gives his vocals a real chance to shine here. Well done. Album closer "The Devil You Know" doesn't disappoint with no shortage of riffing energy and a driving bass backbone leaving no stone (or eardrum) unturned. Just try not to be alarmed when the big kitty beckons!
This album not only proves that the Old Guard can still hang with the younguns but they haven't stagnated yet and still have plenty left to say!! And I, for one, am damn proud of that fact.
And for my Vinyl familia out there, this is available in limited quantities on regular & picture disc formats. BUY OR DIE!!!
4.3 Skulls Out Of 5.0
Grab your copy of Tygers Of Pan Tang in the KNAC.COM More Store right HERE.