Las Vegas based Metal band .BIPOLAR. have released their new single "Ernest" from the upcoming Seven EP which will be released on January 28th and you can check it out below. The self produced EP was recorded at Hideout Studios in Las Vegas, NV and was engineered by Shawn McGhee. The video/album release show will take place at Adrenaline Sports Bar & Grillon January 28th with special guests DiM., LEVITRON, and QUOR. Info on the show is available HERE.

The Seven EP will feature four brand new songs taking the band into a more technical direction than we have been before. This is our Seventh studio album that was birthed from a new direction with guitarists Jaisen and Kevin. We have a solid foundation now to craft our next EP and look forward to it's release. - Charlie (Vocals)

Track List:
"Ernest"
"Pyrite"
"Habitual"
"Overnighter"
About .BIPOLAR.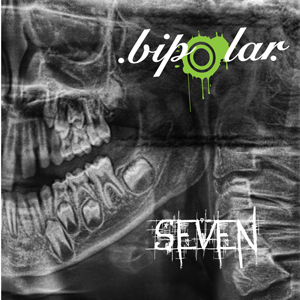 Eight years are behind us in the city of sin. Eight years of growth, evolution, accomplishments with the ever-changing desert as our backdrop.
While playing on almost every stage in this town (that will allow metal) we've watched the metal scene transcend a dusty cloud of impoverishment and become fruitful; pushing forth greater venues, more talented musicians and a plexus of community between the bands. While there is always the need for further growth the current state is far more productive than when we had first moved here from Sacramento in 2008.
.BIPOLAR. was birthed in Northern California in 2003. We were recognized in 2004 as Best Metal band by the Sacramento News & Review played hundreds of shows and put out four albums over the span of six years.
Vocalist, Charlie and drummer Brian moved to Charlie's former home of Las Vegas for personal growth during the recession still with the hopes of continuing .BIPOLAR. Within a few months we played our first Las Vegas show at the now defunct Farm and began the plunge into the Vegas metal scene.
Two EPs, hundreds of shows, a couple Vegas Rocks Award nominations and a few guitarists later we haven't regretted the move one bit.
The band now consists of Chris Kmit as bassist, Kevin Lemus and Jaisen Hinds as guitarists joining Brian on drums and Charlie as vocalist.