HAVOK "Hang 'Em High" With New Streaming Track


By Larry Petro, News Monkey
Sunday, January 22, 2017 @ 8:46 AM


| | | |
| --- | --- | --- |
| | | Headlining & SUICIDAL TENDENCIES Tours Begin Next Month |
Colorado based thrash metal outfit HAVOK are disseminating the first new track off their upcoming album, Conformicide. The song, titled "Hang 'Em High" can be heard via the lyric video below and is the first instant grat track for those who pre-order the album on Amazon and iTunes. Conformicide will see a March 10th release on Century Media Records.

Speaking about the message behind "Hang 'Em High" and the accompanying lyric video, David Sanchez (lead vocals, guitar) comments, "In our current political atmosphere, corruption runs deep. This is our response. It's time to wake up."

In addition to Conformicide being released on CD, digital and streaming platforms, the album will also be available in an array of limited edition vinyl colors. See below for a complete list of these color LPs and where fans can purchase them.

Color Vinyls:
Black - All Outlets (unlimited)
White - CM Distro Europe Exclusive (100 copies)
Lilac - Europe (200 copies)
Golden - Nuclear Blast Europe Exclusive (200 copies)
Neon Yellow - US Stores / Indie Merch (400 copies)
Clear - Pledge Music Exclusive (300 copies)
Transparent Blue - Tour/Band Exclusive (300 copies)
In the shop for almost three years, HAVOK's Conformicide is undoubtedly their Master Of Puppets or Rust In Peace moment. While it's true that the Denver-based rippers have bled out guts, brains, and cash on previous records like Unnatural Selection (2013), Time Is Up (2011), and Burn (2009), none of them compare to the ear-destroying, mind-flaying upheavel heard on Conformicide.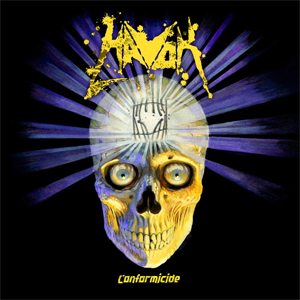 HAVOK - Conformicide (Tracklist)
"F.P.C."
"Hang 'Em High"
"Dogmaniacal"
"Intention To Deceive"
"Ingsoc"
"Masterplan"
"Peace Is In Pieces"
"Claiming Certainty"
"Wake Up"
"Circling The Drain"
Bonus Tracks (Special Edition CD)
"String Break"
"Slaughtered"
Bonus Tracks (Gatefold 2LP + CD)
"String Break"
"Slaughtered"
"Claiming Certainty" (Live)
HAVOK are preparing to embark on their first headlining tour of the year in North America as part of the build up to Conformicide. Immediately following this run, the band will join on as part of the "World Gone Mad" tour, supporting the legendary likes of SUICIDAL TENDENCIES and CROWBAR. A complete list of dates for both tours can be found below.

*FOR THOSE ATTENDING NAMM (North American Music Merchants)*

HAVOK will be in attendance at this weekend's convention as part of the Peavey family. On Saturday, David Sanchez and Reece Scruggs will be participating in a fan signing at 3:30pm, followed by a live performance on the Peavey stage at 5:00pm.

HAVOK - Upcoming Live Dates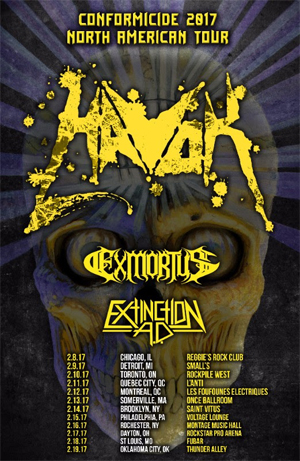 North American Headlining Tour w/EXMORTUS & EXTINCTION A.D.
2.8 - Chicago, IL @ Reggie's Rock Club
2.9 - Detroit, MI @ Small's
2.10 - Toronto, ON @ Rockpile West
2.11 - Quebec City, QC @ L'Anti
2.12 - Montreal, QC @ Les Foufounes Electriques
2.13 - Somerville, MA @ Once Ballroom
2.14 - Brooklyn, NY @ Saint Vitus
2.15 - Philadelphia, PA @ Voltage Lounge
2.16 - Rochester, NY @ Montage Music Hall
2.17 - Dayton, OH @ Rockstar Pro Arena
2.19 - Oklahoma City, OK @ Thunder Alley
"World Gone Mad" US Tour Supporting SUICIDAL TENDENCIES & CROWBAR
2.22 - Santa Ana, CA @ The Observatory
2.23 - San Diego, CA @ The Observatory
2.24 - Tucson, AZ @ Club X
2.25 - Farmington, NM @ Top Deck
2.27 - Dallas, TX @ Gas Monkey
2.28 - San Antonio, TX @ Paper Tiger
3.1 - Houston, TX @ White Oak Music Hall
3.3 - Atlanta, GA @ The Masquerade
3.4 - Ft. Meyers, FL @ Harborside Events Center
3.5 - Tampa, FL @ State Theatre
3.7 - Memphis, TN @ New Daisy Theatre
3.8 - Lawrence, KS @ The Granada
3.9 - Omaha, NE @ Lookout Lounge (No S.T.)
3.10 - Denver, CO @ Summit Music Hall (Record release)
3.11 - Salt Lake City, UT @ The Complex




Please log in to view RANTS

If you don't have a username, click here to create an account!