THE WILD! Wild At Heart


By Andrew Depedro, Ottawa Corespondent
Sunday, January 22, 2017 @ 9:01 AM


| | | |
| --- | --- | --- |
| | | |
THE WILD!
Wild At Heart
eOne Music




"From livin' life without a care in the world to growin' up and grindin' out that 9 to 5, nobody loves that transition in life but we all go through it at some point".

Singer/guitarist Dylan Villain may have been referring strictly to the song "Livin' Free" by his band THE WILD! in this succinct description of its topic matter here, but it could also apply to THE WILD!'s own philosophy since the band's breakthrough in 2015 with their EP GxDxWxB (that's God Damn Wild Boys to you). Now with the band on the cusp of releasing their full-length debut album Wild At Heart, THE WILD! are now ready to roll with their brand of no-frills unabashed outlaw Delta Blues-inspired rock 'n roll with their first single titled, well, "Ready To Roll". Subtle-hidden Easter eggs aren't really THE WILD!'s strongest point, but we have enough of those types of bands out there as it is which is why Wild At Heart comes as a refreshing change.

Produced by esteemed production guru Mike Fraser (AC/DC, AEROSMITH, METALLICA, AIRBOURNE), Wild At Heart is an unashamed boisterous knocked-up, dragged down rock 'n roll outlaw punk party in the streets which proudly wears its hearty AC/DC/ROSE TATTOO influences like a ten-gallon Stetson and imbibes liberally from the well of Bon Scott and Angry Anderson. Credit goes to Dylan Villain's backing posse comprised of the solid rhythm section of bassist/vocalist Boozus (he loves his beer and fly fishing) and drummer/self-described "everyone's favorite asshole" Reese Lightning as well as Dylan's other axeman known as The Kid, who all personify and add the high-volume grit on other numbers such as "Six Hundred Sixty Six" and the feisty and fast "Best In The West".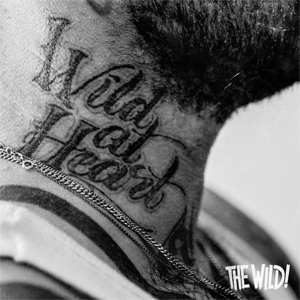 Suffice to say, as catchy as "Ready To Roll" and the second single "Livin' Free" are, it's the aforementioned "Six Hundred Sixty Six" and "Best In The West" and the groove-laden "Another Bottle" which are the true proverbial diamonds in the rough that comprise Wild At Heart. Another track with its own particular charm would be the slow-driving "Run Home" - a slow, bluesy track whose chorus is almost choir-like in its low-voiced delivery, making one wonder if Dylan Villain's voice may be too good for THE WILD!'s gritty brand of rock 'n roll, yet still fits the mood well. Think AC/DC's "Night Prowler" if the subject in that song gave the potential victim at least one chance to escape. Otherwise, there's nothing polite or apologetic about THE WILD!'s outlaw mission at hand or at heart. Nice boys, as we've been reminded in the past, don't play rock 'n roll. And rock 'n roll is all the more better for it as Wild At Heart has demonstrated.
4.0 Out Of 5.0
Grab your copy of Wild At Heart in the KNAC.COM More Store right HERE.




Please log in to view RANTS

If you don't have a username, click here to create an account!