DIRKSCHNEIDER Live - Back To The Roots


By Rob McNees, Vinyl Aficionado
Sunday, January 22, 2017 @ 9:18 AM


| | | |
| --- | --- | --- |
| | | |
DIRKSCHNEIDER
Live - Back To The Roots
AFM Records




In my feeble mind, certain people are intrinsically linked to certain bands. When I think of UDO, I think of ACCEPT. But the straight up fact is that he's been solo since 1987 and has 15(!) albums under his own moniker!! And only 10 with ACCEPT. So once I wrap my brain around that, I can understand that I'm probably not the only one who thinks in those terms. And maybe the reason why UDO has decided to put together one final World Tour, and put the ACCEPT catalog to bed once and for all. And since he's doing no UDO material at all, and focusing solely on his ACCEPT period and to forever document his closing of this chapter in his already storied career, he's gave it a different moniker, calling it...DIRKSCHNEIDER! But it's been such a success, that it continues on into 2017. But if your one of the unlucky ones that didn't or won't be able to witness it in person, then fear not! You're in luck! UDO and the boys recorded one of their early shows, at the Kaminwerk in Memmingen, Germany on the 2nd of April, 2016 and here it is in all its glory!

Starting with the Intro, which is reminiscent of "Flashback" by legendary US band RIOT, it intersperses bits of music and interviews with a NASA style countdown before the classic "Starlight", off the amazing Breaker album from 1981 kicks things off in a amazing fashion!! If for some (sad) reason you're not up to snuff with the early (essential) ACCEPT catalog then this should serve as your catalyst!

"Living For Tonite" off Metal Heart is next, with UDO's voice in fine, gruff fashion and the crowd already singing the chorus at the top of their lungs. Since this was recorded in Germany and UDO is, in fact German, and unless you are fluent in German the between song banter might go over your head upon occasion. But no matter, the music will more than make up for it. One of my favorite ACCEPT tracks and one of their more ferocious songs "Flash Rockin' Man" off the absolutely legendary Restless And Wild album from 1982 is up next and I have to say that the studio version is far superior IMHO, but still hearing it live is a treat. This leads straight into "London Leatherboys" from '83's Balls To The Wall the album that really broke the band large here in America.

"Midnight Mover" from Metal Heart follows with a cheer and some clapping. The UDO band is present and accounted for (Andrey Smirnov & Kasperi Heikkinen - guitars, his partner in crime since 1996, bass player Fitty Wienhold, ex-BULLET, and playing drums now his Sven Dirkschneider, his son) so the playing is top notch. It couldn't be anything but with the catalog they're performing. The crushing title track "Breaker" off that album is next and to be able to hear that live (finally!) gives me that neck pain that only an Old-Skool fan can appreciate, including some fine guitar shredding to boot. Fitty has a little bass solo to get the crowd crazy leading into "Head Over Heels" off BTTW, with the audience singing every word faithfully.

A couple of back-to-back killers off of Restless And Wild are next, with some guitar theatrics leading into the brooding "Neon Nights" before more guitar histrionics and crowd participation leading into a riff-laden "Princess Of The Dawn", and at a couple of ticks over 11 minutes long, is the Princess of length on the album. Plenty of crowd sing-a-longs in this one. Another off Balls, "Winterdreams" follows with its low key music allowing for some tasty shredding in its midst. But the energy level jumps up tenfold with the title track "Restless And Wild" although it's a bit pedestrian compared to the glory of the studio version. Pity. Luckily "Son Of A Bitch" from Breaker is able to save the day. This is the ULTIMATE song of hate so dedicate it to someone you loathe today!!

"Up To The Limit" from Metal Heart brings a little AC/DC-tinged mood to the proceedings and we still have plenty of music to go!! "Wrong Is Right", also from MH kicks things into an almost Thrash gear with some Speed riffing and uptempo drumming from Sven!! Bang thy Head children!! One of my all time fave Harley riding songs, Breaker's "Midnight Highway" follows and even tho it's not as fast, it keeps the energy high as it's such a powerful song! "It's Midnight, and I'm cruising down the highway "!!! Fuck yes!!!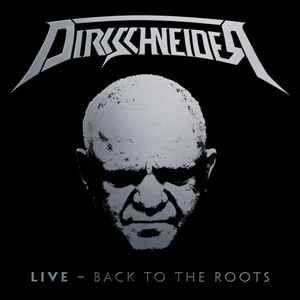 Another off MH, "Screaming For A Love Bite" is next and is a Sunset Strip kind of tune to these ears. 'Nuff said. "Monsterman" makes a surprising appearance from the heretofore unplayed album Russian Roulette from 1986 and fits quite nicely after "Screaming". UDO makes it 2 in-a-row off of RR with the uptempo "TV War", and gets those heads back to banging ferociously! An underrated track to be sure!! Keeping that energy flowing comes "Losers And Winners", easily the heaviest track from Balls. Believe it or not, that ended the set proper!! Unreal! But, the crowd insisted on more, and more is what they got! Title track "Metal Heart" begins the encore and DIRKSCHNEIDER show no signs of slowing down, although they do get a bit of a breather with an extended guitar solo that keeps the crowd enthralled throughout.
1980's "I'm A Rebel" from the great album of the same name is sadly the only track from that album to see the light of day, but 1 IS better than none! It's actually faster than the album which is very cool to hear! And of course it doesn't take much coaxing to get the crowd to sing the chorus of this classic ditty! They even keep singing into the next track until UDO has them sing his iconic opening to the monumental track "Fast As A Shark" from RAW. Lemme tell you that in 1982, before SLAYER, METALLICA, etc, that this song was one of the most mind-blowing, face melting songs out! Period! DIRKSCHNEIDER do it the justice it deserves. You would think that would finish off the show, but not so fast Shirley! With UDO speaking in English, the band kick off "this fucking riff" with the world renowned "Balls To The Wall" from that album that really sent them to the top of the Metal heap in '83. "Show me the sign of Victory"!! And STILL DIRKSCHNEIDER isn't done!! To finish this amazing show off in fine style, the blistering Rock 'N' Roll stylings of "Burning" from Breaker are unleashed to the still way into it crowd! The last chance to sing wasn't lost on them but you could tell they were finally running out of steam! And can you blame them?
The final tally: 25 songs, 2 hours and 10 minutes of ass-kicking ACCEPT greatness. Zero songs played off these UDO-led ACCEPT albums; Accept, Objection Overruled, Death Row or Predator. A solid representation of what ACCEPT used to play. And as more time goes on and the Mark Tornillo-led ACCEPT makes new music, the less they will play these outstanding tracks methinks. But we shall see.
This is very much value for money as no one these days is playing shows of this length or magnitude. So if your an UDO fan, or ACCEPT fan or both you owe it to yourself to pick this up at all costs! Don't make me 'Plug a bomb in everyone's ass'!!!
And for the Vinyl fam out there, this comes in multiple colors in limited quantities! You can buy the 3 record set like me (Gold Vinyl, limited to 500), or they have been released as 3 single albums in different colors as well. Mix and match or just buy your favorite album. JUST BUY IT!!!
4.7 Out Of 5.0 Skulls
Grab your copy of Live - Back To The Roots in the KNAC.COM More Store right HERE.




Please log in to view RANTS

If you don't have a username, click here to create an account!