STRIKER In Houston, TX With Photos!


By Larry Petro, News Monkey
Monday, February 13, 2017 @ 6:57 AM


| | | |
| --- | --- | --- |
| | | Canadians Shred Houston On The Way To 70000 Tons Of Metal |
All Photos By Larry Petro/Petrofyed Photography
Just about every band has had at some point in their career one of those moments that gives them pause to think 'Why am I really doing this?' or 'Is this all really worth it?'. It could be said that Edmonton, Alberta heavy rockers STRIKER had one of those moments when they arrived in Houston, Texas for a show on January 28th at Eastdown Warehouse.
The band had lined up a string of dates dubbed the "Out For Blood Tour" that would take them from their hometown in the Great White North all the way to Florida for their first ever cruise appearance on 70000 Tons Of Metal and then back home again. Touring without a nice bus is never easy and this run was certainly not without its issues, the first being the band's van blowing a water pump hose after reaching the highest point of Route 5 just outside of Medford, Oregon, causing the band to miss their San Francisco engagement. As the band would tell me, they actually could have made that gig had "AAA not taken 5 fucking hours to get there". Luckily for them, they happened upon a nice family-owned repair business that went over and beyond to get the guys back on the road and only miss the one show.
The Houston show itself was originally booked at Rudyard's Pub in the Montrose area of Houston, only to be moved to Eastdown Warehouse shortly after it was announced. However, the show was not advertised or promoted at all by the venue and the only place one would have even known about the show was from STRIKER's Facebook page, or by reading a news post about the tour on pages like KNAC.COM. In addition, the show was originally stated to have a time of 6-9, which seemed unfathomable for a club show. Through some friends of mine from Georgia that I had met at STRIKER's last show here in May of 2016, I was told that the doors would open at 8 and STRIKER would go on at 9. Apparently there was also some sort of ska, punk free show taking place at this venue following STRIKER's performance and thus the early time.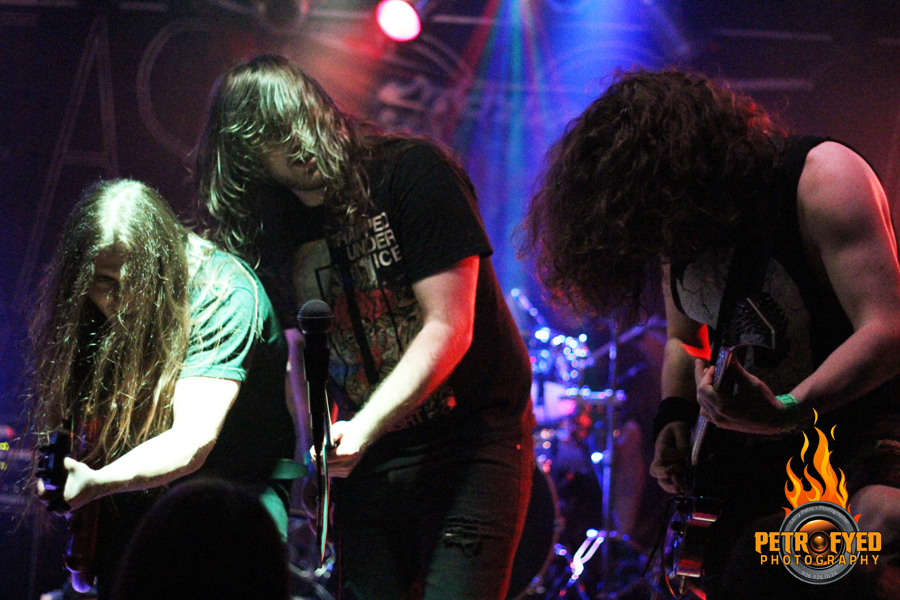 Arriving at the venue a full hour before doors were to open I ran into the guys and basically shot the shit with a case of beer I had brought for them. The doors opened at 8 and the opening band MALEVOLENT FORCE took the stage shortly thereafter to a total of one person, not counting yours truly. Whether it was due to the early time or the fact that they have no fans, it was just amazing to see no girlfriends, spouses or anyone else there to see them perform.
STRIKER took the stage at 9 and by this time there were now four people in attendence; the one person who watched the opening band, myself, and the 2 friends from Georgia I had mentioned that had driven here specifically for this show. Certainly no one in their right mind could have blamed the band if they had just decided to shorten their set or even just mail in the performance, but in a show of the kind of integtiry and professionalism that the members of STRIKER possess, once the lights went down the band went into a zone and gave us one hell of a private show! The band got things rocking with a brand new song from their new self-titled album, due out February 24th called "Former Glory" and proceeded to rock the hell out of us for the next hour.
The band, comprised of vocalist Dan Cleary, the sole remaining member from the band's inception, bassist William "Wild Bill" Wallace, touring guitarist Simon Fallon and the sibling combination of drummer Adam Brown and his brother Timothy Brown (aka Timothy Vega from his days in KOBRA AND THE LOTUS) on guitar, proceeded to shred Houston with a nice set of material from their catalog. Still riding high from the release of last year's Stand In The Fire LP, they showcased several tracks from that album such as "Locked", "Out For Blood", "Phoenix Lights" (for which the band just debuted the video, seen on KNAC.COM HERE), "Escape From Shred City" and the smash single "Too Late", the video for which can also be seen on KNAC.COM HERE. Along with other tracks from their catalog they also included another new song, "Born To Lose", also from the forthcoming self-titled disc. You wouldn't have known that the hall was mostly empty as the band played as though there were a thousand fans packing the place.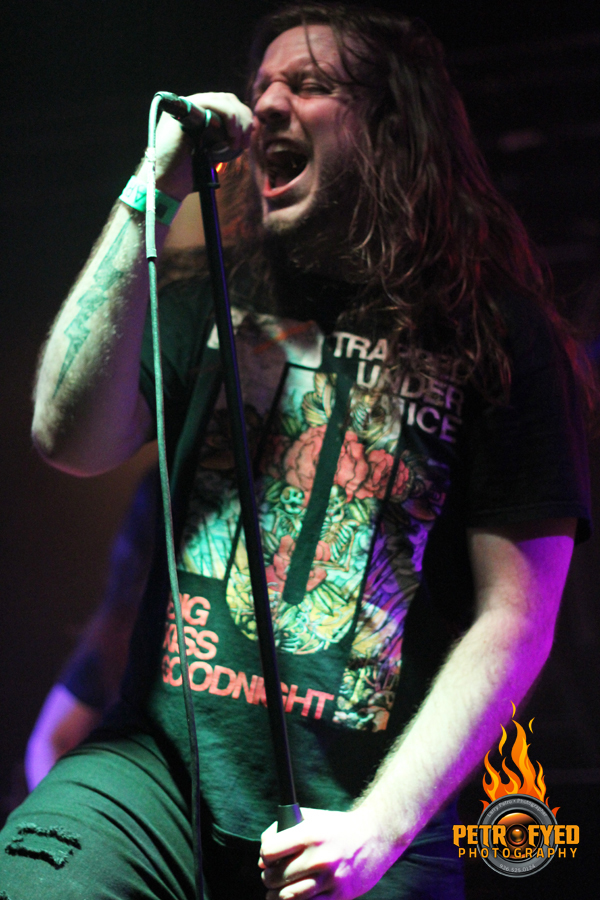 The band finished by 10 pm and by 10:15 had managed to break down and pack up every piece of their gear, including the merch which I had them unpack again so that I could purchase a shirt and an orange and white swirl vinyl copy of Stand In The Fire. And even though I was on the band's guest list I actually went out to the cashier and paid for a ticket just to give the band a little extra. we sat out by their van and chatted for about an hour more while having a few brews. I asked the band about the new trend now for bands to release self-titled albums, as opposed to the days when a self-titled release was noramlly reserved for a debut effort and they stated that, for them at least, "if there was any album that encompasses what STRIKER is all about, this is the one to get", speaking of their own self-titled opus. For those of you that were fortunate enough to sail on the 70000 Tons Of Metal cruise and catch one of STRIKER's two sets, you were treated to the new album played in its entirety.
Following the cruise, the band plays a few more shows on their way back to Canada where they will have 3 days to recover and (hopefully) shoot a new video before heading out on a six-week run in Europe opening for powerhouse act SONATA ARCTICA. As far as the rest of the year, the band hopes to get on a major US tour as a support act this time around as every stateside jaunt the band has taken thus far has been self-funded. Now that's a blue collar band!
Setlist:
"Former Glory"
"Crossroads"
"Locked In"
"Lethal Force"
"Phoenix Lights"
"Born To Lose"
"Out For Blood"
"Full Speed Or No Speed"
"Fight For Your Life"
"Escape From Shred City"
"Too Late"
"Second Attack"
"Terrorizer"
Check out some more photos from the show!
All Photos By Larry Petro/Petrofyed Photography




Please log in to view RANTS

If you don't have a username, click here to create an account!