On April 14-15th 2017, The Crofoot in Pontiac, Michigan will play host to the annual BERSERKER music fest. Now in its fourth year, the all-ages, two-day event is a wholly DIY affair founded and organized by CHILD BITE frontman Shawn Knight and his wife Veronica.

BERSERKER IV features one of the sickest lineups for a festival ever and today the organizers have capped it off with the addition of hardcore heavyweights RINGWORM.

This year's lineup boasts thirty bands on three stages with appearances by internationally touring acts like GWAR, OFF!, WEEDEATER, THE OBSESSED, NEGATIVE APPROACH, BRAIN TENTACLES, CHILD BITE, and more as well as new and established underground artists including IMMORTAL BIRD, CEMETARY PISS, FUCK YOU PAY ME, SNAFU, ARTILLERY BREATH, and others. BERSERKER IV also marks the official return of EYEHATEGOD vocalist Mike IX Williams who will front the band for the first time since undergoing a liver transplant this past December.

And what is a music festival without alcohol??? BERSERKER IV will debut their festival exclusive Blood Troll Mead. Blood Troll is a session mead made with Michigan Wildflower Honey, fresh Elderberries, and fresh Gooseberries. It is made with fruits grown and used in Nordic tradition. We cannot promise no Trolls were harmed in the making of this mead.

If that still isn't enough for you, the official PREserker kickoff party has been announced for Thursday April 13th at Small's. The show is Free and open to all ages. Come join the party and get ready for what is going to be a festival never to forget!

Download or stream an exclusive sampler featuring EVERY artist playing BERSERKER IV HERE.

Ticketing Info:

Limited Advance Weekend Passes: $50 (an $80 value). These special two-day passes include an 18"x24" screen-printed poster plus a high-quality enamel pin. Limited to 200, less than 100 remain!
Standard Two-Day Pass: $60 *
Single Day Pass: $40 advance/$50 day-of *
*These options will become available once the limited advance weekend passes are sold-out.

Tickets are available online at the official BERSERKER IV website HERE.

They are also available fee-free in-person at The Crofoot box office (Pontiac, MI) and UHF Records (Royal Oak, MI).

Doors open at 6:00pm both days.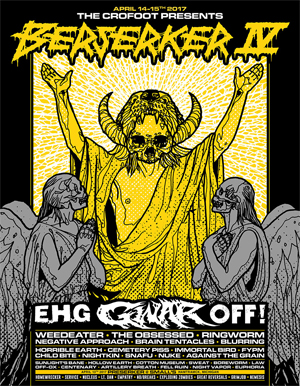 BERSERKER IV
April 14-15th, 2017
The Crofoot: 1 S. Saginaw, Pontiac, MI
GWAR
EYEHATEGOD
OFF!
Ringworm
Weedeater
The Obsessed
Negative Approach
Brain Tentacles
Blurring
Child Bite
Immortal Bird
Horrible Earth
Cemetery Piss
Fuck You Pay Me
Nightkin
Nuke
Cotton Museum
Against The Grain
Boreworm
Hollow Earth
SNAFU
Artillery Breath
Euphoria
Sunlight's Bane
Centenary
Night Vapor
Off-Ox
Fell Ruin
Sweat
Law