Fu Manchu
Go For It...Live!


By Frank Meyer, Contributing Editor
Wednesday, August 13, 2003 @ 11:58 AM


| | | |
| --- | --- | --- |
| | | (SPV/Steamhammer) |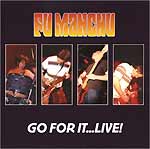 Stoner rock kingpins Fu Manchu have been churning out terrific albums for a decade now and Go For It…Live! is the first full-length live album to capture their patented brand of heavy metal. Slacker Sabbath? Stoner rock? Sludge metal? Call it what ya want but these guys did it first (as far as the post-Sabbath bands go) and still do it best.

Recorded throughout Europe in 2002 on their 'California Crossing' tour, this double-disc set is a killer collection of their best material played with much ferocity and venom. You get hell-bent renditions of later-era favorites such as "Evil Eye," "Over The Edge," and "Hell on Wheels," alongside gems from their indie days such as "Super Bird," "Regal Begal" and "Ojo Rojo." The cowbell heavy "Wurkin'" gets heavy-handed workout, and the boys even dust off their tried and true cover of Blue Oyster Cult's classic "Godzilla."

The production is top-shelf, with every detuned ruff crawling out of the speakers like an angry Sleestak down for the kill. As always, Scott Hill's Jeff Spicoli-esque vocals ground the band from ever sounding too serious, as even at their most blistering they manage to always sound like a bunch of dudes in Vans ready to skate off into the sunset. While guitarist Bob Balch unleashes pummeling riffs and bassist Brad Davis keeps a steady groove, drummer Scott Redders gets all Bonham on us, flailing and crashing like that one extra fill will get him that coveted Modern Drummer magazine cover story. And it just might. All the while though, Hill keeps his shades on and maintains his cool disposition. Smooth, baby, real smooth.

So if you wish Kyuss never broke up, think Masters of Reality was the best band of the '90s or believe Queens of the Stone Age is the next Zeppelin, then Fu Manchu are for you, and Go For It…Live! is just what the doctor ordered. Your brain will thank you as it flows out of your ear in a white stream of goo on the floor.

* * * *




Please log in to view RANTS

If you don't have a username, click here to create an account!