JUNKYARD Reveal New LP, Stream New Song "Wallet"


By Larry Petro, News Monkey
Wednesday, April 5, 2017 @ 11:26 AM


| | | |
| --- | --- | --- |
| | | New Album High Water Out April 21st |
LA rockers JUNKYARD have announced their first official new album in over 25 years! The disc, entitled High Water, will be released on April 21st via Acetate Records. The eleven songs mark a triumphant return for JUNKYARD and to whet your appetite, the band has shared the song "Wallet", which you can check out below.

Vocalist and lyricist David Roach confesses all in "Wallet". "That song was inspired by a night I spent with a stranger on the eve of a tour," says the singer. "I met her at [Hollywood bar] Boardners and we went to her place. The next day I snuck off like a rat to go home and pack for the tour. After I left I realized I left my wallet and had to do the walk of shame to retrieve it. Similar incidents have occurred - before and since to me - and I'm sure, countless others."

While odds and sods have been released over the decades, High Water is a firm statement of the band's 2017, and onward, intent. As singer and founding member David Roach explains, in recent years, JUNKYARD had a blast playing "reunion" shows, which quickly turned into mini-tours through Spain and packed gigs across America. New songs began percolating, and JUNKYARD began writing.

"I had no grand illusions of a magnum opus, or that we'd try and recreate what we were 25 years ago," Roach states. "This album is not a departure; it's a rock 'n' roll record from JUNKYARD with songs about life, love, regret, addiction and memories."

JUNKYARD, who hit MTV and radio hard with their self-titled 1989 Geffen Records debut and singles "Hollywood" and "Simple Man", cement the authenticity their first two records on High Water, with such blunt songs as the soul-searching of "Cut From The Same Cloth", to "We Fuck Like We Fight" (politely abbreviated as "WFLWF" for the politically correct) going down as easy as an aged Kentucky bourbon.

The band members are straight ahead guys, but High Water has a few shades of meaning. Guitarist Tim Mosher explains: "It could be interpreted more than one way - like a "high water mark" or the old phrase come "hell or high water," or with the image of the bottle on our CD cover, the actual "high water," aka booze!" High Water also boasts writing and lead guitar credits from Brian Baker, a JUNKYARD founding member who played with the band more than 25 years, but now plies his trade full time with BAD RELIGION. On the road, JUNKYARD are joined by Jimmy James (THE HANGMEN), with founding member Pat Muzingo and bassist Todd Muscat, who joined the band in 1991, rounding out the lineup.

"The JUNKYARD sound is a pretty classic one: big guitars and drums with David spilling his guts on top," says Mosher, who produced the album. We wanted High Water to sound loose and live, so as far as production goes we weren't trying to re-invent the wheel, just deliver the songs in the best light we could, then mix in some big riffs and throaty vocals and that's 'Yard." JUNKYARD's classic sound got some help from a fan and friend on High Water: Charlie Starr from the band BLACKBERRY SMOKE wrote the dramatic, forthright statement "Til The Wheels Fall Off" specifically for JUNKYARD.

As for a theme running through High Water, Roach jokes "we're not that clever," but describes the album as "a rock 'n' roll record with a nod to punk rock and outlaw country rock." It's a sound that's both timeless and timely.

As always, JUNKYARD steer clear of politics: "I personally prefer to keep politics out of my rock. I understand it's a great platform, and maybe some feel it's your duty to use it to a purpose, but I just feel our music is just for escape."

The band-and it's legion of longtime fans-is excited that High Water brings back JUNKYARD as an ongoing concern. As one of the great guttersnipe L.A. bands of the late 80s - a storied crew that includes GUNS N' ROSES, LITTLE CAESAR, THE HANGMEN - JUNKYARD were proud to be part of "one of the last great rock n roll scenes" as they term it.

"I don't think we dated ourselves too badly in the beginning so a lot of our songs still have some relevance," said Roach. "Also, we were in hibernation a while, we weren't playing while a lot of our contemporaries were. It's not so much longevity as it was people who missed us 20 years ago finally have a chance to see us."

Mosher, who was a fan of the group before joining JUNKYARD in 2000, sees all angles of the JUNKYARD saga...

"Although it's been 17 years since I joined, I'm still 'the new guy,' so with High Water I wanted to give the fans something I would've wanted as a JUNKYARD fan--a proper 3rd album," said Mosher. "It was important to all of us that the record be a statement of intent that could connect with fans from back in the day as well as hopefully find new ones for whom this might be their first 'Yard record. It's a tall order, but we're up for it."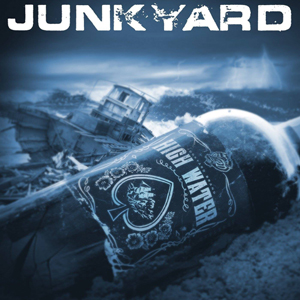 Tracklisting:
"Walk Away"
"Faded"
"Cut From The Same Cloth"
"Styrofoam Cup"
"Hellbound"
"W.F.L.W.F."
"Don't Give A Damn"
"Hell Or High Water"
"Wallet"
"'Til The Wheels Fall Off"
"Kindness To The Dead"
Bonus tracks:
"The River"
"Rome Is Burning"
"Don't Give A Damn" (acoustic)
"Styrofoam Cup" (acoustic)
"Wallet" (live)




Please log in to view RANTS

If you don't have a username, click here to create an account!