KREATOR, OBITUARY, MIDNIGHT In AZ With Photos!


By CrpnDeth, Staff Photographer/Writer
Wednesday, April 19, 2017 @ 12:41 AM


| | | |
| --- | --- | --- |
| | | The Decibel Magazine Tour 2017 Kicks Arizona In The Teeth |
All Photos By CrpnDeth Photography LLC
@crpndeth / instagram.com/crpndeth
Another thrash night in Arizona, another sold out show. The desert dwellers sure do love their thrash (almost in a The Hills Have Eyes kind of way). And what's not to love? The Decibel Magazine Tour 2017, now in it's 6th year, is featuring the legends KREATOR and OBITUARY and rolled through town with yet another sold out stop.
KREATOR is touring in support of their latest disc, Gods Of Violence, their fourteenth disc released this past January (and this disc should be making all the Best Of lists for 2017). They kicked the set off with "Choir Of The Damned" before tearing in to the exceptional "Hordes Of Chaos", complete with a killer delay effect on the vocals for the chorus, just nailing anything live that they do in the studio ("Fallen Brother" - with it's phenomenal vocal delivery, and "Hail To The Hordes" are other prime examples).
While they did play extensively off of the new disc, the band did not focus solely on their newest material, however. Going way back to such gems as "Total Death" and "Flag Of Hate", from 1985 as well as "Pleasure To Kill", "Under The Guillotine" and the set opener, all from 1986. Seems odd to say, but with bands and their lengthy careers, newest releases and early beginnings are most often forgotten with the exception of one or two nods. KREATOR managed to whip their catalog in to a frenzy while still concentrating on the newest release.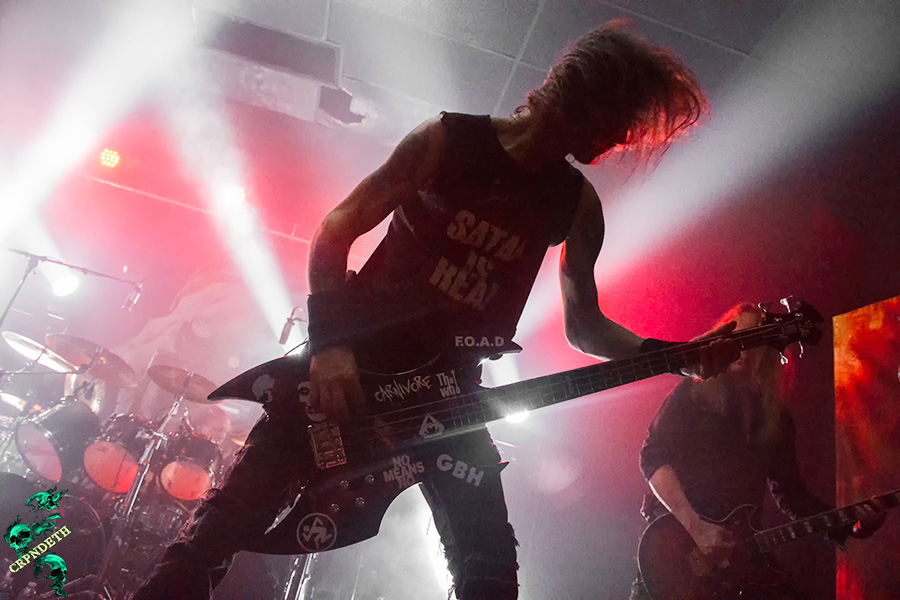 The German thrash masters' performance from the beginning chords to the end of the show was loaded with adrenaline spiked riffing, concentrated power and utter carnage in the venue's pits.
Setlist:
"Choir Of The Dammed"
"Hordes Of Chaos (A Necrologue for the Elite)"
"Phobia"
"Satan Is Real"
"Gods Of Violence"
"People Of The Lie"
"Total Death"
"Mars Mantra"
"Phantom Antichrist"
"Fallen Brother"
"Enemy Of God"
"From Flood Into Fire"
"Apocalypticon"
"World War Now"
"Hail To The Hordes"
"Extreme Aggression"
"Civilization Collapse"
Encore:
"The Patriarch"(from tape)
"Violent Revolution"
"Flag of Hate"
"Under the Guillotine"
"Pleasure to Kill"
"Death Becomes My Light"(from tape)
Now, going onstage right before KREATOR is not an easy task, but Florida death metal legends OBITUARY handled it with ease. The night truly kicked in the overdrive switch as if it were waiting for a signal. Continuing the momentum, sweat and fury to the next level, OBITUARY hit the stage, and assaulted the senses of the pits. By this time the venue was at or near capacity, once again without A/C (this venue is a running joke in the Valley). The crowd literally ate off each and every entry on the band's setlist. The band was ferocious and the mosh pits reflected the intensity of the night's performance. Selections included three from the 1989 debut Slowly We Rot, leading up to tunes from their 2017 release Obituary, which included "Sentence Day", "Lesson In Vengeance" and "Then Thousand Ways To Die". The band sounded as sharp as ever and delivered a fantastic set, handing the gauntlet over.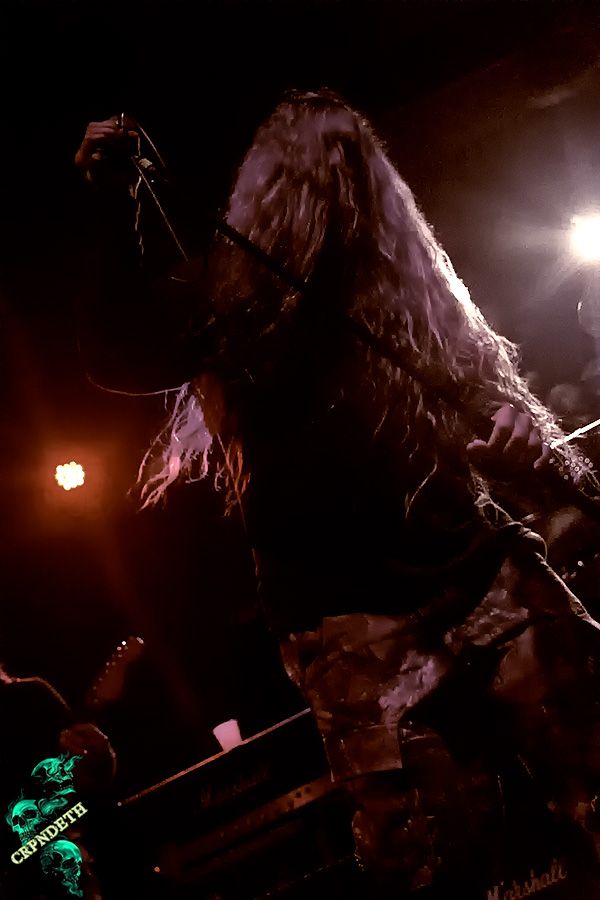 Setlist:
"Internal Bleeding"
"Chopped In Half"/"Turned Inside Out"
"Visions In My Head"
"Sentence Day"
"Lesson In Vengeance"
"Find The Arise"
"Ten Thousand Ways To Die"
"'Til Death"
"Don't Care"
"Slowly We Rot"
Since 2003, Cleveland's MIDNIGHT have been slaying the metal/punk underground with their own, highly addictive brand of lust, filth, and sleaze, and this unrelenting three piece kept the crowd swirling during it's nine song set. While the black masks covering their faces was lost on me - bands still do that? - their 14 year career wasn't. Tight and highly energetic, the set was a great warm up leading in to tonight's two legends. The band even paid hometown respects to SACRED REICH's Wiley Arnett during the tune "Endless Slut". Not sure what that had to do with their trip to Wiley's restaurant Rehab Burger, but the sold out crowd erupted nonetheless.

Setlist:
"Satanic Royalty"
"Evil Like A Knife"
"Black Rock'n'Roll"
"Lust, Filth And Sleaze"
"The Final Rape Of Night"
"Endless Slut"
"You Can't Stop Steel"
"Death Scream"
"Unholy And Rotten"
Check out some more photos from the show!
All Photos © 2017 CrpnDeth Photography




Please log in to view RANTS

If you don't have a username, click here to create an account!






JOHN 5, JARED JAMES NICHOLS In Anaheim, CA With Photos!

L.A. GUNS In New Bedford, MA

...AND JUSTICE FOR ART – Stories About Heavy Metal Album Covers – Volume 2

THE END MACHINE In Los Angeles Photo Gallery

TRUTH CORRODED Bloodlands

THE IRON MAIDENS In Houston, TX Photo Gallery

THE RAVEN AGE In Paris, France With Photos!

ENFORCER Zenith

NOTHING MORE In Houston, TX With Photos!

KISS Live In Ottawa, Canada With Photos!

KIX In New Bedford, MA With Photos!

PERIPHERY IV: Hail Stan

GARY HOEY Neon Highway Blues

BLOODBOUND Rise Of The Dragon Empire

ANTROPOMORPHIA Merciless Savagery

AS STRANGE AS ANGELS Mirror Mirror EP

HYPOCRISY, FLESHGOD APOCALYPSE In Dallas, TX

ARCH ENEMY In Bangkok, Thailand

WHITECHAPEL The Valley

THE RAVEN AGE Conspiracy

TYGERS OF PAN TANG Hellbound, Spellbound Live 1981

SPIRITS OF FIRE Spirits Of Fire

EXUMER Hostile Defiance

BURNING RAIN Face The Music

MOTLEY CRUE's The Dirt Movie

MIKE TRAMP In New Bedford, MA

DEVIN TOWNSEND Empath

QUEENSRŸCHE The Verdict

MEGADETH Warheads On Foreheads

QUEENSRYCHE, FATES WARNING In Worcester, MA

Y&T In New Bedford, MA With Photos!