A change behind the skins has occurred for metal legends METAL CHURCH. A few weeks ago longtime drummer Jeff Plate announced his departure from the band with the following post on the bnad's Facebook page:

"Hello everyone,

It is with a heavy heart that I am announcing my departure from METAL CHURCH. I came to this conclusion 2 weeks ago, and agreed to hold off on the announcement until METAL CHURCH had made some decisions on what they were going to do. This is obviously not an easy decision. After many conversations with myself, my wife, my family, my management and Kurdt Vanderoof and Mike Howe, I know I am doing the right thing for my future.

I know there will be questions and speculation. The bottom line is time, my time, and how best I manage it. I had to come to terms with the fact that time is just blowing by at the speed of light and there is no time for me to second guess or regret anything I'm doing. At this point in my life I need to be in more control of my time and career. I have a number of things I'd like to do and try, and to do these I have to give up something I truly love and am very proud of.

I cannot thank Kurdt Vanderhoof enough for inviting me into METAL CHURCH. For the past 12 years I have had the honor and privilege of playing some of the best, truly iconic Hard Rock/Heavy Metal songs ever written. I have recorded 4 records with the band. The latest, XI, is not only one of my favorite METAL CHURCH records, but I feel it is the one of the best, if not the best records I have recorded throughout my career.

Also, I cannot thank the METAL CHURCH fan base enough for the tremendous support. I have met thousands of you over the years and you, fans old and new, are simply the best. You have kept this band alive for the past 33 years, and I am sure there is more great music to come.

METAL CHURCH is in a good place, and there are a number of shows and good things coming up this year. This decision is made now to not only let me prepare for the year to come, but also to let METAL CHURCH do the same.

Kurdt Vanderhoof(g), Mike Howe(v), Steve Unger(b), Rick VanZandt(g), Tim Harding(sound and production), and Joe Obrien(President @ Rat Pak Records) have been a tremendous team, and they are also very good friends of mine. I wish them nothing but the best.

I hope to see you all again somewhere down the road. I will keep you posted on my activities. Trust me, I will not sit still for very long.

Thank you, take care.

Jeff Plate"

METAL CHURCH have since checked in with the following announcement: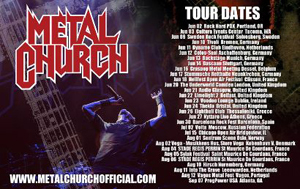 "Many of you have been asking who will be playing drums for us on all our upcoming summer shows. And the answer is former W.A.S.P. drummer Stet Howland."
Stet Howland had this to say:
"Hello friends. I have an announcement that I am proud to make. The short story is that I am the new drummer of one of my favorite metal bands of all time METAL CHURCH.
I was contacted by my good friend, METAL CHURCH bass player Steve Unger recently after their drummer Jeff Plate stepped down after 12 years of dedicated service. The band has a bunch of summer festival dates as well as other touring for the year.
When Steve called, the first thing he said was 'How busy are you right now?'. I laughed and asked him to get to the point, cuz anyone who knows me knows that I'm constantly busy. Steve confided that Jeff had given his notice and that they needed a drummer immediately. He said that their new CD is going through the roof and that they have a ton of summer dates. I was very excited to say the least.
I became a hard-core fan of METAL CHURCH when they toured with W.A.S.P. on our 2005 Metal Blast tour. Our then guitar player Darrell Roberts and I would stand in the wings watching every show, they kicked ass every single night! Their drummer at the time was Kirk Arrington, a great drummer and guy. We became friends immediately. And as it happens I'm also old friends with Jeff Plate, METAL CHURCH's most recent drummer of 12 years. Jeff is a monster drummer and one of the nicest guys you could ever hope to meet. It will be an honor and a privilege to step into his gig.
I flew to Seattle and jammed with the band last week. We clicked immediately, nothing but big smiles from the first song to the last. It was great!
I will post more details and tour dates, but I wanted to let the cat out of the bag. It's a great band, great guys, and they have an excellent aggressive record label behind them. They are still making fresh and relevant music. This is an honor indeed.
And to our dedicated 10,000 Views fans, no need to be discouraged. We will be continuing to play select shows as we have been doing since returning from Vegas. Timmy Johnston & Johnny Hyatt are my bros and bandmates to the end! We have some awesome surprises and announcements coming as well. Life is good people. Very good.
I thank you all for your ongoing love and support. It's appreciated. Big love to all."