Buddy Webster, aka Buddy Blaze, a well known luthier and designer of custom guitars, has filed a copyright infringement lawsuit at the US District Court in Central California, claiming that Dean Guitars and Armadillo Enterprises (among others) wrongfully and willfully reproduced his guitar design for financial gain. He states that he hasn't received any money or been given credit for the guitar he designed for the late PANTERA guitarist Darrell "Dimebag" Abbott.

Webster and Dimebag became friends in the 1980s in North Texas while Abbott was a member of metal icons PANTERA. One of the guitars Abbott used was the Dean ML, manufactured by the Dean Guitar company, which he had won in a local contest. According to the suit:

"Abbott used the guitar but eventually decided to sell it...Webster secretly bought it back...then modified the neck of the guitar, changed some of the hardware and stripped the paint. Webster designed a new visual look for the guitar, whichfeatured a unique blue background with lightning emanating from the center of the guitar body."

"Webster gave the guitar to Abbott as a present and...it became his signature guitar."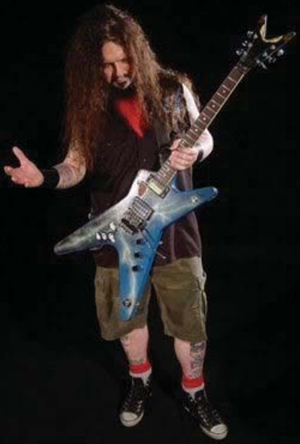 "Abbott played the guitar from Webster wherever possible. It became known as the "Dean from Hell"."
After Abbott's murder, "Webster and Dean Guitars collaborated on a guitar that was known and marketed as the Buddy Blaze Signature Model, but it was not the "Dean From Hell"."
Webster became alarmed and disappointed that the company continued to profit from his original design "without giving him credit or any payment."
When Webster was unable to reach an agreement with either Dean Guitars or the Abbott estate, "which ostensibly licenses the intellectual property surrounding the Dimebag guitars to Dean", he decided to file suit.
Webster is alleging that Dean Guitar is violating copyright infringement. Defendants "infringed Plaintiff's copyright by creating, making, and/or developing and/or licensing directly infringing and/or derivative works from [his] design."
He is asking for monetary damages from the unauthorized copying and distribution of his work. He has also asked the US District Court to enhance the award due to Dean Guitar's willful violation.
You can read the suit HERE, courtesy of Digital Music News, who first published the suit online.