JACKYL In Mesa, AZ With Photos!


By CrpnDeth, Staff Photographer/Writer
Monday, May 1, 2017 @ 4:45 PM


| | | |
| --- | --- | --- |
| | | Southern Fried Greasy Rock 'n Roll Kicks Off Bike Week |
All Photos By CrpnDeth Photography LLC
@crpndeth / instagram.com/crpndeth The first time I recall seeing JACKYL was in 1993 at the infamous Long Beach Arena. This was when Jesse James Dupree was still coming out for the encores in nothing but his boots and Les Paul. No joke - literally nothing else. And he did go on to supposedly get arrested that night for appearing in his birthday suit in public. While that night was a blast and full of laughs, the one thing I took away from it was just how high of an energy show the band put on.

The more things change, the more they stay the same. While Jesse may have changed his performance attire, he hasn't lost his energy. Hell, the whole band hasn't for that matter. They were in town this month to kick off pre Bike Week festivities on the Evapeology stage at Desert Wind Harley Davidson. Aptly titled Too Broke for Bike Week, Desert Wind got the jump on the annual week long official events early enough to ensure a few thousand (at least!) showed up for the event at their location in Mesa, AZ.

Desert Wind Harley Davidson is nice and spacious, but getting around a street that was hugging the location (and was closed to anything that had more than two wheels), and the very tiny parking lot for the losers with more than two wheels (haha!), was a little frustrating. Just a head's up if you going here though, as this was my first time it was probably seemed more daunting that it really was. When I finally found my way in, WAYLAND (Nigel Dupree's - Jesse's son - band) was about 10 - 15 minutes away from finishing their set. By the reaction of the crowd during the last two tunes, they were happy with the performance and enjoyed the band's appearance tonight.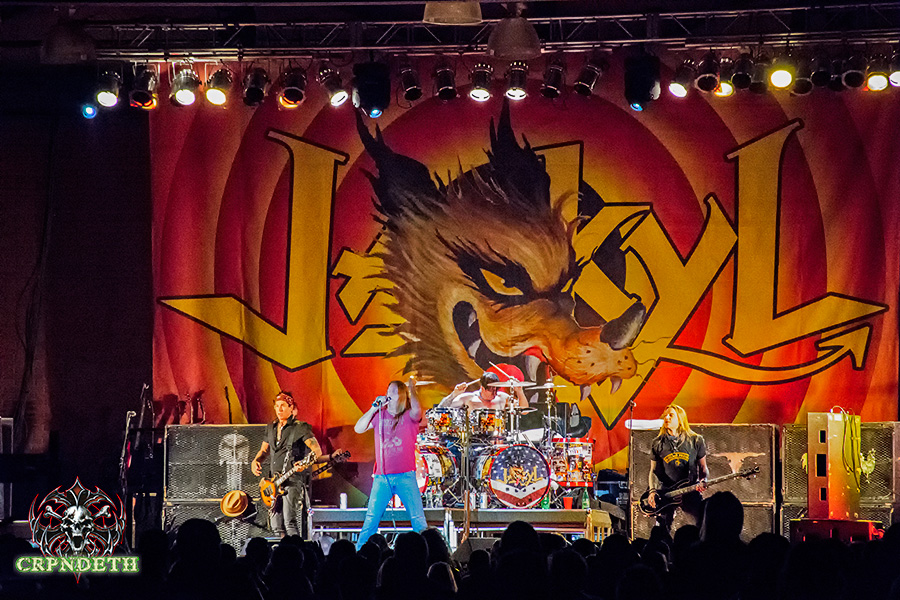 However, even though the band started over an hour late, JACKYL was the band every one was waiting to see. It just doesn't get any better than JACKYL headlining a Harley Davidson Bike Week event - anywhere. The band showed perfection during songs like "Mental Masturbation", "Screwdriver", "Redneck Punk", and "I Stand Alone" which saw Nigel come out and play guitar with Dad's band. The entire setlist was full of energy and the crowd fed off every sweaty second of it. The band showed they still have the goods, and no desire to slow down anytime soon.
Setlist (not in order): "Blast Off", "My Moonshine Kicks Your Cocaine's Ass", "Mental Masturbation", "Encore", "Screwdriver", "Rally", "Down On Me", "Push Comes to Shove", "Just Because I'm Drunk", "Midnight Rider" (The Allman Brothers Band cover), "Secret of the Bottle", "I Stand Alone", "When Will It Rain", "Dirty Little Mind", "Redneck Punk", "She Loves My Cock", "The Lumberjack"
Check out some more photos from the show!
All Photos By CrpnDeth Photography LLC
@crpndeth / instagram.com/crpndeth




Please log in to view RANTS

If you don't have a username, click here to create an account!