RAVAGE is back with Return Of The Spectral Rider, an album of uncompromising melodic heavy metal from a band that has never bowed to trends. RAVAGE formed in the Boston area in the mid 90's seeking to produce exciting, kick-ass music and an engaging live performance inspired by heroes like IRON MAIDEN and JUDAS PRIEST.

As many of the genre's legacy acts begin to disappear, RAVAGE continues on as a new voice for traditional metal, ignoring passing trends to instead offer a sound that unquestionably falls within the bounds of heavy metal and thrash, while remaining uniquely distinguishable from any band that has preceded them.

RAVAGE's new release is a complete re-recording of the band's Spectral Rider album, which was given a limited release by Germany's Karthago Records in 2005. Production issues plagued that original recording, and since RAVAGE was never in possession of the original unmixed tracks for the record, a remix was not possible.

Over ten years passed since the original release and since many of the songs remained staples in RAVAGE's live set, the band finally decided to deliverer an ultimate version of them, with a strong new production quality, a dynamic performance, and an all-new, fantastic cover art by Tim Jacobus, who is well-known for his paintings on the R.L. STINE's GOOSEBUMPS and FEAR STREET series of horror novels.

RAVAGE's core line-up from the original recording remains intact with founding vocalist Al Ravage and his brother, guitarist Eli Firicano combining with long-time guitarist Nick Izzo. Al Ravage's unique vocal stylings and the guitarist's dual lead guitar assault are complimented by an all-new rhythm section with drummer Derek Jay from the band SEAX and long-time friend Tommy G holding down bass duties. Since RAVAGE did not have a full-time drummer when recording began, the album features guest appearances on drums by GTB (who played on RAVAGE's last album), Yianni Tranxidis (a drummer who has played in numerous bands in the Boston scene), and Bassil Silver, (who was an engineer on the original Spectral Rider recording).

The band recorded and mixed all the tracks at their own Hellbent For Acoustics Studios in Malden MA and Peter Rutcho (REVOCATION, BURY YOUR DEAD), producer of RAVAGE's previous album The End Of Tomorrow, mastered the tracks.

The End Of Tomorrow was released worldwide by Metal Blade Records in 2009, but with this latest release, RAVAGE sought to go the independent route and self-release on the band's own Society For World Wide Ravage Recordings label.

Return Of The Spectral Rider will be available May 26th in multiple formats including limited edition vinyl, CD and digital download.

Following the album release, RAVAGE will be playing shows and festivals throughout the year while preparing material for the band's next collection of original metal.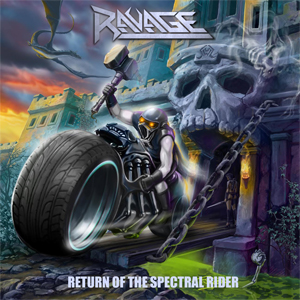 The Rider has returned, and all will RAVAGE IN PEACE!!!
RAVAGE – Return Of The Spectral Rider Tracklist:
"Dies Irae"
"Spectral Rider"
"Turn The Screw"
"The Wicked Way"
"Masque Of Black Death"
"Ravage Part 1 - Damage"
"Whyvern"
"Curse Of Heaven"
"Wake The Dead"
"Wasteland"
"Bring Down The Hellhammer"
"The King Forgotten"
"Father Of The Atom"