BODY COUNT
Bloodlust
Century Media




Twenty five years ago BODY COUNT emerged into the metal world unlike any other band. Their self-titled debut album was the center of attention. Everyone was gossiping about them from the kids in your neighborhood, all the way to the President of the United States. The reason for this uproar was due to their song called "Cop Killer". A song that Ice-T sings in the first person about a character fed-up with police brutality.

Present day the nation is once again in civil unrest just like in 1992. With riots and police brutality getting center attention on every news channel. A perfect time for Ice-T, Ernie C. and the rest of BODY COUNT to emerge from the shadows. Bloodlust is the sixth studio album by the band and by far the best compilation they have released yet.

The first track, "Civil War", immediately brings you into Political Science 101 taught by your professor of the streets Ice-T. It opens with a warning siren blaring and the voice of Dave Mustaine (MEGADETH) telling us that martial law has been declared and there is a curfew in the United States. Dave Mustaine has a ferocious solo in between the shrewd lyrics about race, social class, and above all else police violence.

The next couple of songs plunge us into the world of street violence. In "Ski Mask Way" we learn a valuable lesson of exhibiting lavish jewels and cars on social media. As Ice-T states: "In L.A. they call Instagram Jacker's Uber, seeing what clubs people are at and live stream the robbers to their front door". "This Is Why We Ride" brings us into the emotional roller coaster of drive-by shootings. The beat from Ill Will on drums delivers a horrifying fear of gun shots that will make you duck for cover.

The love for metal is very apparent in all of BC's songs. However, it does take center stage on their rendition of "Raining Blood/ Post Mortem" originally done by SLAYER. Ernie C. lays down some great guitar work and displays his presence in the thrash metal world.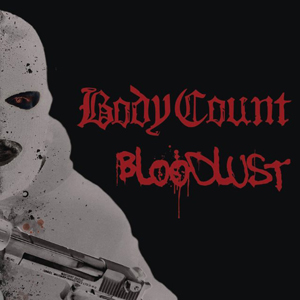 Finally the album closes out with two of the most influential songs with "No Lives Matter" and "Black Hoodie". "No Lives Matter" tackles the issues of racism. Not only is it a black and white argument, but an affluent vs. destitute problem. "Black Hoodie" submerges the listener into the world of profiling by Law Enforcement. In the song Ice-T describes a prior experience with a friend who was shot because he was wearing a black hoodie.
Overall this is one strong lyrical album. If you can't handle explicit lyrics then this is not for you. Ice-T delivers his message strong and abusive, but that's the world we live in now days. If you can't handle it you should join a convent. The music is loud and aggressive. It is a perfect album to get your blood pumping. Ice-T describes it as: "The impending doom of BLACK SABBATH, the punk sensibility of SUICIDAL TENDENCIES, and the speed and precision of SLAYER".
This is an album that will open your eyes to the corrupt world we live in. On the other hand it thoroughly will entertain you, and that is all I ask for.
4.0 Out Of 5.0
Grab your copy of Bloodlust in the KNAC.COM More Store right HERE.