ROCK GODDESS It's More Than Rock And Roll


By CrpnDeth, Staff Photographer/Writer
Monday, May 8, 2017 @ 1:59 PM


| | | |
| --- | --- | --- |
| | | |
Twitter / @crpndeth / Instagram / CrpnDeth/ LinkedIn / CrpnDeth

ROCK GODDESS
It's More Than Rock And Roll
Bite You To Death Records




London trio ROCK GODDESS return with their original lineup to release a brand new three song EP entitled Itís More Than Rock And Roll on May 19th, 2017, with a four page booklet in a jewel case. The first 500 copies will be signed and numbered.

The band was formed in Wandsworth, South London in 1977, by sisters Jody Turner (vocals and guitar) and Julie Turner (drums) when they were thirteen and nine years old respectively. They recruited high school friend Tracey Lamb on bass guitar and that completed their first line-up (Tracey later joined GIRLSCHOOL in 1987). After an appearance at the Reading Festival in 1982, the band obtained a recording contract with A&M Records and released their debut album in 1983. The band were initially active during the New Wave of British Heavy Metal scene, releasing two singles that entered the Top 75 charts in the UK. The band had a cult following throughout the 1980s and finally reformed in 2013. During the early 80s, the band had a reputation for delivering songs with full frontal riffs, catchy rhythms, searing vocals and melodies. They haven't changed much since reuniting in 2013 as they've proven to be a more energized and focused live band that doesn't rely heavily on history or nostalga, but still give a nod to what once was.

Throughout the roller coaster of life in a metal band, it's only taken them 30 years to finally release a new disc. You almost can't consider this new three song EP as a follow-up in suscession of their small catalog as the release is a completely new dedication that the band is fully committed to the hard rock scene in 2017, and have grown with the times.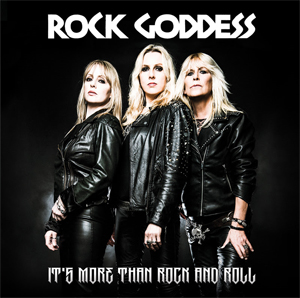 However, It's More Than Rock And Roll just seems to fall flat. In my personal view, the production is very reminiscent of NWOBHM recordings in that the guitars and drums seemed muffled and muddy, almost making the recording already seem dated. Jody's vocals are very clean, melodic, and strong, with bits of a bluesy raspiness at times. The backup vocals are very melodic as well, excellently intertwined with Jody's leads.
The songs themselves come across as trying like hell to be anthems and unforgettable singalongs but fall just short of maintaining that level of intensity. While there is great guitar work and tempo changes in "Back Off", that appears to be where the EP stalls. "It's More Than Rock And Roll" is a decent enough song, but "We're All Metal" is very generic, both in riffs and lyrics, while name dropping every metal band it seemed. Listening to the lyrics, I honestly wasn't sure if this song was supposed to be slighly tongue in cheek or not.
While this EP is listenable, there is just nothing to make it memorable.
2.5 Out Of 5.0




Please log in to view RANTS

If you don't have a username, click here to create an account!