Another sad day in the history of heavy music: Dutch polyrhythmic metallers TEXTURES are today announcing their breakup. Read the band's full statement below.

"Ladies and gentlemen,

There is no easy way to say this, so here it is: TEXTURES comes to an end.

Personal motives have led to this decision and it has not been made in haste. These personal reasons made it harder to be the productive band TEXTURES always has been in the past and which this band needs to be. Without this dedication TEXTURES would merely be a shell of what it used to be.

Break-ups are never easy and always bring difficulties. Unfortunately we have to announce that our anticipated 6th album Genotype will not be released and so there will be no double album. At least not for the coming years...

The breakup of TEXTURES doesn't mean that there is any hardship within the band. We still have a strong connection with current and former members and this decision won't lead to any tensions whatsoever. Furthermore the individual band members will continue to make music and pursue new musical endeavors. Keep your eyes and ears open...

Thanks to all the friends, fellow musicians and other colleagues we have had the pleasure to meet along the way. And of course special thanks to all the fans who have supported us throughout the years. It is your dedication, appreciation and continued presence at our shows all over the world that made this journey one to remember for a lifetime. We hope to see you all very soon on our farewell tour."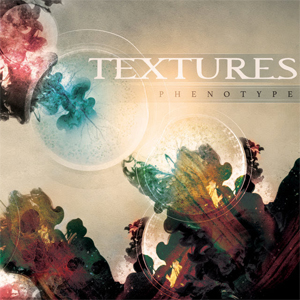 In 2003, TEXTURES entered the scene with a radical and fairly uncommon concept at that time: the sextet skipped the "demo-phase" entirely and released their debut-album Polars independently on a professional level and with that TEXTURES became the first Dutch do-it-yourself band: management, album/merch artwork, music videos, studio reports and a full-length album recorded in a self-built studio - everything in full control of the band. In 2004 the band proudly received the Essent Award for "Most Promising Talent". After that the tiger was out of the cage, TEXTURES immediately stormed international clubs and festivals, and shared stages with bands like SLIPKNOT, MACHINE HEAD, ARCH ENEMY, AVENGED SEVENFOLD, OPETH, SEPULTURA, MESHUGGAH, and RAMMSTEIN. In 2006 TEXTURES takes the - then fairly unknown - French band GOJIRA with them on their very first tour outside of France.
After releasing three albums (including their highly acclaimed 3rd album Silhouettes) through Listenable Records, TEXTURES seriously stepped up their game as they signed a worldwide record deal with Nuclear Blast for their 4th album Dualism (2011) and 5th album Phenotype (2016). In the meantime TEXTURES gained worldwide credit as co-founder of the new-born metal genres "math metal" and "djent".
TEXTURES displayed their sophisticated, modern metal on numerous tours and by a miraculous coincidence the band became - not big in Japan - but big in India. The band headlined shows in Bangalore, Delhi, Pune and Calcutta with crowds of 10,000 people. After five studio albums and many European tours, a lengthy run through the USA, Mexico, Canada and Russia the mileage counter shows – in total – 330.000 traveled kilometers (205.052 miles). Will TEXTURES reach the illustrious total distance from the earth to the moon; 363.000 km (225.558 miles) on their farewell tour throughout Europe and India in autumn 2017?