New Making-Of VAN HALEN Book Runnin' With The Devil Out In June


By Larry Petro, News Monkey
Tuesday, May 23, 2017 @ 12:53 AM


| | | |
| --- | --- | --- |
| | | Out June 9th Via The Van Halen Store |
A new VAN HALEN book, Runnin' With The Devil: A Backstage Pass To The Wild Times, Loud Rock, And The Down And Dirty Truth Behind The Making Of Van Halen, is set for release on June 9th.

Noel Monk, the manager who shepherded VAN HALEN from obscurity to rock stardom goes behind the scenes to tell the complete, unadulterated story of David Lee Roth, Eddie Van Halen, and the legendary band that changed rock music.

Beginning in 1978, VAN HALEN's rise was one of the most thrilling the rock world had ever seen—their mythos an epic party with a sweaty, sexy, finger-tapping guitar solo as an encore. During this infamous run of success, debauchery, and drama, few people were closer to the band than their manager, Noel Monk. A man who'd worked with some of rock's biggest and most notorious names, Monk spent seven years with VAN HALEN, serving initially as their tour manager then as their personal manager until 1985, when he and David Lee Roth exited as controversy, infighting, and egos consumed the band.

Now, for the first time, Monk shares his side of the band's rapid ascent and abrupt halt, both of which left rock music forever changed. During his time behind the scenes, he saw it all and lived to tell the tale, helping the band grow from club-performing novices to hardened veterans who sold out stadiums. Lifting back the curtain on one of the great untold stories of rock music, Monk details the most outrageous escapades from his time as confidant, fixer, and promoter—from hotel room destruction to outrageous backstage behavior to Eddie Van Halen's high-profile marriage to Valerie Bertinelli to the incredible drug use and drinking that would ultimately fuel the conflict between the band members.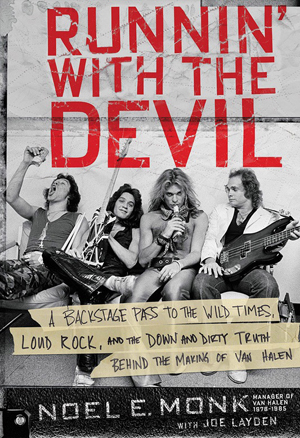 More than just presenting a portrait of sex and drugs—though there's plenty of both—Monk goes behind the legend of Eddie Van Halen, bringing into focus the unique combination of talent, vision, hardship, and naiveté that not only shaped one of the greatest rock guitarists of all time, but also made him vulnerable to the trappings of fame. Monk also sheds light on a breakup long shrouded in rumor and animosity, telling the story of David Lee Roth's departure as he saw it and explaining how a band at the height of their powers found themselves struggling in vain to hold it all together.
Complete with sixteen color pages of never-before-seen photos of life with the band, Runnin' With The Devil offers Monk's backstage view of VAN HALEN's journey from obscurity to headliners, only to watch it all fall apart. Messy, loud, and most of all fun, this is a look inside VAN HALEN unlike any you've ever seen.
About the authors: Noel Monk managed VAN HALEN from 1978-1985. He helped stage-manage Woodstock, served as Bill Graham's right-hand man at the legendary Fillmore East, and worked with rock musicians including Jimi Hendrix, Janis Joplin, The Grateful Dead, The Rolling Stones, and the Sex Pistols. He is also the author of 12 Days On The Road: The Sex Pistols And America.
The only book written by a member of the VAN HALEN camp, and their former manager nonetheless! Order it now, autographed by Noel Monk … only at the Van Halen Store HERE.




Please log in to view RANTS

If you don't have a username, click here to create an account!