MARK SLAUGHTER
Halfway There
EMP Label Group




Due out May 26th on David Ellefson's EMP Label Group, Halfway There is the second solo offering from SLAUGHTER frontman, Mark Slaughter. Although this record is considered a Mark Slaughter solo record, it really harkens back to the classic SLAUGHTER sound with crunchy guitars and bombastic solos. It truly is what I would describe as a "return to form" kind of album.

Out of the gate, the lead track, "Hey You", sounds like it is straight out of 1988, albeit with some of the best production possible at that time. Mark's guitar riff sizzles. It reminds me very much of old school LYNCH MOB. Next up, "Devoted" offers more of a galloping beat set to haunting vocal harmonies much in the vane of Staley/Cantrell. No need to worry ladies…in true hair metal fashion, this album is laced with ballads – not so many that makes you bored or disgusted, but a handful of strategically placed tracks such as the title track, "Halfway There".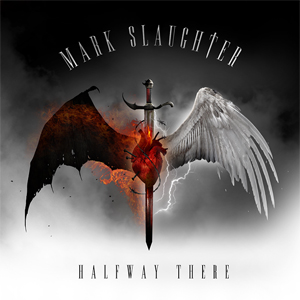 Mark sounds great. I will be honest…his vocal range may have peaked twenty five years ago and "Fly To The Angels" may be a distant memory, but his voice certainly isn't lacking and his range exceeds most others. Besides his pipes, Mark also showcases his multi-instrumental abilities – recording the bulk of the material himself in addition to handling the production and engineering.
The record is a solid arrangement of masterful material that exquisitely displays the endless talents of Mark Slaughter – not just a couple of singles and some fluff. Although I appreciate the ballads and some of the more progressive goods that Mark offers in this new release, I am still hung up on "Hey You" – easily my favorite on the record; a track full of attitude and balls.
SLAUGHTER fans rejoice - pickup Halfway There on May 26th and look for Mark Slaughter tour dates this summer.
4.0 Out Of 5.0
Grab your copy of Halfway There in the KNAC.COM More Store HERE.