EVE TO ADAM In Houston, TX With Photos!


By Larry Petro, News Monkey
Friday, May 26, 2017 @ 8:20 AM


| | | |
| --- | --- | --- |
| | | Band Rocks The House At Concert Pub North |
All Photos By Larry Petro/Petrofyed Photography
After a 4 year gap since the release of their last album Locked & Loaded, New York rockers EVE TO ADAM have finally returned with a new opus, Odyssey, which is out now via Rocktagon Worldwide Music. The band recently embarked on a string of show dates dubbed 'The Tongue Tied Tour', which included a stop at the inaugural Rock Into Spring festival in Las Vegas. A fews days after this performance the band rolled into town for a show at the Concert Pub North in Houston, Texas.
When the show was originally announced, there were to be 4 bands on the bill, 2 locals and direct support from BLACKLITE DISTRICT, but as the show approached an additional support act was added, AMERICAN GRIM, upping the band count for the night to 5. It was to be a long night of rock n roll in Houston to be sure.
Obviously, given the number of bands scheduled to perform, things would have to start early and by the time I took an interest in what was happening inside the club, the two locals had already played and it was time for AMERICAN GRIM. The 3 piece hard rock group are supporting their debut album Freakshow, which is out now via eOne Music/Rocktagon Worldwide. The band displayed a great deal of fire and energy in their opening slot and based on their talents I see this band as a definite up-and-comer to watch!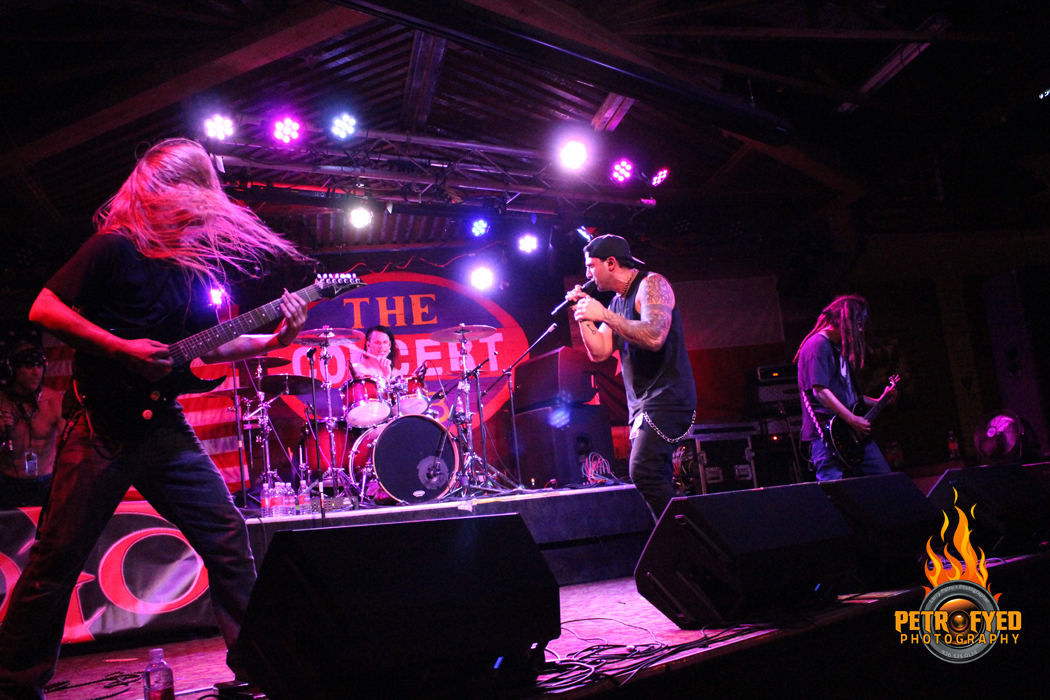 The next band up was BLACKLITE DISTRICT. This 3 piece from South Dakota was interesting to say the least. The band consisted of a vocalist, guitarist and one masked gentleman behind a screen that concealed a keyboard that provided all the other backing instruments. I was quite skeptical at first, wondering how the music would actually sound, but was quite surprised and impressed! The band played a very nice set of original hard rock/metal material and during a couple of tracks the vocalist and guitarist actually switched duties, with the vocalist strapping on a guitar and the guitarist handling vocals. Definitely check these guys out if you get the chance.
Finally it was time for EVE TO ADAM. When the Locked & Loaded CD was released I played the shit out of it. It was one of those CDs that is solid from start to finish with plenty of memorable hooks, melodies and choruses. Of course, during the ensuing for years there was other music to listen to and Locked & Loaded had gradually worked its way into my archive. But in prepartion for the upcoming show I dusted it off and realized I had forgotten just how good the CD really is.
The band, led by vocalist Taki Sassaris, took the stage in front of a modest Friday night crowd and launched their set with one of the hits from Locked & Loaded, "Straitjacket Supermodel". The band has gone through numerous lineup changes it seems and tonight Taki was complimented by guitarist Markus Wells, former BUTCHER BABIES drummer Chris Warner, another guiatrist who's name I cannot remember (he's quite new), and backing vocals and backing tracks by Nick "Corrupt" Brockmeyer. The band played a heavy dose of material from the new Odyssey album including "Landfill", "Lucky", "Tongue Tied" and "Day Drinking", which is set to be the next video, so stay tuned for that. The rest of the set comprised songs taken from the great last album, Locked & Loaded such as the title track, the single "Immortal" and one of my personal favorites, "What Would You Kill".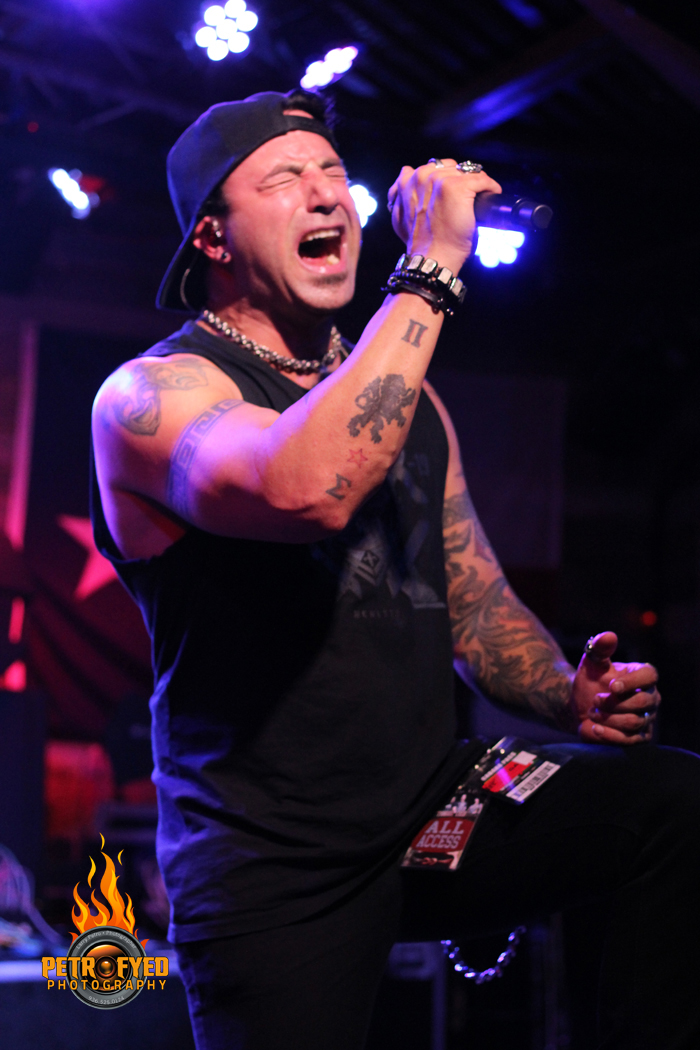 The entire band was tight and Taki as always was on point with his vocals. Given the size of the crowd in attendence on this night huge props have to be given to the band for giving no less than 100%. Those of us that were there got a nice, energetic shot of great hard rock. Look for more tour dates to be confirmed soon and if they come near you this is a show you need to catch! My ONLY complaint on the evening was that at 10 songs and a little under an hour, I felt the show was just too short. The band has a lot of great material and would have no problem going an hour fifteen, hour and a half. Hell, they could've played the entire Locked & Loaded album along with stuff from Odyssey and I would have been completely satisfied.
Following the show I got to chat with Taki about a number of things and he had some very interesting things to say about the current state of the music industry, so much so that there will be an interview forthcoming on KNAC.COM, so be on the lookout for it!
Setlist:
"Straitjacket Supermodel"
"Landfill"
"Lucky"
"Locked & Loaded"
"The Price"
"Altitude"
"Day Drinking"
"What Would You Kill"
"Tongue Tied"
"Immortal"
Check out some more photos from the show!
All Photos By Larry Petro/Petrofyed Photography




Please log in to view RANTS

If you don't have a username, click here to create an account!